Justice Julia Sebutinde has been granted a second term by the United Nations International Court of Justice (ICJ).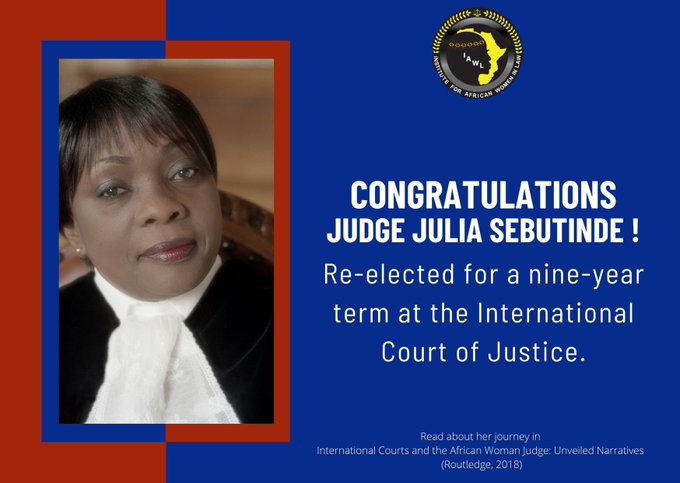 Justice Julia Sebutinde is one of Africa's oldest female judges and the first woman to serve as a judge at the International Court of Justice (ICJ), which she joined on February 6, 2012.
According to ICJ, for a person to be appointed a judge in the International Court of Justice, he or she must be elected by members of the United Nations General Assembly and the Security Council, where voting takes place simultaneously but independently of each other.
To be elected, a candidate must have an absolute majority in both bodies, which often leads to high campaigning and multiple round votes.
Justice Sebutinde won with the fifth-highest number of votes, after Japan, Germany, China and Slovakia. The other two African competitors came in sixth and seventh, respectively. The votes came in: Japan 169; Germany 160; China 155; Slovakia 150; Uganda 139; Rwanda 87; Nigeria 42; Croatia 31.
Uganda's Ambassador and Permanent Representative to the United Nations, Adonia Ayebare, congratulated Justice Julia Sebutinde on the victory.
Who is Justice Sebutinde?
Justice Sebutinde, 66, was born on February 28, 1954, and attended Lake Victoria Elementary School in Entebbe.
She then attended Gayaza High School and later King's College Budo, graduating in law in 1977 before being admitted to Makerere, and then received a law training diploma in 1978 from the Law Development Center.
She holds a PhD from the University of Edinburgh, the UK for outstanding service in the field of International Justice and Human Rights (2009). Master of Laws Degree with Distinction (LLM), University of Edinburgh, UK (1990).
Justice Julia Sebutinde first served in the Ministry of Justice in the Ugandan government from 1978 to 1990. After graduating from the University of Edinburgh in the UK in 1991, he served in the Commonwealth Ministry in the UK.
She later joined the Ministry of Justice in Namibia, which then gained independence. In 1996, Sebutinde was appointed a judge of the Ugandan High Court.
In that capacity, she headed three commissions of inquiry into the following government departments, including the Chairman of the Commission to Investigate Corruption in the Ugandan Police Force (1999-2000), which revealed great rot in the force; Chairman, Judicial Commission of Inquiry into Mismanagement of the Ugandan People's Defense Force (2001); Chairman, Judicial Commission of Inquiry into Corruption in the Uganda Revenue Commission (URA).
In 2005, Justice Sebutinde was appointed by the Ugandan government to the Special Court for Sierra Leone, established by the United Nations.
She was later appointed Chief Justice of SCSL Trials Chamber II (2007-2008, 2010-2011). She was appointed chairman of SCSL Trial Chamber II (2010-2011) in several high-profile war crimes trials involving prosecutor Charles Ghankay Taylor; judge with original and appeal competence in civil and criminal matters of the Uganda High Court (1996-2011).
She has also held several positions.
Chancellor of the International Health Sciences University (IHSU), Uganda (2008-2011)
Member, Commonwealth Association of Legislative Drafters (1980-2011)
Goodwill Ambassador for the United Nations Population Fund (UNFPA) (1996-2011)
Member, National Association of Women Judges Uganda (NAWJU) (1996-2011)
Member, International Association of Women Judges (IAWJ) (1996-2011)
Member, Advocates International (AI) (1980-2011)
Represented Uganda Women at the opening of the United Nations Decade for Women in Addis Ababa, Ethiopia (1975)
Chairperson, Board of Directors of the Acid Survivors Foundation Uganda (2000-2004)
Recipient of the "Good Samaritan Award" at the Congress of Advocates International (2004)
The Lifetime Achievement Award of the Uganda British Alumni Association (UBAA) (2006) and a Special Award of the Uganda Law Society in recognition of her "courageous and exemplary contribution to the promotion of justice in Uganda" (2001)
Honouree of the American Biographical Institute in their seventh edition of "Who's Who of the Professionals 2000"
Named one of "Top 100 Africans of the Year" in the Africa Almanac 2000 among others.
Visit Lifestyle Uganda homepage for more stories like this..