Uganda President, Museveni is suspending taxis, bodas, coasters and other forms of public transport over increased cases of Coronavirus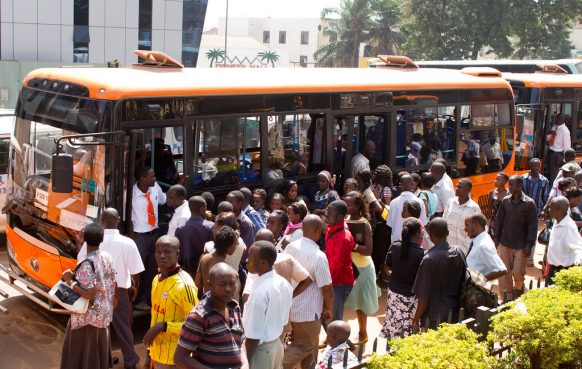 On Wednesday 25th, March, President Museveni stopped all public means of transport including boda bodas and taxis, as more coronavirus cases are being registered in Uganda.
When talking about Uganda's growing case of coronavirus, Museveni said that prohibition of public transport is unavoidable as it was acting as a breeding ground for this virus.
As a result, this was intended to help stop the spread of the coronavirus disease COVID-19.
"This means all taxis, minibuses, buses, passenger trains, tuk-tuks and boda bodas have been suspended for 14 days because we want to minimize movement of people," Museveni said in a statement.

Tweet
Museveni also indicated that only private means of transport are to be operational but with not more than three people, including a driver.
"The only means is private cars, but no more than 3 persons including the driver should be transported," added Museveni.

Tweet
He also pointed out that vehicles for security officers and healthcare professionals including ambulances will remain functional and used accordingly.
Museveni's directive comes hours after five more COVID-19 cases were confirmed by the Health Ministry and in just less than one week, the number is raised to 14.
In the five cases, two of the six Chinese had been captured and sent back to quarantine, previously attempting to escape to Zombo.
An 8-month-old baby who showed symptoms in Iganga was also part of those confirmed victims.
Dr Henry Mwebesa, Director-General of Health Services, spoke to a press today afternoon saying that victims, including a baby of eight months, showed symptoms of flu and breathing problems.
"The father of the baby had visited Kenya. The baby had flu and shortness in breath. Health staff collected the samples and sent them to the Uganda Virus Institute and tested positive," Dr Mwebesa said.

Tweet
Others include a Ugandan 63-year-old, who travelled from Germany and a 57-year-Ugandan male in the Adjumani general hospital, who is currently isolated.
Dr Mwebesa, meanwhile, claimed that the Adjumani victim did not move abroad, but would cross the border point in South Sudan once and for some time for salt trade.
Suggest an edit? WhatsApp +256781873083