While many artists are still unsure about how to use Spotify Ad Studio. In this article, we cover how you can run campaigns for as little as $250 – and achieve your goals faster.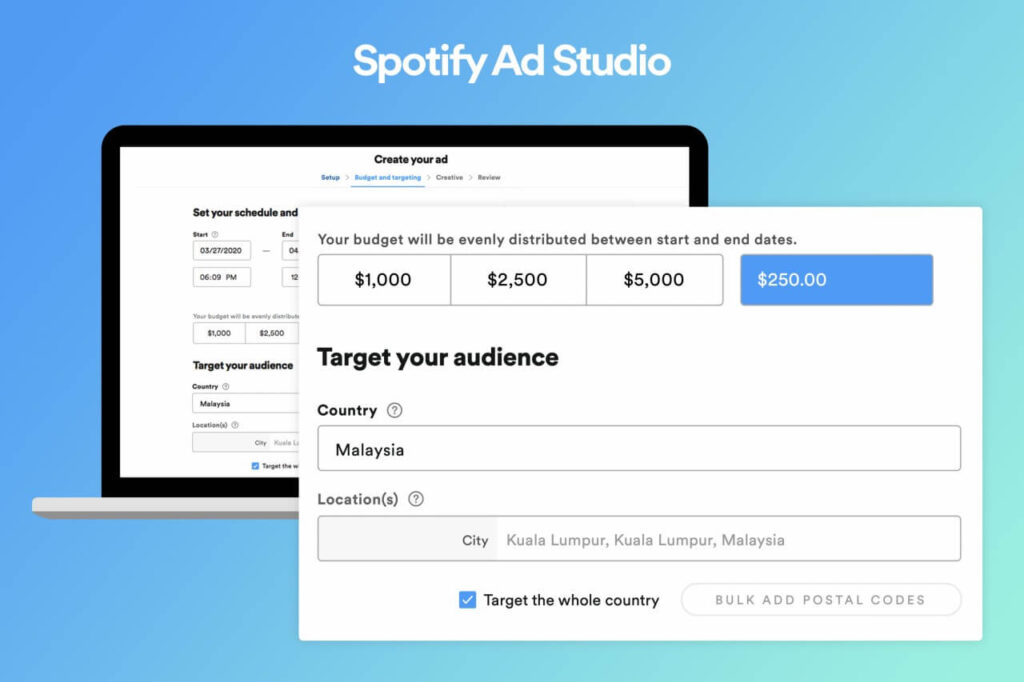 KAMPALA | LIFESTYLE UGANDA (https://lifestyleuganda.com/) — Once you've created your account, you can start using Spotify Ad Studio to create promotional campaigns. The ad studio gives you the ability to target different demographics and time of day.
With the targeting options, you can choose the genre and time of day your audience is most likely to be listening to your music. This lets you find out exactly who is interested in your music and tailor your campaign to them.
Also, it's easy to track how successful your campaign is and your overall engagement with it.
Once you've created your ad, you can start watching it in the results dashboard. You can see your ad's performance in real-time. You can make changes to the ad if you want. The ad's cost is limited to $250.
The ad can be revised or rejected as needed. If you're not sure which ad is most effective, you can always try a YouTube tutorial by Mike Russell.
While Spotify Ad Studio can help brands create audio spots, it's important to remember that the prices vary based on the targeting and duration of the ads. You can book your campaign for as little as $250 for an ad set.
The cost is determined by the number of delivered impressions and the target audience. The more people listen to your ads, the higher your brand's brand awareness will be.
If you'd like to create your own ad on Spotify, check out the Spotify Ad Studio. The website will even show you how to get started.
While many artists are still unsure about how to use Spotify Ad Studio, they can get started by checking out its demo page. Once you've created an account, you can select from a library of pre-selected genres and start creating ads.
Once you've finished the ad, Spotify will review it and give you feedback.
You can also upload your own background music, but you must make sure that the background music you upload is part of your audio file.
Premium subscribers have a higher conversion rate than free subscribers. This means that they'll be more likely to click on ads on Spotify.
Additionally, premium users are more likely to be devoted to music and are less likely to click on ads, so it's important to consider whether your core customers would be willing to make the decision to upgrade.
Then, you can choose an ad that targets this audience. It will also increase your brand's awareness.
The cost of Spotify Ad Studio ad campaigns depends on the type of campaign you're running. A campaign can target fans of particular music artists, and it's possible to use audio or video as your ad format. This will allow you to choose from a variety of different options.
While Spotify is a great place to spend your advertising dollars, you should always make sure that your ad is relevant to your target audience.
The Spotify ad studio allows you to choose the voice of your advertisement. It offers different voice profiles based on gender, age, and location. After selecting a voice and a target audience, you can choose a voice profile.
For example, if you're targeting a younger audience, you might want to choose a female voiceover. You can also opt for a male voiceover.
Spotify Ad Studio is an effective way to reach a large audience with your ad campaigns. You can purchase Spotify ads programmatically, which means that they are targeted only to those who listen to certain playlists. The company's team will also help you choose the playlists.
A campaign is only as good as its budget. You can choose a budget as low as $250 for a single ad. A small business can't afford to run a large ad campaign, but a large brand can afford the cost.
If you're interested in advertising on Spotify, you'll have to register for the beta version. Once you've created your account, you can then start creating your Spotify ad.
Once you've finished the registration process, you can also choose the target market and budget.
By enabling playlist targeting, you'll be able to target listeners who are already listening to your music. And because Spotify does not share audience information, you'll need to use a UTM (uniquely assigned identifier for your campaign.
Although we strive to provide accurate information on how to create and use Spotify Ad studio, it is always possible to make an error. If you find any inaccurate or incomplete info, please comment below.