Former US President Barack Obama continued to reveal his year-end selections and released his favorite 2020 songs on social media on Saturday.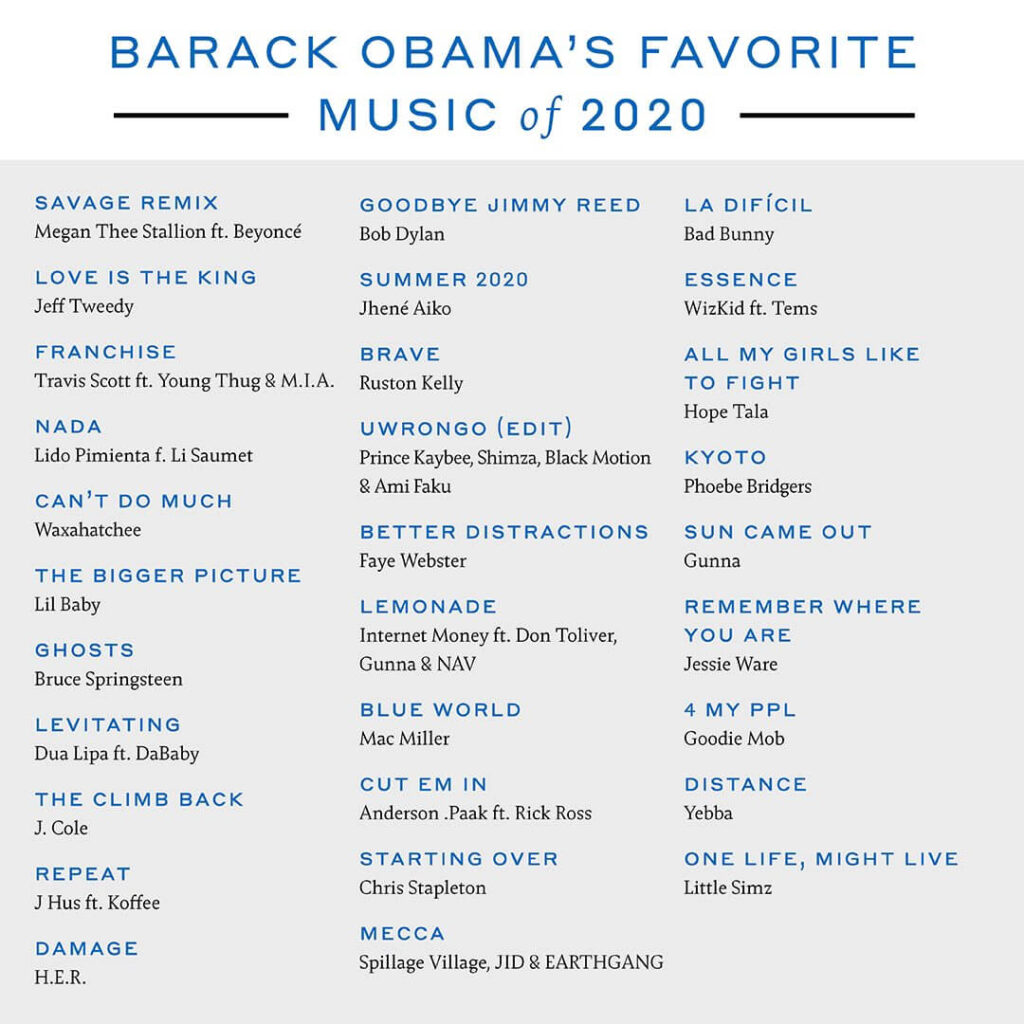 Barack Obama has shared a comprehensive list of his favorite songs of 2020, including selections of Beyonce, Bob Dylan, Bruce Springsteen, Little Simz and Jhené Aiko. There is also Wizkid and Tems from Nigeria.
Wizkid – Essence ft Tems made it on Obama's 2020 list of favorite songs.
Wizkid released the new single, Essence featuring alternative singer Tems.
Other songs Obama wanted this year were Yebba (distance), Phoebe Bridgers (Kyoto).
Visit Lifestyle Uganda homepage for more stories like this.
As always, this is a classification that mixes those who delight the open crowd with admirably intelligent and vague choices that make you wonder how it takes so long for the former president to troll the choices of Spotify and/or critics.
The former president shared his choices on social media with a note: " Here are some of my favorite songs of the year. As usual, I got some valuable advice from our family music guru Sasha to put this together. I hope you find a new song or two to listen to. "
Megan Thee Stallion ft Beyonce (savage remix), Bruce Springsteen (Ghosts), Lil Baby (the bigger picture), Chris Stapleton (starting over), H.E.R. (Damage), Dua Lipa ft Dababy (levitating) and Wizkid ft Tems (Essence) are among the musicians behind the success of being added to Barack Obama favorite songs list from 2020.
Other songs Obama wanted this year were Yebba (distance), Phoebe Bridgers (Kyoto), Jhené Aiko (Summer 2020), Gunna (Sun Came Out) and Bob Dylan (Goodbye Jimmy Reed).
Obama's favourite 2020 songs include the following.
'Savage Remix' – Megan Thee Stallion ft. Beyoncé
'Love Is The King' – Jeff Tweedy
'FRANCHISE' – Travis Scott Ft. Young Thug & M.I.A.
'Nada' – Lido Pimienta ft. Li Saumet
'Can't Do Much' – Waxahatchee
'The Bigger Picture' – Lil Baby
'Ghosts' – Bruce Springsteen
'Levitating' – Dua Lipa ft. DaBaby
'The Climb Back' – J. Cole
'Repeat' – J Hus ft. Koffee
'Damage' – H.E.R.
'Summer 2020' – Jhené Aiko
'Brave' – Ruston Kelly
'Uwrongo (Edit)' – Prince Kaybee, Shimza, Black Motion & Ami Faku
'Better Distractions' – Faye Webster
'Lemonade' – Internet Money ft. Don Toliver, Gunna & NAV
'Blue World' – Mac Miller
'CUT EM IN' – Anderson.Paak ft. Rick Ross
'Starting Over' – Chris Stapleton
'Mecca' – Spillage Village, Jid & EARTHGANG
'La Difícil' – Bad Bunny
'Essence' – WizKid ft. Tems
'All My Girls Like To Fight' – Hope Tala
'Kyoto' – Phoebe Bridgers
'SUN CAME OUT' – Gunna
'Remember Where You Are' – Jessie Ware
'4 My Ppl' – Goodie Mob
'Distance' – Yebba
'one life, might live' – Little Simz
On June 6, 2019, former President and wife Michelle Obama signed with Spotify to produce and deliver podcasts.
The partnership with Spotify comes through the Higher Ground production banner, which is already in business with Netflix on several projects.
Higher Ground is now introducing a podcast section, Higher Ground Audio, through which Obamas will create, produce and lend their voices to select shows for Spotify.
At this point in the year, Barack Obama's 2019 list of favorite songs included Bruce Springsteen (Western Stars), and selected cuts include leading Grammy rivals Lizzo and Lil Nas X, Rosalia, the Highwomen, Summer Walker, Big Thief, Maggie Rogers, Mavis Staples, DaBaby, Frank Ocean, Joe Henry and sisters Beyonce and Solange.
Listen Wizkid – Essence ft Tems on Obama 2020 list of favorite songs