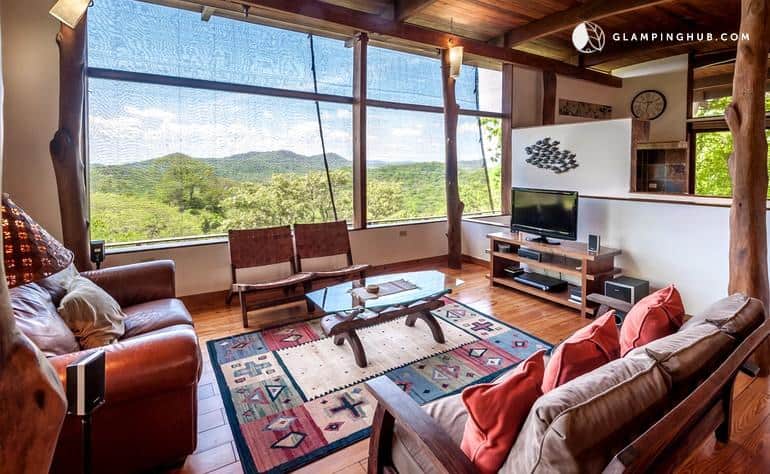 Using Travel to unplug and connect with nature for a stable mental life – Our generation; tech savvy, mobile first, a middle corporate class etcetera. The titles go on and on and so are the high pressures of the life that comes with the labels.
Unfortunately, such a vast percentage among us has become inherently predisposed to depression and all the burnouts that are brought about by the gravities of this fast-paced life.
A life characterized by extreme high levels of competition in the workplace, a negative work environment that include harassment and bullying, family and financial instabilities among others.
According to 2017 statistics by the World Health Organization (WHO), more than 300 million people suffer from depression and anxiety globally, causing significant economic impact; with an estimated US$ 1 trillion per year in lost productivity.
And yet, if only we can give ourselves a chance to unplug and reconnect with nature away from our daily routine, then we will have made the first step towards self-discovery and recovery.
Here are some of the best accommodations or travel places from across the world, where one can begin the journey of unplugging towards a more stable mental life.
#1. The Elegant Finch Hattons Camp in Tsavo West National Park, Kenya
Situated in the heart of Tsavo West, one of Kenya's largest national parks, the Finch Hattons camp is surrounded by pure untouched wilderness with amazing views of the magnificent Chyulu Hills and the majestic Mount Kilimanjaro.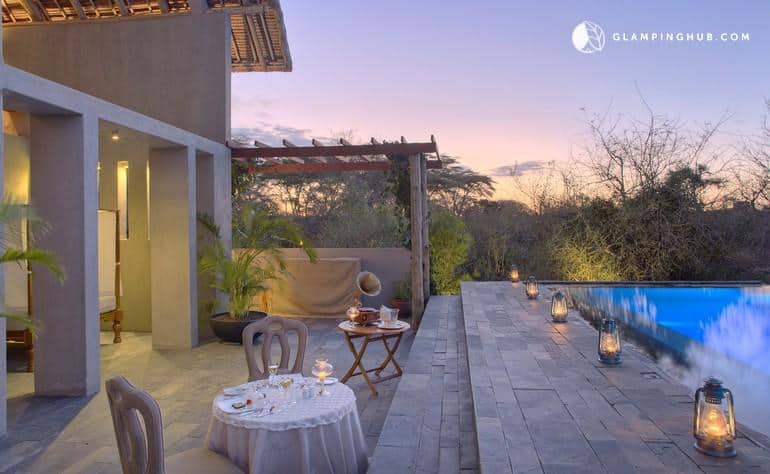 This is possibly one of the best destinations in Africa, where we can all disconnect from the day to day stressful life. Glampers get to enjoy infinite indulgence in the wild, as there is a large outdoor decking area with panoramic views across the diverse wilderness of Tsavo West.
This is a dream location for families and friends in search of a Kenyan safari experience which offers both elegance and luxury.
Take a bath in the copper bathtubs located in both the indoor and outdoor showers, after which you indulge in an African cuisine under the empty hazy sky.
One way to keep unplugged is by reading or writing, and you can do so on the beautiful hardwood writing tables beneath the intricate chandeliers, and ornately carved chests that maintain a rustic yet luxurious ambiance.
Dip in the infinity pool which overlooks Mount Kilimanjaro and treat yourself to a massage at the on-site spa.
Besides, the park covers a huge variety of landscapes: from swamps and natural springs to rocky peaks; from extinct volcanic cones to rolling plains.
Tsavo West is enshrined in legend, due to its famous man-eating lions in the late-nineteenth century, and as the place where Denys Finch Hatton (lover of Karen Von Blixen) called home.
The park is home to an exceptionally diverse variety of wildlife, including Red Elephants, Giraffes, Leopards, and Impala to name but a few. Why would you not unplug with all this luxury and nature around you?
#2. Peaceful Cedar Green House near Silverton, Oregon
Remember, when unplugging, peace is fundamental, and if in North America, this is the one place you will want to be.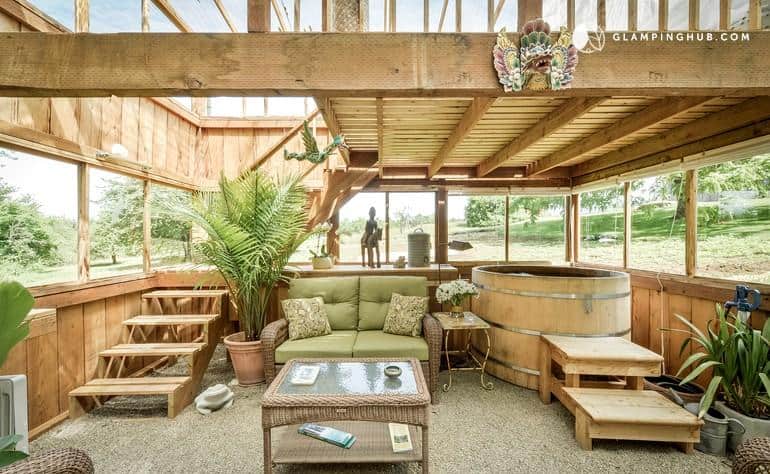 It is a peaceful luxury and delightfully converted cedar green-house near Silverton, Oregon; with a comfortable living room and a natural cedar hot tub.
Upstairs features one-bedroom in a sleeping loft with a full-size bed. It has a gravel floor, and there is a water faucet inside.
The cedar greenhouse is beautifully constructed using minimal wood and large glass windows to allow plenty of natural sunlight seep into the accommodation at any time of day.
Dine outside at the picnic table while making use of the BBQ, or roast marshmallows over an open fire.
The back patio looks out onto green foliage, providing a serene ambience for drinking a glass of wine, reading a book or enjoying a blazing campfire as guests relax after having an exhausting, action-packed day.
#3. Luxury Dome Getaway near Round Swamp, New South Wales
This luxury dome getaway is nestled in the Capertree Valley near Round Swamp in New South Wales, Australia and can accommodate two guests.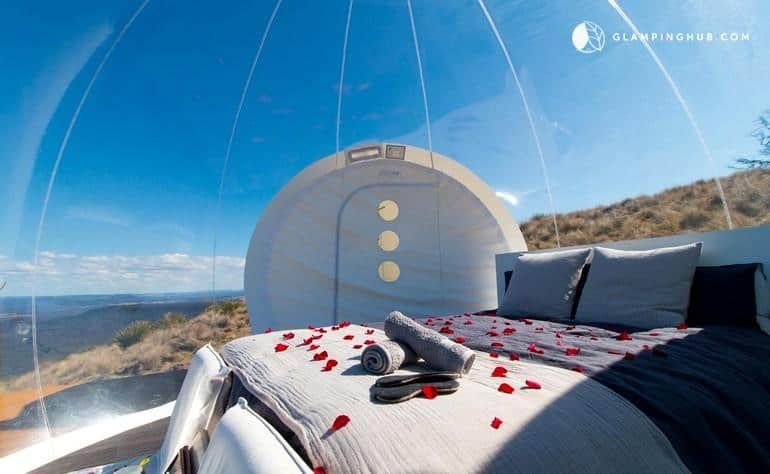 The unique dome features transparent walls and a spherical shape, enabling guests to take in awe-inspiring views of their surroundings and feel a sense of total immersion in their natural environment.
The bathroom, with a private hot tub, is also spherical, but unlike the bedroom, it is not transparent.
Bring out the best of your cookery skills in the outdoor kitchenette on the lower deck and birdwatch some of the 235 species of birds in the valley. Binoculars and an iPad loaded with a birdwatching app will be provided.
Later, enjoy a glass of wine and take in the majestic surroundings of the valley's unparalleled beauty; nothing can be so therapeutic.
#4. Extraordinary Tree House near San Juan del Sur, Nicaragua
Situated near San Juan del Sur, Nicaragua – South America, this unique two-story tree house by Glamping Hub can accommodate up to four guests. It is supported by massive eucalyptus trunks and curved wood ceilings from sustainable timber.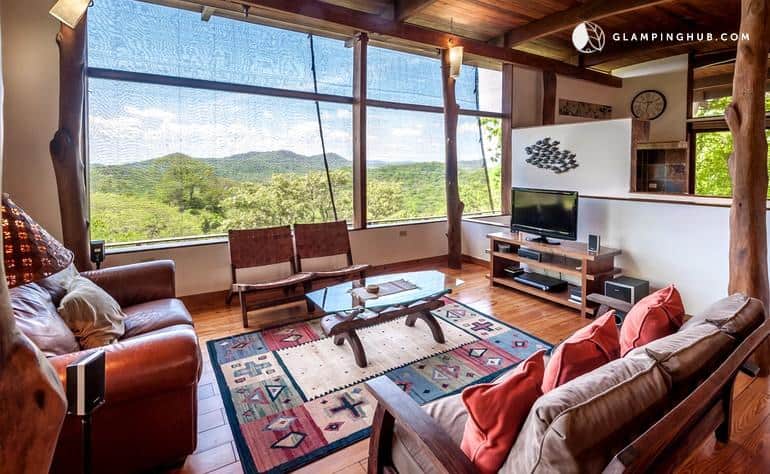 There are two incredible bedrooms and two full bathrooms, including a kitchen equipped with an array of cooking and serving utensils to ensure a homely stay.
Sit back and relax in the buttery leather sofas in the living area or on the decks that feature cushioned outdoor furniture, a barbecue grill, a hammock, and an outdoor shower for complete unplugging.
Plunge into the pool just a short walk from the front door and immerse yourself in the tranquil ambience of the jungle surroundings while still enjoying access to fabulous amenities and conveniences.
#5. Unique Eco-Friendly Vacation Rental near Maribor, Slovenia
Modern simplicity is just what you get at this unique vacation rental in the rolling hills of Slovenska Bistrica near Maribor, Slovenia in Europe. Designed like no other, the intimate hut can accommodate two guests on a romantic getaway.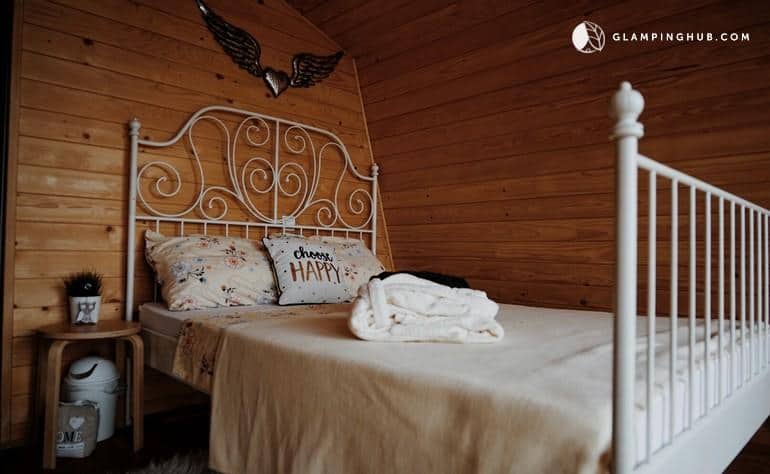 The hut has been designed to blend seamlessly with the natural setting and to draw the eye outward from the large, floor-to-ceiling windows.
It provides guests with everything they need to disconnect from the strains of daily life and reconnect with nature. Delight in your romantic getaway while taking in the panoramic views of the surrounding mountains, hills, and valleys.
The sunny and airy feeling of the rental will renew your energy and leave you feeling refreshed.
#6. Wooden Bungalow Rental in Rural Ninh Binh, Vietnam
Are you looking for an authentic rural experience in Asia? Then this bungalow rental in Vietnam offers an unforgettable countrified adventure all year round. Glampers enjoy magnificent views across the lake and steep mountain ridges of Ninh Binh province.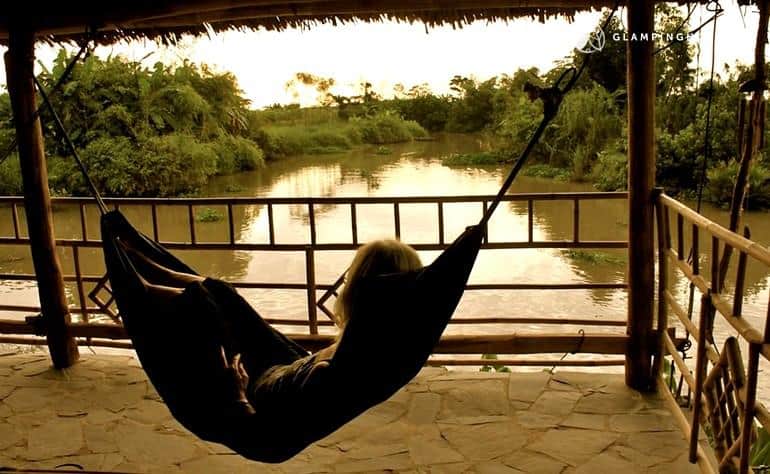 The bungalows can accommodate between two to four persons with each room's interior meticulously designed with a delicate, functional romanticism to generate a harmonious ambience perfect for an unplugged rustic experience.
The balcony is furnished with a hammock, making it an ideal place to take in the natural surroundings over a calming cup of local tea. The geography of the region affords fantastic cave exploration, mountainous hiking, and, of course, photography.