Nikita Pearl Waligwa (Born 2005 – Died 2020) was an actress from Uganda. She played Gloria in Disney movie, Queen of Katwe directed by Mira Nair.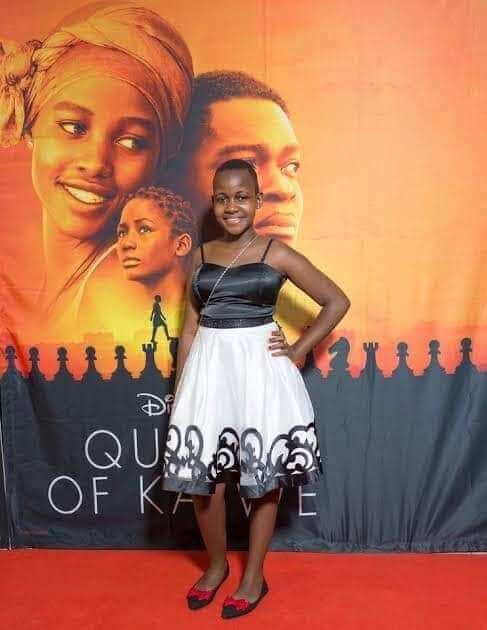 The actress Nikita Pearl Waligwa, known as Gloria in Disney, Queen of Katwe, died. She was only 15 years old. The death of Nikita Pearl Waligwa was confirmed by her family on Saturday.
The cause of death was announced as brain cancer.
Nikita will be laid to rest on Monday at her father's home in Kabojja. There will also be a funeral service at Namirembe Cathedral at 3:00 pm.
Last year, a poster circulated seeking funding to ensure that Nikita was treated for the brain tumour.
Nikita has been struggling with a brain tumour and was diagnosed for the first time in 2016. As a result, she had surgery in April 2016.
Shortly after surgery, Queen of Katwe star Nikita Pearl Waligwa Gloria was diagnosed with cancer and underwent radiotherapy in July 2016.
When she went for a review in February 2017, she was declared cancer-free.
However, Nikita was diagnosed with another brain tumour early last year, 2019. Gloria was living a lot of pain, according to a close family member.
The brain was swollen and it is exerting a lot of pressure

close family member revealed
The sudden death of Queen of Katwe actress Nikita Gloria caused an outpouring of grief on social media, especially from fans and those who worked with the young actor.
Lucky Mbabazi, a Ugandan radio and television presenter, added in a post on Twitter and said;
15 year old Nikita Pearl Waligwa, who starred as 'Gloria', in a Disney's movie, Queen of Katwe, is dead. Nikita succumbed to brain cancer on Saturday. Rest in peace little one.

Lucky Mbabazi on Twitter
Gayaza High school where Gloria was studying from also paid a tribute in a Twitter post and said;
Fare thee well Nikita Pearl Waligwa. You were a darling to many and we have lost you to a brain tumour at such a tender age. Nikita was in S.3. Rest in Perfect Peace dear

Gayaza High School on Twitter
Queen of Katwe Movie Trailer
May You Rest In Peace Nikita Gloria, Queen of Katwe