Burna Boy, the Afro-fusion artist, won the Artist of the Year award for his 2022 LP Love, Damini, as well.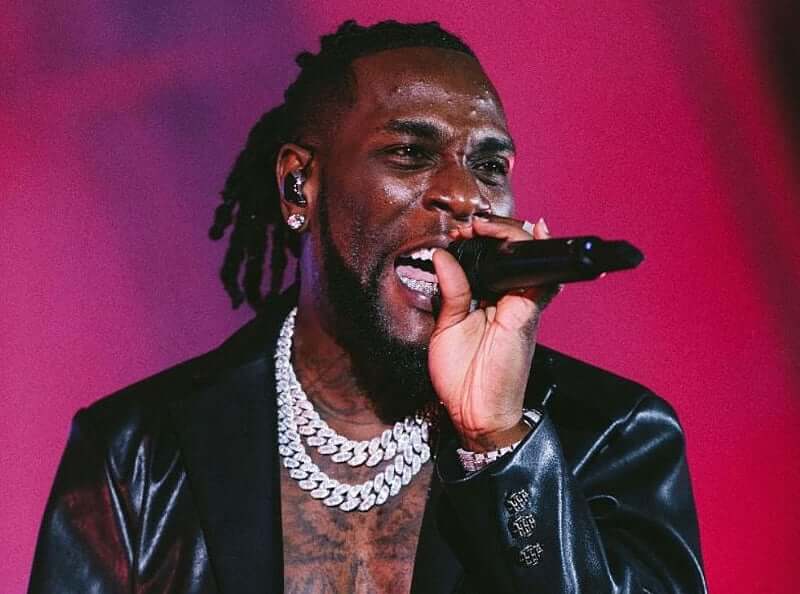 Nigerian duo The Cavemen won the Best African Band, Duo or Group Award at the AFRIMAs 2022/2023. Burna Boy won Artist of the Year at the eighth annual All Africa Music Awards (AFRIMAs), held in Dakar, Senegal.
This year's AFRIMAs were the first to be held in a Francophone African country, dubbed the "Teranga Edition."
The All Africa Music Awards (AFRIMAs) is an annual music awards event that celebrates the diversity of African music and honors the contribution of African music to the world. It is organized by the International Committee of the All Africa Music Awards.
Additionally, Burna Boy won the 2022 Album of the Year Award for Love, Damini in addition to Artist of the Year.
The Love, Damini album is a collection of songs that explore the themes of love, loss, and identity. Featuring a mix of traditional and modern Afro-fusion sounds, the album is an exploration of the artist's personal journey.
The night's biggest winner was Nigerian singer Davido, who won Best Male Artist and Best Artist in African Pop, respectively.
In addition, Davido won Best African Collaboration and Best Duo Group in the African Electro categories with 'Champion Sound' featuring Focalistic from South Africa.
Davido's 'Champion Sound' is a pulsing afro-pop track with a catchy hook and lyrical content celebrating the Nigerian's success and his determination to stay at the top. The song features South Africa's Focalistic and is an anthem for hustlers.
This year's AFRIMAs saw Kassmasse win the category 'Best Male Artist in Eastern Africa', defeating competitors such as Addis Legesse, Bien (& Aaron Rimbui), and Diamond Platnumz ft. Zuchu, Eddy Kenzo King Saha, and Rayvanny ft. Vjollca.
The winners of the All Africa Music Awards 2022/2023 are listed below:
Best Male Artist in Central Africa
C4 Pedro
Dadju
Fally Ipupa
Innoss'B
Gaz Mawete
Matias Damasio
Ninho
Roga Roga & Extra Musica
Tayc
Tenor ft. Innoss'B
Best Female Artist in Central Africa
Asaba
Blanche Bailly
Emma'a
Espoir La Tigresse
Pérola
Shay
Vernyuy Tina
Zara Williams ft. C4 Pedro
Best Male Artist in Eastern Africa
Addis Legesse
Bien (& Aaron Rimbui)
Diamond Platnumz ft. Zuchu
Eddy Kenzo
Kassmasse
King Saha
Marioo ft. Jovial
Mbosso ft. Costa Titch & Phantom Steeze
Nyashinski ft. Femi One
Rayvanny ft. Vjollca
Best Female Artist in Eastern Africa
Betty G
Tanasha Donna
Frida Amani
Hewan Gebrewold
Muthaka
Best Male Artist in Northern Africa
Ali Loka
Ahmed Saad ft. 3enba & Double Zuksh
A.L.A
DJ Snake
Draganov
El Grande Toto
Marwan Moussa
Snor
Soolking
Wegz
Best Female Artist in Northern Africa
Faouzia
Jaylann
Kenza Morsli ft. DJ Adel
Lyna Mahyem
Manal
Marwa Loud & Moha K
Ruby
Rym
Best Male Artist in Southern Africa
A-Reece
Blxckie feat A-Reece
DJ Tarico
Gemini Major
Focalistic
Winky D
Best Male Artist in Western Africa
Wizkid
Black Sherif
Burna Boy
Didi B
Fireboy DML
Kizz Daniel
Rema
Serge Beynaud
Sidiki Diabate
Wally B. Seck
Best Female Artist in Western Africa
Manamba Kante
Asa
Gyakie
Josey
Oumou Sangare
Simi
Tems
Soraia Ramos
Tiwa Savage
Viviane Chidid
African Fans Favourite
'Dibango Dibanga' – Bello Falcao
'Tempela' – Ch'cco, Mellow, Sleazy Nkao
'Ameno Amapiano' – Goya Menor & Nektunez
'Sip (Alcohol)' – Joeboy
'Monalisa (Remix)' – Lojay X Sarz ft. Chris Brown
'Overloading (Overdose)' – Mavins; Ayra Starr, Boy Spyce, Crayon, Ladipoe, Magixx
'Ku Lo Sa' – Oxlade
'Nack' – The Therapist
'Dada' – Young Jonn
'Adiwele' – Young Stunna ft. Kabza De Small, DJ Maphorisa
Album of the Year
9: Esan – Brymo
Love, Damini – Burna Boy
Cullilan – Dadju
First of All – Diamond Platnumz
History – Dadi B
KOA II – Kabza De Small
Amagama – Nomfundo Moh
Timbuktu – Oumou Sangare
Sans Visa – Soolking
Rave & Roses – Rema
Artist of the Year
Burna Boy
CKay
Dadju
Diamond Platnumz
Fireboy DML
Kabza De Small
Manal
Tiwa Savage
Wegz
Zakes Batwini
Best African Collaboration
'Al Moulouk' – Ahmed Saad ft. 3enba & Double Zuksh
'Onde Anda' – Onde Anda
'Big Flexa' – Costa Titch ft. C'buda M, Alfa Kat, Banaba Des, Sdida & Man T
'Champion Sound' – Davido ft. Focalistic
'Peru Remix' – Fireboy ft. Ed Sheeran
'Tigini (Remix)' – Kikimoteleba ft. Franglish
'Buga' – Kizz Daniel ft. Tekno
'Mi Amour' – Marioo ft. Jovial
'Moyo' – Mbosso, Costa Titch, Phantom Steeze
'Somebody's Son' – Tiwa Savage ft. Brandy
Best African Act in Diaspora (Female)
Aya Nakamura
Bey T
Darkoo
Faouzia
Moha K, Marwa Loud
Nata
Rimon
Ronisia
Shay
Soraia Ramos
Best African Act in Diaspora (Male)
Calema
Dadju
Dafencii
DJ Snake
Gil Semedo
Jae5
Ninho
Soolking
Tion Wayne
Ya Levia
Best African Band, Duo or Group
Calema & Zé Felipe
Disco Misr, Aziz Maraka
Jano Band
Mafikizolo
Major League DJz
Ridimz
The Cavemen
Toofan
Umoja Sounds
Wanavakali
Best African DJ
DJ Lito
DJ P2N
DJ Snake
DJ Tarica
DJ Yessonia
Major League DJz
DJ Zinhle
DJ Spinall
Uncle Waffles
Zakes Batwini
Best African Rapper/Lyricist
A-Reece
Dafencii
Didi B
Dip Doundou Guiss
Marwan Moussa
Ladipoe
LAMB (Loose Kaynon, A-Q, MI, Blaqbonez)
Nata
Nay Wa Mitego
Youssoupha
Best Artist, Duo or Group in African Dance or Choreography
Ans-T Crazy
Costa Titch
Eltee Skhillz
Kamo Mphela
Portable X Poco Lee
Roga Roga & Extra Musica
Serge Beynaud
Simi
Spice Diana
Toofan
Best Artist, Duo or Group in African Electro
Asake
Costa Titch
Davido
DJ Maphorisa
DJ Snake
DJ Yessonia
Felo Le Tee
Mbosso
Tresor
Zakes Bantwini
Best Artist, Duo or Group in African Hip Hop
Black Sherif
Blxckie
Cdrik Kodjo
Darkoo
Didi B
KikiMoteleba ft. Franglish
Marwan Moussa
Nay Wa Mitego
Ninho
Best Artist, Duo or Group in African Pop
Adekunle Gold, Davido
CKay
Kizz Daniel & Tekno
Kouz1
Matias Damasio
Pheelz, BNXN
Ronisia
Roseline Layo
Soraia Ramos
Tenor ft. Innoss'B
Best Artist, Duo or Group in African Reggae, Ragga, Dancehall
DJ Lito, Bebe Cool, Sheilah Gashumba, SlickStuartRoja
Fave
Femi One, King Kaka & Mbithi
KiDi
Navy Kenzo
Nutty O
Rosa Ree
Ruger
Teddy Afro
Winky D
Best Artist, Duo or Group in African RnB & Soul
Ahmed Basyoni & Hussein Gamal
Bridget Blue
C4 Pedro
Frida Amani x Mayunga
Lil Jay
Tayc
Tiwa Savage, Amaarae
Nomfundo Moh, ShaSha & Ami Faku
Omah Lay
Ya Levis
Best Artist, Duo or Group in African Rock
Amir Eid
Clay
Daniel Baron
Franck Biyong
RASH
Reën & Refentse Morake
Best Artist, Duo or Group in African Traditional
Azaya, Djelykaba Bintou
Betty G
Josey ft. Bonigo
Lencho Gemechu
Manamba Kante
Flavour
Oumr Sangare
Rokia Kone & Jacknife Lee
Royalty
Stewart Sukuma
Best Artist, Duo or Group in African Contemporary
Adekunle Gold ft. Fatoumata Dawara
Alikiba
Brymo
Fadilee Itulya, Fidq & Goemi
Fally Ipuppa
Fior 2 Bior
Roga Roga & Extra Musica
Sidiki Diabate
Wallly B. Seck, Viviane
Best Artist, Duo or Group in African Jazz
Addis Legesse
Elida Almeida, Jimmy P
Franck Biyong
Guta Abera
Jano Band
Jimmy Dludlu, Rhodalia Silvestre, Dx Nuvunga, Mano Tsotsi
Kelvin Momo, TBO, JaySax
Somi
Thapelo Lekoane
The Cavemen, Made Kuti
Best Soundtrack Movies, Series or Documentary
'AlMoulouk' (Moon Knight) – Ahmed Saad ft. 3enba & Double Zuksh
'A Body, A Coffin' (Black Panther Wanda Forever Prologue EP) – Amaarae & Marvel
'Ima' – Dadju
'ODG' (The Blood Covenant Movie) – Eltee Skhillz
'EL Ghazala Raye2a' ( Zeko) – Mohamed Osama & Karim Mahmoud (Ahmed Tarik Yahia)
'Speed Life (Sonic 2 Film)
'No Woman, No Cry' (Black Panther Wanda Forever Prologue EP) – Tems & Marvel
'B3oda Ya Belady' (Captains of Zaatari) – Wegz
Best African Music Video
'Moustahil' – Amine Boumediene
'Big Flexa' – Casta Titch
'Woman' – Simi
'Nwoke Oma' – Chike
'Disco Maghreb' – DJ Snake
'Sewasew' – Maranta Da Silva
' Suavamente' – Soolking
'Buga' – Kizz Daniel ft. Tekno
Breakout Artist of the Year
Camidoh
Costa Titch
Daliwonga
El Grande Toto
Fior 2 Bior
Hewan Gebrewold
Marwan Moussa
Nomfundo Moh
Pheelz
Most Promising Artist
Ans-T Crazy
Dafencii
Fave
Frida Amani
Jeeba
Khanyisa
Kikimoteleba
Lloyiso
Magixx
Zara Williams
Producer of the Year
Shizzi
C4 Pedro
CKay & BMH
Kimambo Beats
Nyadjiko & Dadju
Rahal
Reward Beatz
Sdida & Man T
Serge Beynaud
Stan-E Kibulu & William Grigahcine
Song of the Year
'Kwaku The Traveller' – Black Sherif
'Last Last' – Burna Boy
'Big Flexa' – Costa Titch ft. C'buda M, Alfa Kat, Banaba Des, Sdida & Man T
'Ambassadeur' – Dadju
'Tala' – Didi B
'Disco Maghreb' – DJ Snake
'Peru' (Remix) – Fireboy DML ft. Ed Sheeran
'Buga' – Kizz Daniel ft. Tekno
'Mi Amor' – Marioo ft. Jovial
'Calm Down' – Rema
'Suavemente' – Soolking
'El Bakht' – Wegz
Songwriter of the Year
Bridget Blue and Jibril Blessing
Daniel Baron
Lloyiso Mandlovandile Gigana, Luke Goliath
Martin Obudho, Muthaka
Matias Damasio
Mordecai 'Dex' Mwini
Olawale Olofo'ro
Rokia Kone, Garret Lee
Iba One
Sidy Diop
Best Global Act
Anitta
Brandy
Chris Brown
Drake
Ed Sheeran
Justin Bieber
Maluma
Popcaan
Tyga
Vitaa
Best Female Artist in Africa Inspirational Music
Bridget Blue
Chaama & Eljoee
Diana Hamilton
DJ Zinle
Irene Robert
Janet Otieno
Makhadzi
Manal
TY Bello
Best Male Artist in Africa Inspirational Music
Davido
Grace Lokwa
Kassmasse
KS Bloom, Chike
Nathaniel Bassey
Noel Nderitu
Samthing Soweto
Wave Rhyder