The cause of death of Archbishop Cyprian Kizito Lwanga has been revealed, he succumbed to Ischemic heart disease, according to an autopsy report from Mulago national referral hospital.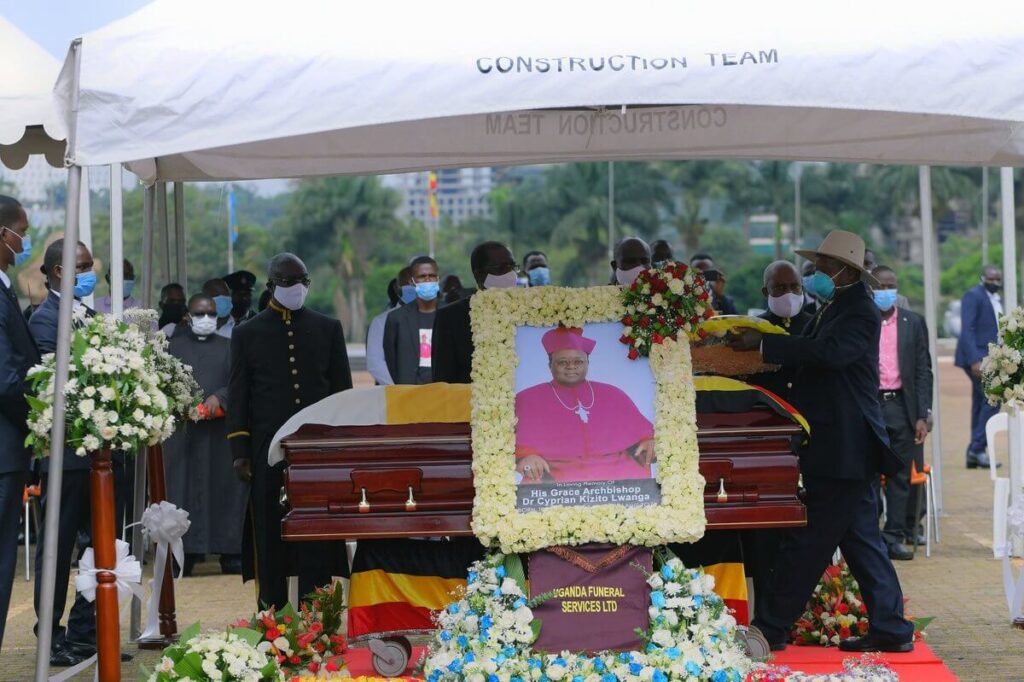 Following postmortem at Mulago National Referral Hospital, Archbishop Dr Cyprian Kizito Lwanga's cause of death was revealed, he died of Ischemic heart disease, reports Lifestyle Uganda.
Dr Andrew Sekitoleko who was the first doctor on scene and who read out a statement to mourners in the Rubaga Cathedral in Kampala said the deceased died from a heart condition that kills within a three-to-five minute time frame.
A blood clot was found inside a blood vessel that supplies blood to the heart, explained Sekitoleko.
Dr Andrew Ssekitoleko read out a statement explaining: "This means a heart attack resulting from a blood clot found in the artery that supplies the heart with blood."
"When I found His Grace (Dr Cyrian Kizito Lwanga), there was no indication that he was struggling," he said, explaining that Dr Lwanga always had heart problems.
However, he dismissed claims from Ugandans that a negative post mortem report about Lwanga's death will be presented to try and hide the truth behind Kizito Lwanga's death.
Ssekitoleko disclosed that all examinations were conducted by four senior pathologists in the presence of four witnesses; two from the family and two from the church.
Lwanga's burial arrangements
The government released a burial programme for fallen archbishop Cyprian Kizito Lwanga last weekend. According to the programme, he will be buried in the Bishop's Crypt at the Lubaga Cathedral on Thursday.
As part of the burial program, the bishop of the Diocese of Luweero, Paul Ssemogerere, will lead a requiem mass on Monday, 5th April.
In Lugazi, where Archbishop Lwanga was born, another Mass is scheduled at Kyamukadde. Former auxiliary Bishop of Kampala Christoper Kakooza will preside over the Eucharistic event.
On April 7, Bishop Severus Jumba is expected to lead a mass at Lubaga Cathedral and to lead a vigil inside the cathedral. It is expected to begin at 10.00 am, the time of the late archbishop's body's arrival at Lubaga Cathedral.
A funeral mass will be held at the Lubaga Cathedral on Thursday, April 8th, at 10.00 am. Burial will follow in the same place. The chairperson of the Ugandan Episcopal Conference is expected to preside at the Mass.