Bobi Wine, who appeared live on Facebook under house arrest for the first time since the election, again denounced the election results, claiming that Museveni had rigged it.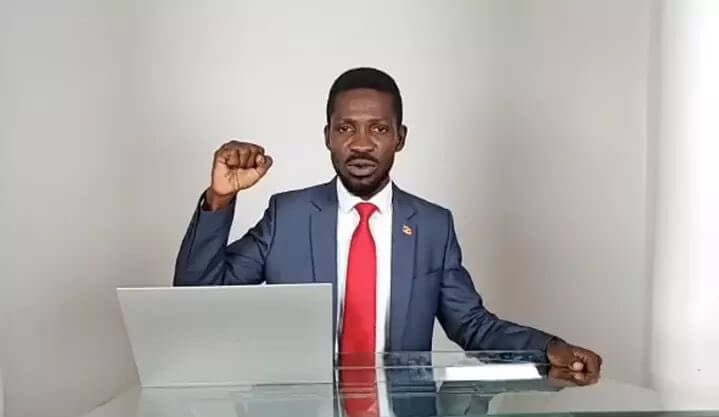 The leader of the National Unity Platform (NUP), Kyagulanyi Robert Ssentamu or Bobi Wine says he is under house arrest because Museveni, who was elected president, rigged the January 14 election.
Since Jan. 15, a day after the now-defunct presidential election, pop star politician Bobi Wine or Kyagulanyi Robert Ssentamu has been placed under house arrest, with police insisting he could lure his supporters against the election results.
However, Bobi Wine, who spoke live on Facebook, said the ruling party was keeping him under house arrest so that the Ugandan people could forget that the recent elections were bad (rigged).
"Fellow Ugandan people, I stand here to deliver my first speech after the January 14 election. You all know that we have won, and which Gen.Museveni aided by Mr Byabakama and the militarily rigged with impunity and which is the reason why am now under house arrest," he said.
Wine, who began by quoting how great it was to have the opportunity to speak with Uganda again after a long time, said he was aware of all the trials and tribulations they would have to endure in their tolerance for freedom and democracy.
Many of their colleagues, including the People Power founders and his campaign team, were arrested a few days before the election, but to date, they have been detained without any charges.
"As all Ugandan people know, many comrades have died, others are in hospitals nursing the wounds of torture, and many are in prison for standing up for the truth," he noted.
"We have a lot of evidence of these and many other frauds – this is the most fraudulent election in the history of our country. It is ten times more fraudulent than the 1980 elections. Which Museveni hinged on to go to the bush and start a war, killing more than half a million of our people."
He called Museveni a coward.
Kyagulanyi said the country's constitution provides for all citizens to participate in regular free and fair elections, but the incumbent has teamed up with the Election Commission to manipulate the results.
He noted, however, that they had amassed ample evidence of what had happened on January 14, proving that the results had been designed and miscalculated by the commission.
"Article 1 (4) of the Ugandan Constitution states that the people must express their will and approval of who will govern and how they will be governed by regular, free and fair elections. However, he added that the words" free and fair "to Museveni and his regime have been eliminated.
"Therefore, we categorically and unequivocally reject the decisions made by the operatives of General Museveni. Later read by Mr Byabakama that they did not in any way represent what the people of Uganda elected on January 14, 2021, and there is ample evidence of this."