Police raided the offices of the National Unity Platform (NUP) in Kamwokya on Wednesday, October 14, 2020, and were reportedly searching through election documents.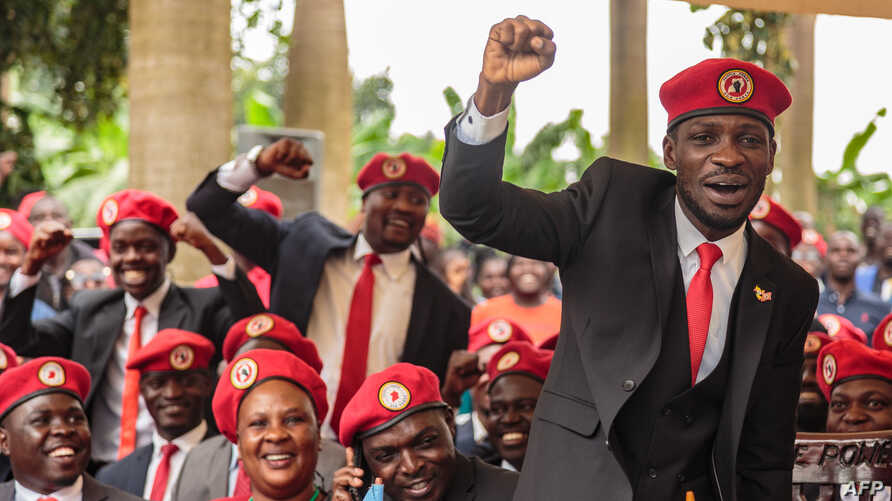 National Unity Platform Tour / October 13, 2020
The National Unity Platform (NUP) announced on Tuesday, October 13, 2020, a planned nationwide tour starting next week, where they will introduce NUP official candidates to the public and officially open their offices in various parts of the country.
NUP President Robert Kyagulanyi Ssentamu has also warned police against stopping their meetings. Furthermore, NUP President Robert Kyagulanyi Ssentamu warned police that they should not suspend their meetings.
Police raid NUP headquarters / October 14, 2020
Police raided the offices of the National Unity Party (NUP) in Kamwokya on Wednesday, October 14, 2020, and were reportedly searching through election documents. The NUP was holding a meeting of some of its top leaders when the police arrived that day.
"The military, police and other security forces have cordoned off the National Unity Platform offices in Kamwokya. Many of our employees and leaders have been arrested. They go into different offices and take all the documents and other valuables, "said NUP leader Kyagulanyi.
The National Unity Platform (NUP) later confirmed that a number of documents and materials had been confiscated today from their offices in Kamwokya. The NUP later confirmed that some documents and items were confiscated from its offices in Kamwokya by security.
The party said documents needed to nominate Robert Kyagulanyi Ssentamu as the party's presidential candidate, including CCTV camera monitors and collected signatures, had been taken.
At approximately 11 a.m, Police, along with military police and local security forces, gained access to the NUP offices around 11 a.m. when officials were holding a meeting.
83 people arrested at NUP offices / on October 15, 2020
Following a joint security operation, a minimum of 80 suspects are detained, allegedly to recover the military and police wear from the offices and supporters of the National Unity Platform (NUP).
On Thursday, October 15, 2020, a joint security team comprising police and the army raided NUP headquarters and various stores in various parts of Kampala, where they recovered NUP branded items, including T-shirts and red berets similar to those used by the military.
The operations have been undertaken in Kamwokya, Makindye, Kiyembe, Mulago, Bwaise and Kawempe, in an attempt to stop the production by illegal producers, suppliers, distributors and sellers of unauthorized uniforms.
Although NUP has been saying that the operations were aimed at frustrating the presidential bid of Robert Kyagulanyi, the security force states that the offices have been targeted as one of the places where the uniforms have been supplied and distributed as a preserved force.
Kyagulanyi said the CCTV system of the party has been vandalised and that UGX 23 million for nominations had been taken by security officials.
Magere on drone surveillance / October 16, 2020
Presidential candidate and NUP leader Robert Kyagulanyi's home in Magere had been under drone surveillance on the night of October 16, 2020, according to his close partners.
His bodyguard Eddie Mutwe shared a picture of a drone through his official social media platform and claimed it was not only a star but drone surveillance in the home of a singer-cum politician.
"It's really beyond that, the dictator is in real panic. It's not just a star; it's the drone that monitors the house of Bobi Wine," he posted.
Bobi Wine's lawyer has also confirmed the reports as he has posted on his social media. The Busiro East Parliament member Medard Lubega Ssegona said.
"I have received multiple messages about the drone rounding Mr.Kyagulanyi's residence, I argue you to be strong we should anticipate more than this. Keep it in the sense that extensively is still occurring. We're ready for what we went in, the liberation of our country will not be attained from a silver plate. Kaput to all!! We possess the Victory Lane".
The surveillance comes a day after a joint security team raided NUP offices in Kamwokya, where they confiscated various valuables and items.
2 NUP members miss nominations / October 16, 2020
The Independent Electoral Commission ( EC) nominations for Members of Parliament were closed successfully in the district of Yumbe. Two candidates showing interest in competing in various constituencies, however, failed to be nominated.
They are Muzamil Achema (NUP) and Swaib Juma Anguyo, an Independent, who have all been competing in Yumbe for the seat of Aringa North MP.
The returning officer Kennedy Munduga from the Yumbe District explained the basis for not nominating them.
He stated that 21 candidates appeared in the two days for the nomination, but 19 were nominated while two did not meet because of their inconsistency.
"There is an amendment in the person law registration which requires the submission of certain documents as proof or support for any discrepancy between the names and those candidates are unable to provide it," Munduga said.
However, he said their opportunity to appeal to the Election Commission within seven days from the deadline should be based on their security regarding changes in their details.
However, he said that they have the opportunity to seek nomination based on their defence, in respect of changes to their details, with the EC within seven days of the deadline date.
Achema said, however, that his testimonials are "Achema Muzamil" unfortunate to him and to the people he ought to represent, while his national identity card is 'Achema Muzamil Chegwa.'
Flash Uganda Media also contributed to this story.