Top model and tourism champion Judith Heard flew to Mumbai, India two weeks ago for the prestigious Miss Environment International contest where 36 countries competed on the theme 'Beauty begins with environmental care'.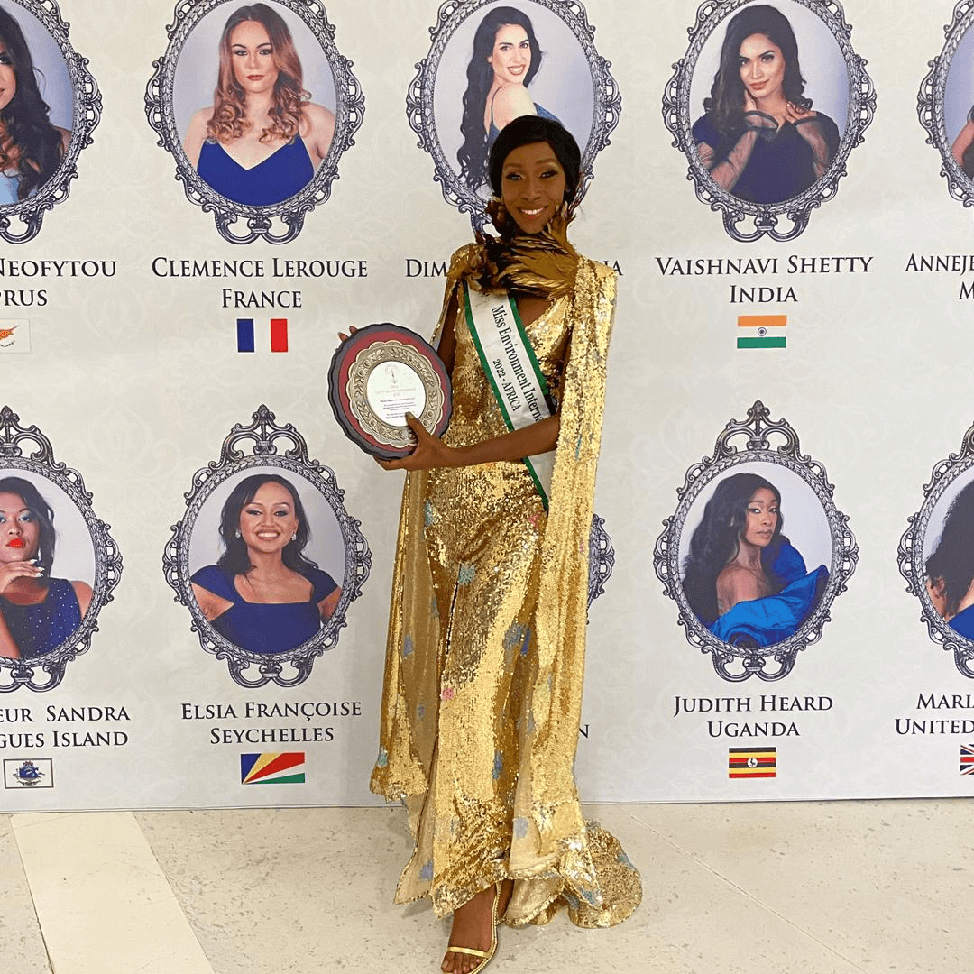 KAMPALA | LIFESTYLE UGANDA (https://lifestyleuganda.com/) — Two weeks ago, top model, tourism champion, and current Miss Elite Africa Judith Heard flew to the majestic city of Mumbai ahead of the Miss Environment International contest where over 36 countries' representatives auditioned and participated in the theme 'Beauty starts with environmental care'.
Muhumuza Brian of Bryan Morel Publications (presently based in Mumbai) confirmed this soar win adding that Miss Judith returns to Uganda next week to officially launch campaigns including plastic collection, recycling, and tree planting across the country.
Judith walked away with a global prestigious crown, certificate of endorsement, and an undisclosed publishing contract from Miss Environment International president Rushikesh Mirajkar.
This finalist's no-tiara customized ornament is made of diamonds and gold shining a glorious moment while attracting praise from climate activists, environmentalists, and media from Lebanon, India, Europe, the United States of America, Mauritius, and other Asian countries.
Judith had been a high scorer throughout the model camp held in North & South Goa), semi-finals (Mumbai Suraj Byke Hotel), and grand finale (CIDCO Exhibition & Convention Center) in India.
Amongst other finalists included ambassadors from South Sudan, United Kingdom, Seychelles, Mauritius, Peru, Greece, Bolivia, Réunion Island, Columbia, Philippines, Nigeria, Cyprus, India, Belgium, Rodrigues Island, and France.
Judith's runway presentations were made by strictly Ugandan designers that are evening gowns (SKP clothing), sporty wear (FeetBit Sneakers), Environment advocacy showcase (Kas Wear), African print (Agnes Agimo), glamorous dresses (Sham Tyra) and Suit Up (House Of Chenko).
The event was graced by Bollywood star performances from Sandhya Damle, Ashmik Kamte, and Ankul Ballal. Judges were Cassandre Joseph, Ritu Datta, Anees Deen, Vinay Lamba, and Moneesa Dhiman.