The President and First Lady, Janet Museveni surprised Denis Onyango by gifting him with a brand new Mitsubishi Pajero Sport in his farewell ceremony which was held in the Statehouse, accompanied by his mother and sister.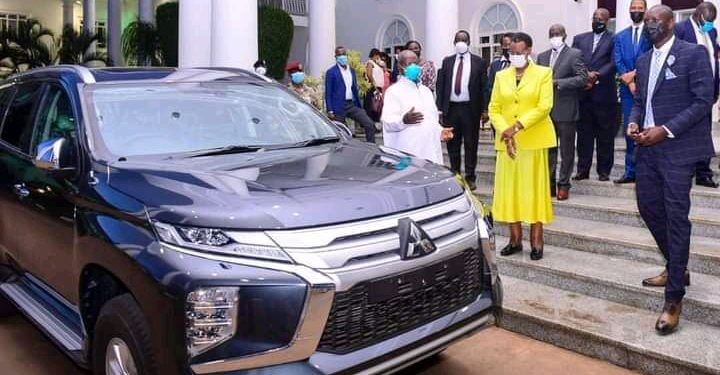 President Yoweri Museveni and first lady Janet Museveni bid an emotional farewell to former Cranes captain Denis Onyango, who recently announced his retirement from national team football.
Museveni said that sportsmen are unfortunate because their careers are short-lived.
However, Museveni applauded Onyango and others for holding the country's flag high.
Visit the Lifestyle Uganda homepage for more stories like this.
In a ceremony held at the Statehouse, Museveni stated that it is unfortunate that sportsmen's careers are short-lived while applauding Onyango and others for sustaining a high level of performance in the country's various sports disciplines.
"I congratulate Onyango for all he has done. Yet a 35-year-old sportsperson can still serve the country for another 20 years if given bursaries or working in higher institutions," Museveni said.
In addition, he pointed out that the government regrets its failure to support the sports industry financially, although reminded that it is doing so indirectly through Universal Education and other schemes.
Also, the President said the government plans to empower the sports industry in Uganda so that it can compete internationally, particularly with those of European countries.
"In the new government, we will be able to decide on this export scheme and see whether it is good for us or not and how best to keep our sportspeople here."
Janet Museveni, the First Lady and the current minister of sports said Onyango has set a great example for a vast number of young talent countrywide.
However, she argued that the legendary goalie's services are still needed in order to help others live in the same shoes as he did.
During the same farewell ceremony, Onyango's mother and sister were also present at the Statehouse. In addition to other rewards, the President and the First Lady presented him with a brand new Mitsubishi Pajero Sport.