Singer Bebe Cool in Nigeria for the Pan African Guinness Night Football extravaganza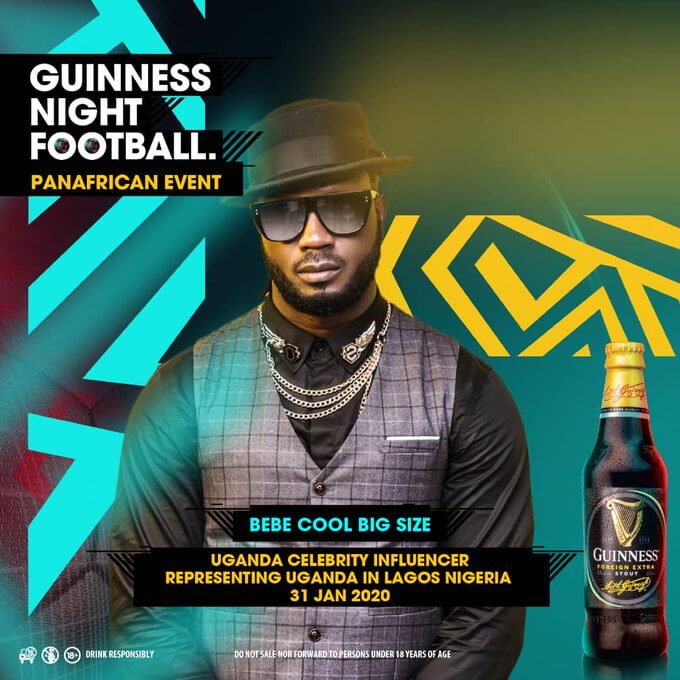 Bebe Cool together with his wife Zuena Kirema and Gagamel band jets in Nigeria for the Guinness Night Football Pan Africa Extravaganza Programme happening on Friday.
Bebe Cool is expected to give a great performance to the programme.
A series of entertaining events will also take place in the dark but enhanced by colourful neon UV and lighting technology to make the event memorable, lively and immersive.
As Guinness Night Football Ambassador to Uganda, Bebe Cool plans to shake hands with host Rio Ferdinand, the international football legend, as well as global Guinness Ambassador to Lagos, Nigeria, on 31 January 2020.
Bebe Cool said he would not only impress music fans but also show off his soccer skills as his son mastered it.
Guinness Night Football Extravaganza will feature celebrities from across Africa including Kenyan Sauti Sol, Ugandan Bebe Cool, Nigerian Kizz Daniel and Cameroonian Salasi.
The ' Wire Wire ' singer will act as an influencer of Ugandan celebrities representing Uganda in Lagos Nigeria at the event.
What is Guinness Night Football
Guinness Night Football was introduced by Guinness in Uganda to offer football fans the chance to enjoy a variety of unique and immersive experiences like never before.
This intentionally takes the game beyond traditional football and brings out the colour and vibrancy of the players and fans in a series of unforgettable activities.
From Guinness, Night Football is an epic Pan-African soccer extravagance that will include five-a-side soccer games, soccer shows and many more, including a chance to meet celebrity soccer fans.
Follow live updates about Guinness at Flash Uganda Media