According to media reports, Ugandan musician Jose Chameleone announced he is still a member of Yoweri Museveni's NRM party when he accepted a Range Rover gift from his brother, Michael Nuwagira, normally known as "Toyota."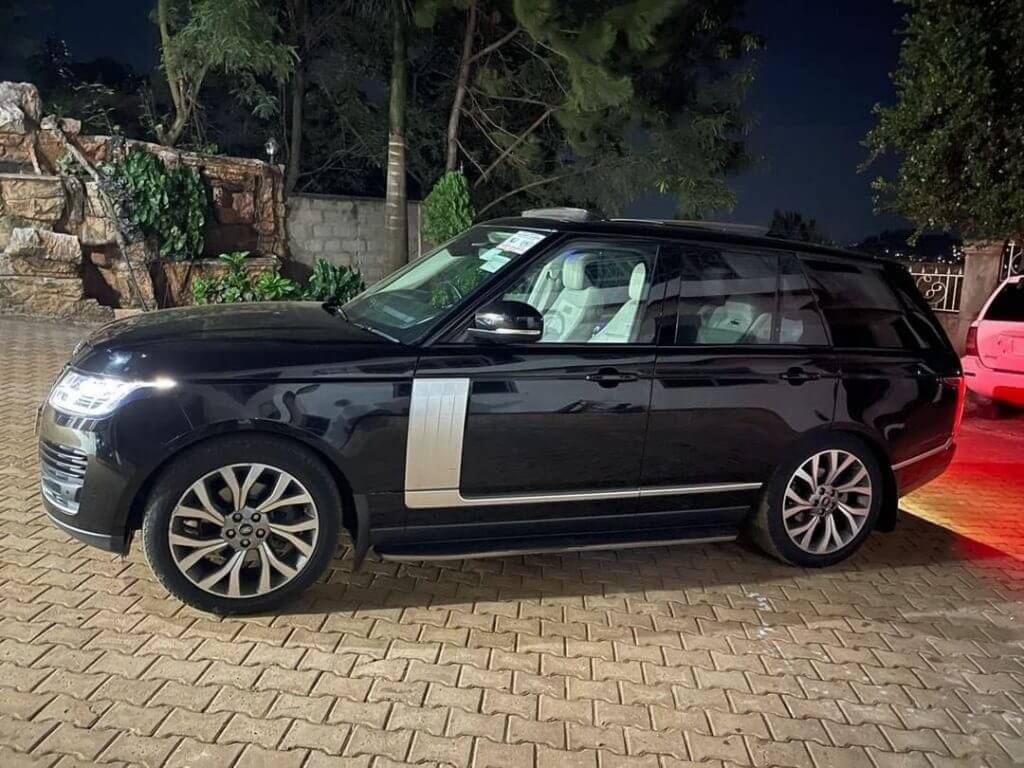 KAMPALA | LIFESTYLE UGANDA (https://lifestyleuganda.com/) — As reported in local media, Ugandan musician Jose Chameleone revealed he's still a member of the NRM party when he received a Range Rover gift from President Yoweri Museveni's brother Michael Nuwagira, also known as Toyota.
What's being said about Chameleone's new Range Rover, and his decision to rejoin the NRM.
Doreen Nyanjura, Deputy Lord Mayor for Kampala, said on Twitter that Chameleon is not NUP.
Read also: On Independence Day, singer Chameleone will release a new album 'I Am Joseph'.
See also Who is Daniella Atim, 11 things you must know about Jose Chameleon's wife?
Please note that Lifestyle Uganda does not have any control over external websites.
A viral video shows Chameleone being led to the Range Rover, and Mr Nuwagira is overheard asking an assistant to "gyamu ebintu byonna" (get rid of my stuff) before the 'Bayuda' singer is handed the keys.
In our article section of "What's Happening", we explore how the Ugandan media is reacting to the news of Jose Chameleone re-joining the NRM party and receiving a Range Rover.
MBU
Jose Chameleone, who was gifted a brand new Range Rover Autobiography 2020 model by NRM, denounced his loyalty to NUP and reiterated that he is still an NRM supporter, reports MBU.
Mr Toyota recently handed over a brand new car to Uganda's renowned music legend and former Lord Mayor candidate, Joseph Mayanja a.k.a. Chameleone.
With other friends, Mr Toyota witnessed the handover of the UBJ 415D Range Rover to singer Jose Chameleone. Mr Toyota's real name is Sedrack Nzaire Nowomugisha Kaguta.
Daily Express
According to the Daily Express, Joseph Mayanja aka Dr José Chameleone has publicly announced that he has left Robert Kyagulanyi's National Unity Platform (NUP) party, rejoining the ruling National Resistance Movement (NRM).
Chameleone said that while addressing NRM officials led by Museveni's younger brother Nzeire Kaguta alias Toyota. He noted that he has always been a loyal NRM member, but had gone astray.
On welcoming the celebrated singer back to the ruling party, the party officials presented him with a black Range Rover Sport of the UBJ series, which they informed him was a gift from the party Chairman, President Museveni.
Celeb Patrol
Celeb Patrol reports that legendary singer Joseph Mayanja alias Jose Chameleone has confessed that he crossed back from the People Power Block to the ruling party NRM after Museveni gifted him with a brand new range rover.
Chameleone stated that he left NRM because of his problems, however, he remains an NRM member.
ChimpReports
Joseph Chameleone, the former independent candidate for Lord Mayor, has publicly confessed he is part of the ruling National Resistance Movement (NRM). This was first reported by Chimpreports.
The popular musician denied he has ever belonged to the National Unity Platform (NUP) led by Hon Kyagulanyi Ssentamu alias Bobi Wine.
In the process of receiving a brand new Range Rover vehicle from NRM officials led by President Museveni's brother Nzeire Kaguta alias Toyota, Chameleone disassociated himself from the NUP party.
Matooke Republic
According to the Matooke Republic, musician Jose Chameleone came forward to reaffirm his NRM membership when he received a car from President Yoweri Museveni's brother, Micheal Nuwagira aka Toyota.
Although he is known as Mr Toyota, Nuwagira prefers sleeker vehicles and drives normally Range Rovers.
A video circulating online shows Chameleone being escorted to the Range Rover and Mr Toyota is heard saying, "gyamu ebintu byonna (remove all my stuff)," before Chameleone is handed the keys.
Bottomline
In her tweets, Ugandan politician Dorreen Nyanjura, who was appointed the Deputy Lord Mayor of Kampala on 18 June 2020 to replace Sarah Kanyike, asserted Chameleon is not part of the NUP.
She quoted Chimpreports, saying that Chameleon wasn't a NUP. So he can't denounce what he wasn't.''