Generally speaking, there are two main types of thrombosis, based on where the clot occurs in the body. Venous thrombosis occurs in the veins, while arterial thrombosis occurs in the arteries.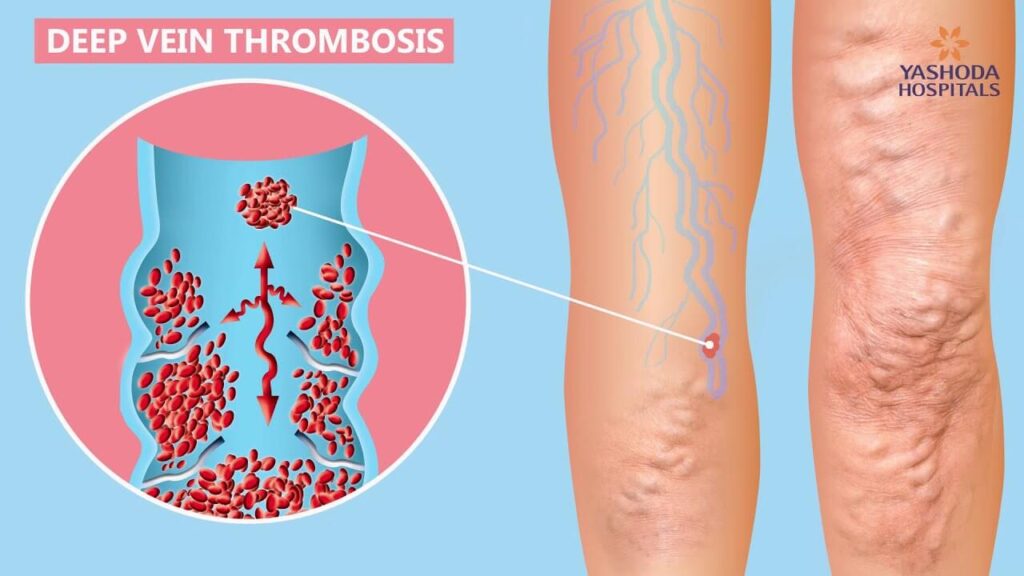 KAMPALA | LIFESTYLE UGANDA (https://lifestyleuganda.com/) — Thrombosis is often a preventable and treatable condition, however, one in four people around the world die from the conditions that arise from it, so early identification could reduce this death rate.
Early treatment and identification of thrombosis are vital for the different types.
The good news is that thrombosis is treatable if detected early.
Check out these eight factors that may increase your risk for blood clots.
Please check out our guide to understanding dental anesthesia, including its side effects.
The content of external sites is not the responsibility of Lifestyle Uganda.
Dr Henry Ddungu, a member of the steering committee for World Thrombosis Day, explains why early identification is important and the different treatment options available.
Thrombosis is the second leading cause of death worldwide after heart disease. And even when the condition doesn't kill, it has a significant impact on the person who is affected.
In the medical field, thrombosis is the formation of a blood clot in a blood vessel, either a vein or an artery, which itself is termed a thrombus.
A clot that forms in the body and travels to the circulation is called an embolus. When a clot travels to the circulation, it can slow or block normal blood flow.
Thrombosis is the underlying pathology for heart attacks, strokes with thromboembolism, and venous thromboembolism (VTE) – the top three killers in the cardiovascular system.
Even though it can be deadly, many people don't know they're at risk, says Dr Henry Ddungu, a consultant haematologist at the Uganda Cancer Institute and a member of the steering committee for World Thrombosis Day.
In Dr Ddungu's opinion, understanding your risk and identifying clots early can help reduce the severity of any complications that may arise, which makes educating people about the various types of thrombosis a priority.
Thrombosis types
Venous
Arterial
Pulmonary embolisms
In broad terms, thrombosis is divided into two types, with clots occurring in veins or arteries depending on where they occur in the body. Venous thrombosis occurs in the veins, while arterial thrombosis occurs in the arteries.
According to Dr Ddungu, both types of thrombosis are influenced by risk factors, whether inherited genetically or acquired through lifestyle.
If left untreated, arterial thrombosis can cause heart attacks, strokes, transient ischemic attacks (TIAs) or mini-strokes, and critical limb ischemia.
The disease known as venous thromboembolism happens when blood clots form within the legs, known as deep vein thrombosis, and travel in the circulation to lodge in the lungs, which results in pulmonary embolism.
As a group, venous thrombosis includes both superficial venous thrombosis and renal vein thrombosis. A clot in the main renal vein can result in acute kidney injury or chronic kidney disease.
Treatment and prevention
Thrombosis can be prevented and treated, especially if detected early.
In 'at-risk' individuals, effective evidence-based prevention strategies can stop the formation of blood clots, according to Dr Ddungu.
According to him, healthcare professionals perform a VTE risk assessment in order to identify whether a patient is at risk.
A tool or questionnaire is used to gather information about a patient's age, medical history, medications, and specific lifestyle factors. From this information, a diagnosis can be made regarding the possibility of blood clots in the legs or lungs (high, moderate, or low risk).
As a result, the medical team may order tests, such as a blood test called a D-Dimer, an ultrasound of the involved limb to look for a DVT, or a CT scan of the chest with intravenous dye to look for a PE.
Dr Ddungu recommends that at-risk patients receive preventative medicine, even if the tests come back clear.
The use of anticoagulant medications (anticoagulants), as well as compression stockings, help stop blood clots, he says. Hospitalized patients may also be instructed to move around or engage in foot and leg exercises as frequently as possible.
In the meantime, blood-thinning medications are usually prescribed to aid the body's natural process of breaking up the clots, as well as limit further formation for people who are in the process of bleeding.
Patients may need to undergo any of the following procedures:
Anticoagulants (e.g., injectables like heparin and enoxaparin, or low molecular weight heparin, or tablets like dabigatran, rivaroxaban, edoxaban, and warfarin).
There are mechanical devices (for example, compression stockings that may alleviate the risk of long-term problems that can result from having clots in a vein) that can be used to reduce the risk of long-term problems.
Treatment with thrombolytics or clot busters (e.g., tissue plasminogen activator).
Anyone can be affected by clots, regardless of place, age, race, or ethnicity. For this reason, it's imperative that people get tested, know their risk factors, and seek out treatment if necessary.
Dr Ddungu concludes, "People who prevent thrombosis or catch it early on will live longer, healthier lives with their families. A little education could go a long way to making sure they do.".