Spotify, the Swedish audio streaming and media services giant, has introduced its innovative Jam feature on a global scale this week. This latest innovation joins the ranks of the platform's successful social features, including Collaborative Playlists and Blend, which have garnered significant user engagement.
Over 45 million Blend playlists have been created, and Collaborative Playlists have seen users collectively spend more than 200 million hours in the past month.
Jam introduces a personalized, real-time listening experience for groups of friends. Premium subscribers can initiate a Jam session and invite others, regardless of whether they have Free or Premium accounts, enhancing the playlist curation process by identifying common musical interests among participants.
To start a Jam, users can choose a playlist or song and then click the "Start a Jam" button, accessible through the speaker icon or playlist options. The host can select the playback device, and those on the same Wi-Fi network will receive an invitation to join when they open Spotify.
Invitations can be extended through three methods: tapping phones together with Bluetooth enabled, scanning a QR code displayed on the host's screen, or sharing a link via social media, text, or messaging platforms.
Within a Jam, all participants can add songs to the queue, view the contributor of each track, and receive music recommendations, all from their individual devices. The host maintains control over participants, track order, and the ability to remove songs to maintain the desired vibe.
Spotify has also ventured into artificial intelligence (AI) innovation with Voice Translation for podcasts, preserving the podcaster's original voice style while translating episodes into various languages.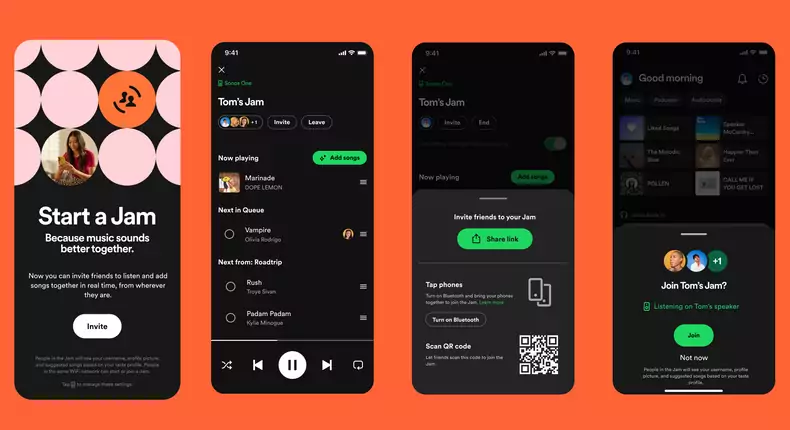 Recent data from Spotify in Nigeria highlights the increasing influence of Gen Z on podcast listenership. Those aged 18 to 24 account for 50% of total streams in the last 90 days, followed by the 25 to 29 age group at 21%. Podcast consumption in Nigeria has surged by 222% between 2021 and 2022, solidifying its position as the second-largest podcast market in Africa, after South Africa.