Here are the winners of the 2021 MTN UG Hip Hop Awards held on Sunday 16th May 2021 at MTN's Jinja Road headquarters.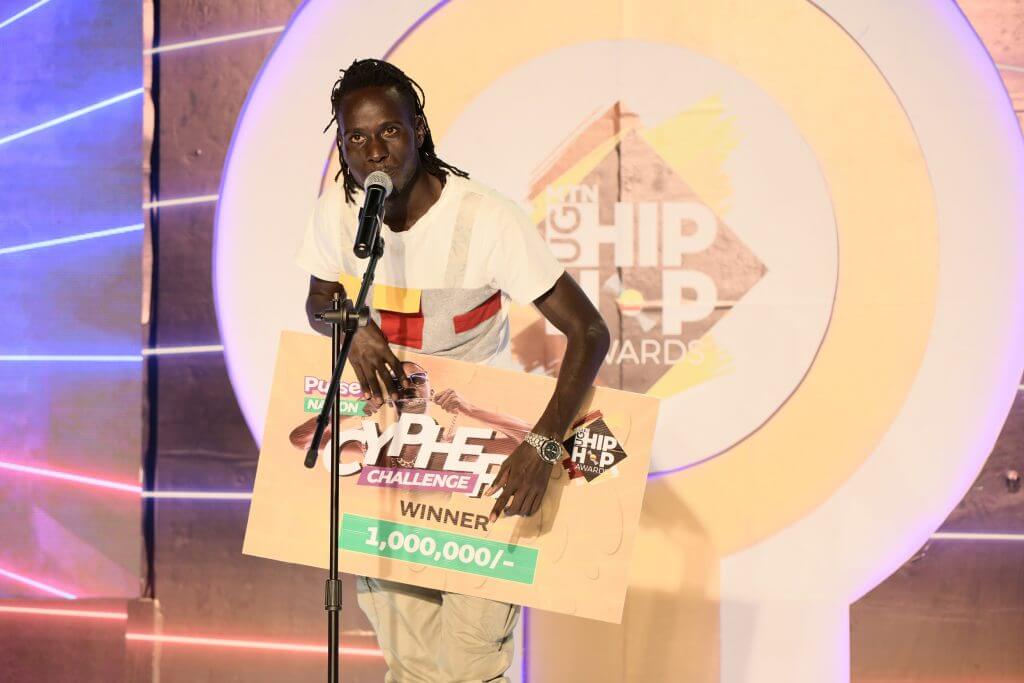 On Sunday 16th May 2021, the MTN UG Hip Hop Awards took place at MTN's headquarters at Jinja road, and here are the winners.
This year's UG Hip Hop Awards in collaboration with MTN Uganda held a cypher competition where new and undiscovered talent showcased their abilities in Hip Hop rap battles.
Charles Ameto won the overall competition and was awarded UGX 1 million, followed by UGX800,000, UGX600,000 and UGX400,000 to the first, second, and third runners up.
For the MTN Pulse Hip Hop Awards, the winners were voted through the MTN Pulse app and the MTN Pulse micro-website, which allowed MTN Pulsers to see the winners in real-time.
Presented annually, these musical awards honour and promote Hip Hop music throughout the country.
Somdev Sen, Chief Marketing Officer of MTN Uganda, said MTN's decision to support the awards is based on the fact that hip hop is still the most preferred music genre among Ugandan youths, thus the need to support it and see it grow to its full potential.
"Hip Hop remains a favorite genre of music for most youths in this country as it allows them to express themselves and be themselves without limits and we are committed to building a community that is young at heart and aspires to live life without fear and limits," Somdev said.
Navio, alias Daniel Lubwama Kigozi, said that hip hop is continuing to record steady growth, with Hip Hop artists receiving more airplay on local radio and television stations.
Uganda is one of the very few countries with Hip-Hop awards, which have helped us to grow," Navio said. "Hip Hop artists continue to shine out there. If you listen to the twenty most requested songs on the radio today, about 10 to 15 will be Hip Hop.
Here is a list of the winners of the MTN UG Hip Hop Awards 2021.
Male artiste of the year
Judas Rapknowledge da Akbar – David and Goliath fight
Female artiste of the year
East African Artiste Of The Year
Khaligraph Jones – Tuma Kitu
Northern Uganda Artiste of the year
Judas rapknowledge Da Akbar – Alok kwona
Western Uganda artiste of the year
Eastern Uganda artiste of the year
Central Uganda artiste of the year
Felista Di Superstar – I can't breath
Rookie of the year
Video of the year
Inspirational song of the year
Flex D' Paper Feat. Shena Skies – Mbikwasagwe
The collaboration of the year
Navio ft. Flex D'Paper and Joh Makini – Abaana Beeka
Lyricist of the year
The Mith – Ugandan Cypher
Song of the year
Adrenalyn Muzik – Some Ka Money
Hip-Hop Media Personality of the year
Album of the year
Navio – Strength In Numbers
Rap Fusion of the year
Talent Africa ft. All-stars – Nalubale Project
Producer of the year
Mixtape of the year / E.P
Blixxack & Tucker – Open Time EP
Sweet Sixteen
Hip-Hop Deejay of the year
Lifetime Achievement Award
Hip-Hop Caller tune of the year