Get 20% discount on Tugende Mu Kikadde ticket with Stanbic Bank using Visa card or Flexipay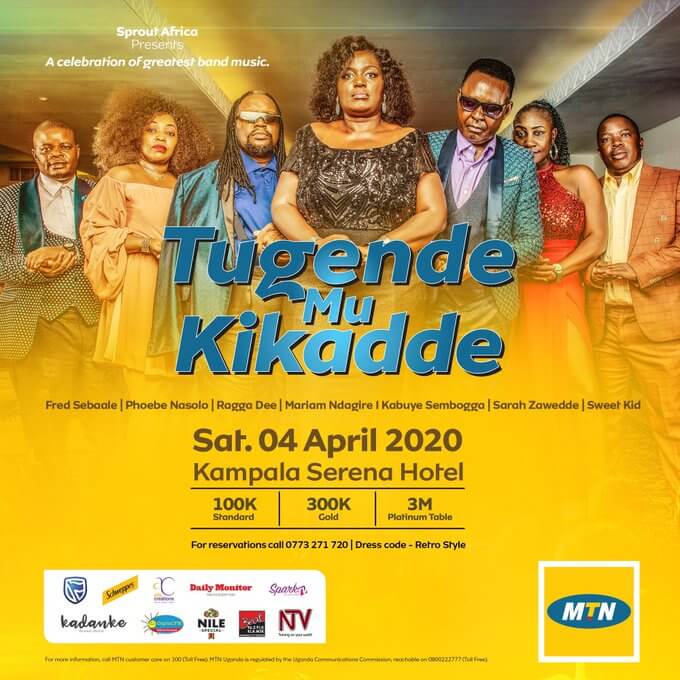 Stanbic Bank Uganda is once again excited to sponsor the Tugende Mu kikadde concert, however, this time around they are offering a 20% off all tickets purchased while using Visa card or Flexipay.
This has been done to make it even easier and convenient for customers to acquire access tickets to the legendary music concert at relatively cheap and reduced prices.
Under the offer, all standard tickets will now go for a reduced price of UGX 80,000 via Flexipay or Visa card.
A customer is only required to press *290*1# to access the promotion. It is open to all Mobile Money users and one does not need to have an account with Stanbic Bank to utilise it.
This year's Tugende Mu Kikadde concert will be held on 4th April at the Kampala Serena Hotel to flashback to the good old times of Ugandan band music.
Unlike in the past years, this year's concert will be headlined by Uganda's elite talents that have become rare gems on the stage.
The event set to be a red carpet affair with all revellers introduced to A VIP experience will feature legendary musicians from the older generations including Kabuye Semboga, Mariam Ndagire, Raga Dee, Sweet Kid, Phoebe Nasoolo, Fred Sebaale and Sarah Zawedde.
It will be a sheer fun night not only for the old people but also for the young generation taking a glance at their parents pulling up their best and old age strokes.
Being a legendary celebrating platform, this year's Tugende Mu Kikadde 2020 is aimed at paying a tribute to the late 'Elly Wamala' who passed on in 2004 – one of Uganda's ever biggest music icons.
He's role in the music industry during the 1950s and 60s was unquestionable.
Besides his songs that left many pouring tears and others mesmerized, he inspired many others in the music industry.
Sixteen years since his passing, he remains alive in many people's hearts who on a daily during their free time play and listen to his great lyrical music.
As a way of remembering the fallen hero's life, legacy, times and timeless music, each of the invited artists will be required to perform at least one song from the late Wamala's album – over eight of most popular vibes.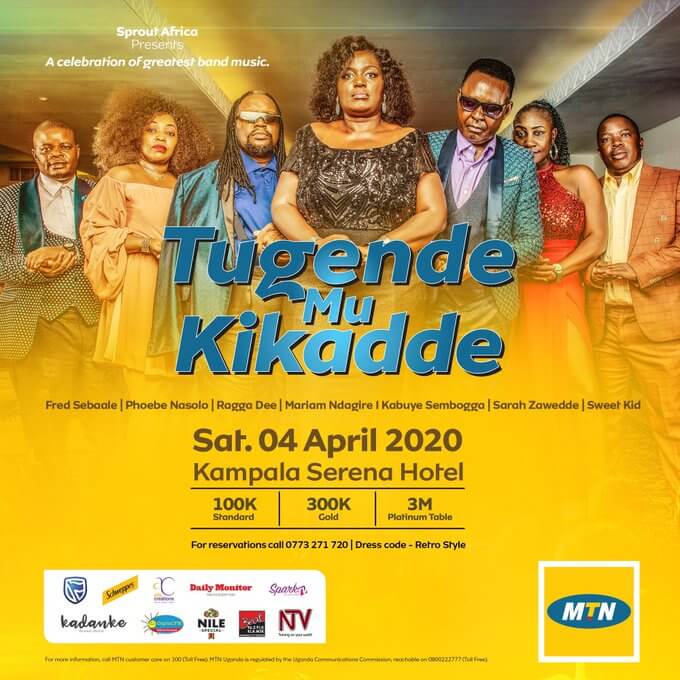 Meanwhile, this year's Tugende Mu Kikadde edition is proudly sponsored by MTN Uganda, Stanbic Bank, Schweppes, Nile Special, 91.3 Capital FM, KADANKE, NTV, Daily Monitor and Alfa Creations.