Barack Obama is continuing a tradition he started during his presidency of sharing his personal playlist of the best songs of the year. He selected tracks by Burna Boy, Rema, Ayra Starr, and more.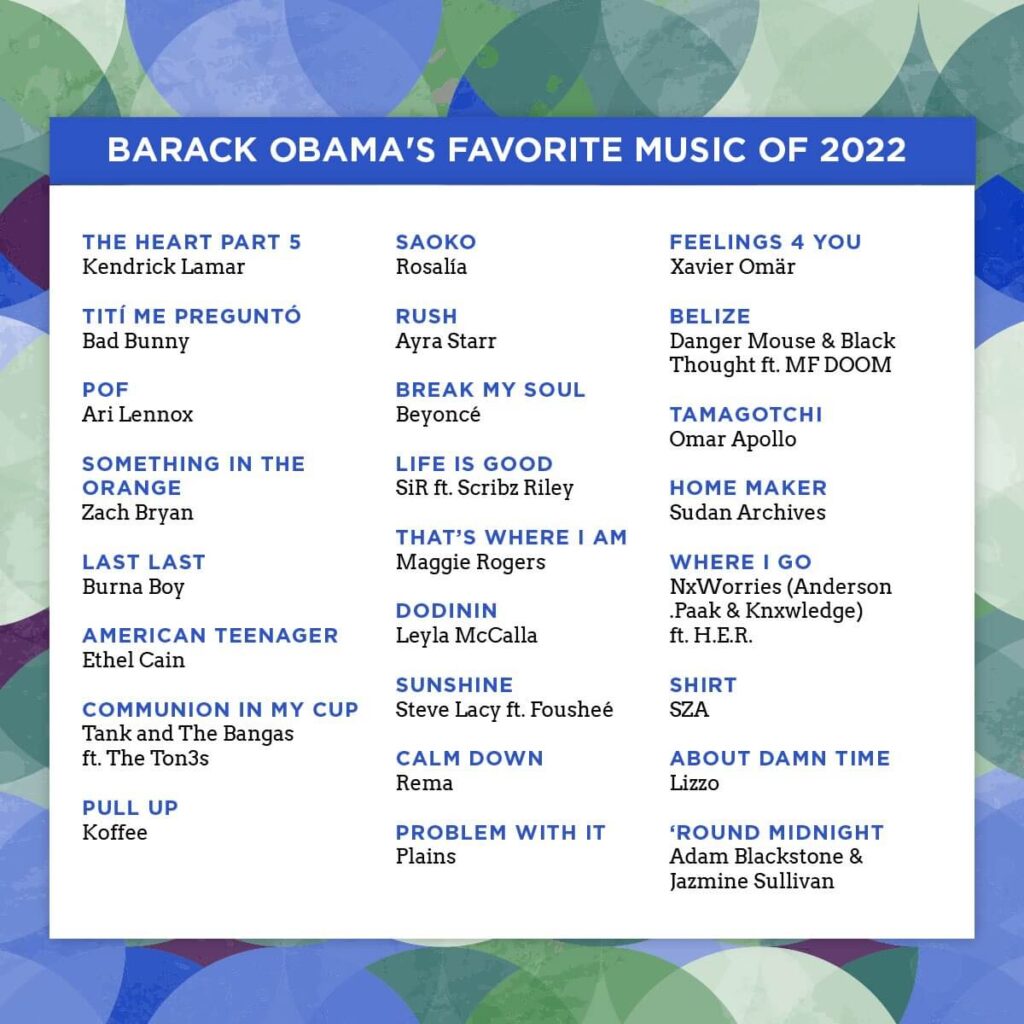 KAMPALA | LIFESTYLE UGANDA — Barack Obama, the former US president, released a playlist of his top 25 favourite songs he enjoyed in 2022 featuring Nigerian artistes such as Ayra Starr, Rema, and Burna Boy.
His selection includes some of the biggest releases in a variety of genres this past year.
Afrobeats (Burna Boy's "Last Last," Arya Starr's "Rush") and reggae (Koffee's "Pull Up") are among the genres included in Obama's playlists as well as indie pop (Maggie Rogers' "That's Where I Am"), indie folk (Ethel Cain's "American Teenager"), hip-hop (Kendrick Lamar's "The Heart Pt. 5," "Belize" with Danger Mouse, Black Thought and MF DOOM) and R&B (Sudan Archives' "Home Maker.".
As a result of the diversity of Obama's playlist for 2022, Nigerian Rema's inclusion is no surprise since his song, "Calm Down", was a big hit and deserves to be among the Top 10 Barack Obama's Favorite Songs in 2022.
From his debut studio album Rave & Roses (2022), Nigerian singer Rema released "Calm Down" on 11 February 2022 as the album's second single through Jonzing World and Mavin.
In addition to charting at number one on the Belgian Ultratop 50 and Dutch Top 40, the song charted at number one in the Dutch Single Top 100 as well.
In August 2022, Selena Gomez released a remix of the song. The new version of the song reached number one on the Billboard US Afrobeats Songs chart and peaked at number five on the Global 200 chart.
Next, Ayra Starr's latest offering 'Rush' also made it to Barack Obama's Favorite Songs of 2022. 'Rush' which serves as her debut single for the year following the visuals for "Beggie Beggie" featuring Nigerian singer, CKay will also likely benefit from Barack Obama's Favorite Music of 2022 audience reach.
Last but not least on Barack Obama's African roaster for Favorite Songs of 2022 is 'Last Last' from Burna Boy. This song was the first single from Burna Boy's sixth studio album, Love Damini, released through Atlantic Records on 13 May 2022.
This song was co-written by Burna Boy, Off & Out (brothers Mikael & Samuel Haataja), Chopstix, MdS, and Ruuben. It was performed by Burna Boy at the 2022 Billboard Music Awards, two days after its release.
Burna Boy's 'Last Last' has reached major milestones in 2022, including surpassing 100 million views on YouTube, becoming the highest streamed song on Spotify Wrapped report in Uganda, and inspiring his cannabis brand, "Brkfst".
In the case of Ethel Cain and her "American Teenager," he selected an artist who received critical acclaim for her debut album, "Preacher's Daughter."
Despite dealing with heavy subjects like religion and domestic violence, Obama's endorsement could help Cain gain a significant boost since many critics didn't take her seriously enough to show up in their polls.
Listed below are Barack Obama's favorite songs of 2022