The #YouTubeBlack Voices Music Class of 2022 has brought Ugandan musician Priscilla Zawedde alias Azawi onto Times Square Billboard in New York, following Eddy Kenzo and Bobi Wine.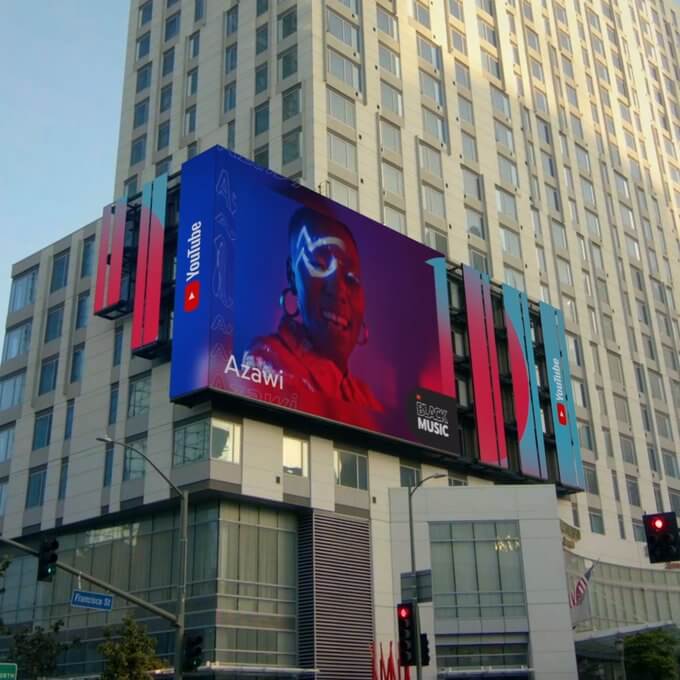 KAMPALA | LIFESTYLE UGANDA ( https://lifestyleuganda.com/) — Through the #YouTubeBlack Voices Music Class of 2022, Ugandan artist Priscilla Zawedde alias Azawi has become the third Ugandan act to appear on Times Square Billboard in New York after Eddy Kenzo and Bobi Wine.
From Nakulabye to Times Square billboard, Azawi is taking 'African music' to the World.
Click here to listen to 'African Music' by Azawi.
The African star, who signed an endorsement deal with Guinness for the 'Black shines brightest' campaign, is currently on billboards throughout the United States, including in New York, Los Angeles, Atlanta, and London.
These billboards are designed to create awareness for YouTube's #YouTubeBlack Voice Music Class of 2022, which Azawi is participating in along with three other African artists such as Omah Lay and C Kay, who represent the continent on the programme.
YouTube Black Voices Music Class of 2022 is a development program funded by YouTube's Black Voices Fund, designed to directly support, mentor, and promote African-American music artists, songwriters, and producers worldwide.
The participants in this program will receive partner support, seed funding for the development of their channels, and opportunities to participate in training and networking programmes focused on production, fan engagement, and wellbeing.
Azawi on African Music
She released her 16-track album 'African Music' earlier this month, which includes songs like My Year, Slow Dance, Majje feat. Fik Fameica, Bamututte, Crazying For You Heavy, Fwa Fwa Fwa, and many others.
As of today, the album is available on all music stores, debuted number one on Apple Music, and has quickly accumulated over 3 million views on YouTube in her short career.
You can listen to African Music by Azawi here.
This article is supported by Makeup Store Uganda, a Cosmetics Store in Kampala with original makeup products from Europe. They are located at Equatorial shopping mall, level 2 shop no 272, and you may contact them via WhatsApp at +256793851784 or by phone at +256789436581.