Many studies indicate that hibiscus tea is a good way to protect against obesity and to help with weight loss daily.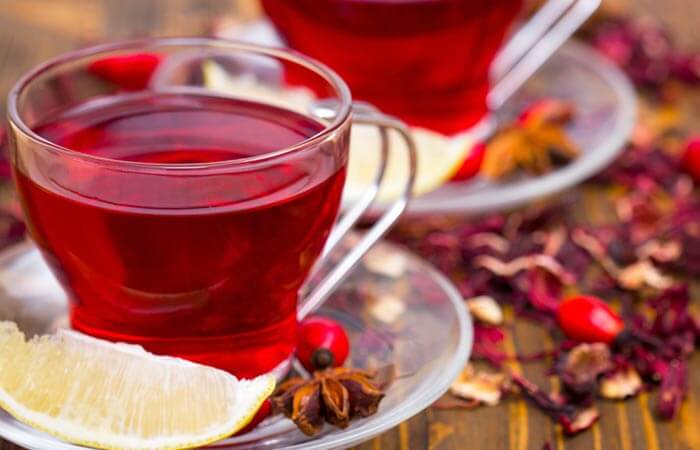 Hibiscus tea weight loss: This tea has a lot to offer its customer for weight loss. The tea consists of the Hibiscus sabdariffa flowers.
This hibiscus tea is widely used in the Middle East, Africa and Trinidad and Tobago Republic.
How It Is Made?
The Hibiscus sepals were first dried under the sun in ancient time. It is stored in a cool place once it is dried.
By cooking hot water you can make a fresh tea, dip the dried hibiscus flora and leave it in the pot until the water changes into deep red colour.
The dried hibiscus blooms are now crushed and put in tea pouches. You can simply steep a tea bag in your bowl, just like other herbal tea.
What is in Hibiscus?
This Hibiscus tea is rich in vitamin C, antioxidant and other nutrients, such as protéin, fibre, calcium, iron. It has adds enzymes in your system which are also helpful.
Benefits of Hibiscus tea in weight loss
There are so many benefits for people to get this drink. This tea can reduce cholesterol in your LDL and control blood pressure.
The essential vitamins and minerals in Hibiscus can also strengthen your immune system. Due to its rich antioxidant content, it can combat free radicals.
The antioxidant anthocyanins found in Hibiscus can guard the body against the negative effects that are present in our system during the oxidation process. It thus prevents the precancerous cells from growing in the body.
It is also true that this specific tea can encourage loss of weight. It is very helpful to have the enzymes alone. In particular, the food intake and complex sugar will be decomposed by the enzymes.
This will prevent an excess weight gain for the individual. The diuretic properties of this drink also remove excess liquid in the body. It also removes toxic waste and detoxifies the body.
This Hibiscus tea weight loss product in its totality is not only about obesity, but also about the person's overall health.