In a statement released yesterday evening, the FUFA executive committee suspended Jonathan McKinstry ahead of two matches that must be won, and will not manage and coach the team from March 2 to 31.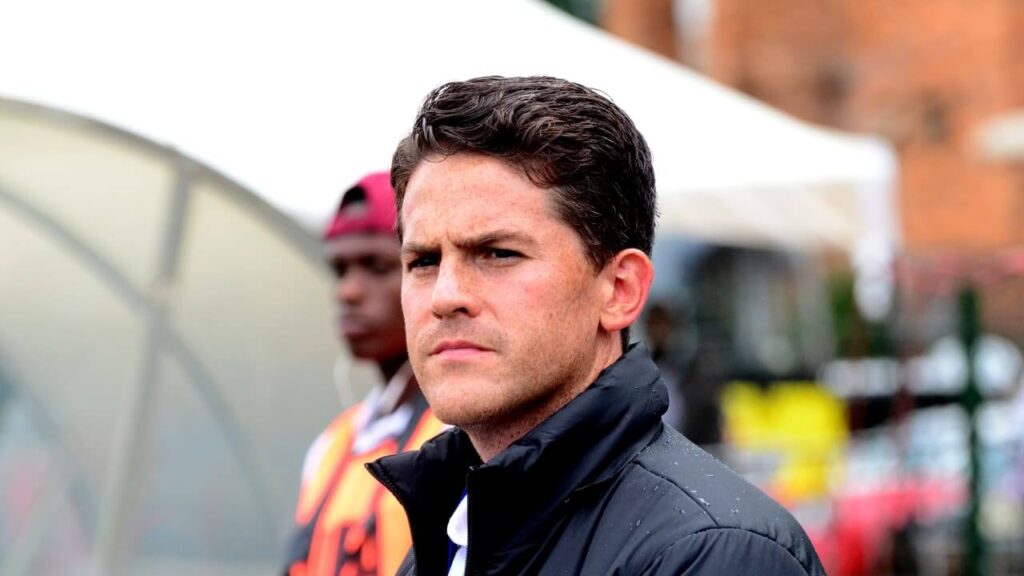 Jonathan McKinstry has been suspended as coach of the Uganda Cranes, less than two years after Frenchman Sebastian Desabre.
According to the FUFA brief statement, McKinstry will step down from managing and coaching the team from March 2 to 31, 2021. Just weeks before resuming their Africa Cup of Nations qualifiers.
"The FIFA management team has asked the head coach of the national senior side, Uganda Cranes, to step down from managing and coaching the team from 2 to 31 March 2021," the report said in part.
"Meanwhile, assistant coaches Mubiru Abdalla, Mbabazi Livingston and goalkeeping coach Kajoba Fred will assume responsibility for the team during this period. The remaining technical team remains unchanged.
It concludes that "FIFA uses the time to evaluate and monitor team performance."
FUFA noted that this was done to give them time to properly evaluate if Jonathan McKinstry is still a permanent man for the job.
However, close sources told Flash Uganda Media that FUFA plans to fire the head coach permanently, but they are still looking for a reason to justify this.
"It was hard for FUFA to tell McKinstry that he was sacked because his tenure was affected by the Covid-19 epidemic, which could have affected his performance, so there is an exception, but I know if these local coaches perform well on this AFCON, then anything can happen," a source said.
Following a similar defeat to northern neighbours in Kenya, McKinstry was a dead man after Uganda's 1-0 win over South Sudan in the Afcon qualifying round.
This put Uganda second in Group E with seven points, one behind Burkina Faso. Malawi have four and South Sudan three before the final two qualifiers.
Also, the Cranes were bad at the African Nations Championship (CHAN), which is home to Cameroon. Uganda lost two of their three group matches to exit the tournament.
His record read 12 wins, three wins and three losses in 18 games. The Cranes will play Burkina Faso at home on March 22 and Malawi on March 30 in Group B in the 2022 Afcon qualifiers.
Who is Coach McKinstry?
Jonathan McKinstry (born 16 July 1985) is a Northern Irish football manager and current head coach of the Ugandan national football team, effective September 30, 2019.
McKinstry was the first person to manage three international football teams from Northern Ireland.
Following the departure of Michael O'Neill from his role with the Irish FA on April 21, 2020, McKinstry became the only person to serve as international head coach from Northern Ireland.
Previously, McKinstry managed the Rwandan national team, the Sierra Leone national team, and the Saif SC of the Bangladesh Football Premier League. When in charge of Sierra Leone, McKinstry was the youngest international manager in the world at 27 years old.
McKinstry has coached in many countries; Northern Ireland, England, the USA, Ghana, Sierra Leone, Rwanda, Lithuania, Bangladesh and Uganda. His early career focused on the development of elite youth in Newcastle through the roles of United, New York Red Bulls, Right to Dream Academy and the Craig Bellamy Foundation.
In 2013, when he was appointed manager of the Sierra Leone national football team, McKinstry advanced to senior professional football, leading them to their highest FIFA world rankings.
He has recently been the manager of the Rwandan national football team, leading the quarterfinals of the 2015 CECAFA Cup and the 2016 African Nations Championship, with A Lyga of Lithuania and Saif SC of the Bangladesh Football Premier League.
McKinstry is connected to many characters worldwide. In December 2017 he was selected for the post of Uganda FA National Team Manager and in April 2018 was one of 77 applicants for the vacant Cameroon National Team job.
In June 2018, Zambia's Football Association officials confirmed that McKinstry had compiled a shortlist of two candidates to be appointed head coach of the Zambia national football team.