Chief Justice Alfonse Owiny-Dollo asked Kyagulanyi Ssentamu to withdraw his petition if he did not trust the judges hearing his case.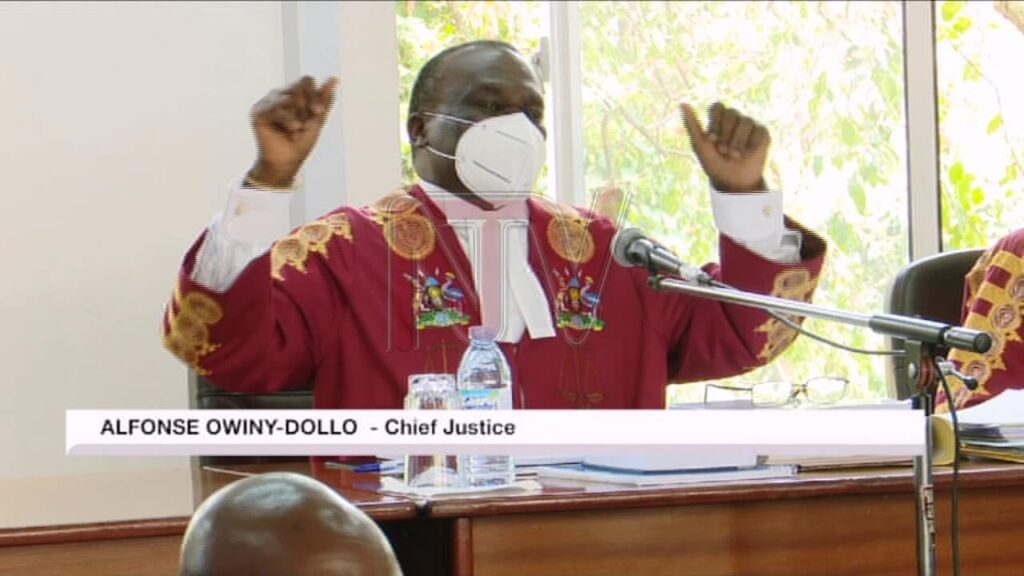 Supreme Court Chief Justice Alfonse Owiny-Dollo has urged former Presidential candidate Robert Kyagulanyi Ssentamu or Bobi Wine to withdraw his petition if he does not trust the judges hearing his case.
Last week, Kyagulanyi challenged three of the nine judges in response to his petition challenging Museveni's victory in the presidential election he concluded.
Kyagulanyi specifically commented on Judge Owiny-Dollo, saying that there has always been a security conflict, with the exception of two, including Judge Mike Chibita and Judge Ezekiel Muhanguzi.
"If this continues, we want to declare in the Supreme Court that we are not going to be part of that ridiculous thing. The next step is to take the matter to the General Court," Kyagulanyi revealed.
He added; "We understand that Chief Justice Owiny-Dollo had a close political relationship with President Kaguta Museveni, who was the president's defence attorney in 2006. Another member of the panel, Mike Chibita, was the private secretary to President Museveni's legal secretary for seven years. "
However, in response to complaints raised by NUP President Flagbearer, Chief Justice Owiny-Dollo pointed out that they would not allow anyone to intimidate them on how to do their job.
Judge Dollo said he was confident any verdict he handed down was correct and true. He said all judges swear to protect and defend the Constitution without fear or support.
"If anyone thinks he can intimidate, threaten or provoke the Chief Justice, he is in an accident. I am confident that what I am doing is right," the Chief Justice said.
"I would like to say that the judges took an oath to uphold the Constitution. In the oath of office, we all carried out the judicial functions entrusted to me under the laws of Uganda without fear, kindness, affection or wrong will."
Judge Owiny-Dollo said that if Kyagulanyi had not trusted the court, he would not have considered bringing his complaints before them.
"We do not oppose fair criticism, but criticize my behaviour and decision. But it is cowardice to speak against me without a chance to respond. You may choose to denigrate us a thousand times, but if you have a problem, if it comes before me, I will proceed according to the law," he added.