Officially the all-new Ford Ranger Raptor was launched in Uganda at the Busiika Motor Race Track by Cooper Motor Corporation on October 21.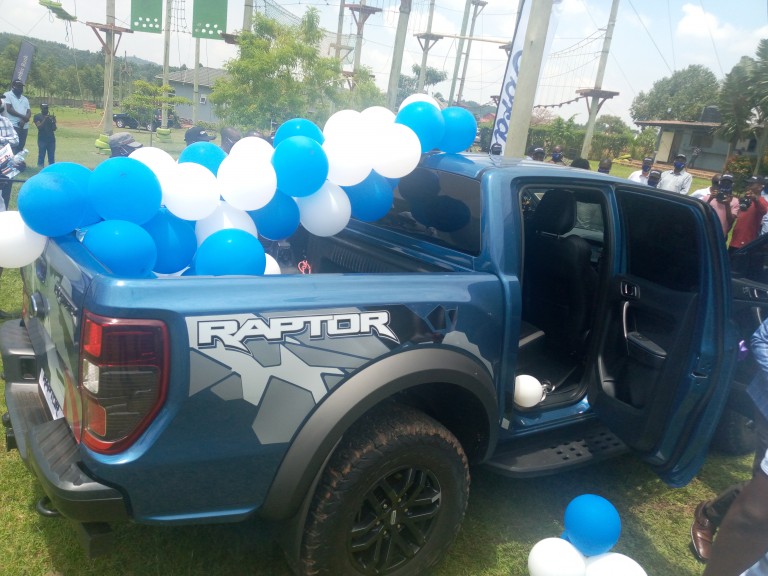 One of the most anticipated new models for 2020, the all-new Ford Ranger Raptor is now officially available in Uganda.
With Ford Performance DNA, the Ranger Raptor creates an entirely new breed of exceptionally capable off-road vehicles that push the boundaries of technology, innovation and driving enthusiasm.
Mark Davidson, Country Manager, Cooper Motor Corp., Uganda, described the Ford Ranger Raptor as amazing, providing a bold and aggressive style that matches the overwhelming road ability to completely rewrite the rules for the 4 4 pickup segment.
"We are passionate about bringing the best to our customers, and the Ranger Raptor performance demonstrates Ford's outstanding performance in vehicle design and engineering," Davidson said.
Engine, Transmission, and Performance
Of course, just looking aggressive is not enough – a vehicle with this good look should deliver excellent performance and responsiveness.
To that end, the Ranger Raptor is fitted with a new 2.0-litre bi-turbo diesel engine that delivers a maximum of 157 kW of power and 500 Nm of torque.
This innovative power plant offers both high performance and efficiency, which works to provide optimal performance over the engine speed range due to the combination of a small high-pressure turbo and a large low-pressure turbo.
The Ranger Raptor is fitted with Ford's all-new 10-speed automatic transmission, which is made with high-strength steel, aluminium alloys and alloys to improve durability and weight.
Having 10 gears means a wider ratio-gap, resulting in better acceleration and responsiveness in all driving conditions, matched with improved fuel efficiency.
Interior and Comfort
Take a look at Ranger Raptor and you will know that this off-road high performance takes place is business. With its 51mm high ride height, 283mm ground clearance, 150mm wide front and rear lanes and 850mm wading depth, its imposed position let you know that it is an aggressive road performance engine.
The 32.5-degree approach angle, and the 24-degree curve-side and departure angles, provide the ability to go anywhere.
Its aggressive grill raptor screams DNA with big bold FORD volume characters – the real thing, with real Ford performance design and engineering excellence.
Step into the Ranger Raptor and you will enter a world where Ford performance is clear. The playgrounds are individually designed and arranged in suede technology with maximum grip, providing optimal support during high-performance road driving, while also providing exceptional comfort when travelling in the city.
Other sports details that differentiate the Ranger Raptor include the blue stitching and leather accents, as well as the aggressively designed instrument cluster with unique red pins for dials that emphasize breed breeding credentials.
Under the skin, the Ranger Raptor's unique chassis frame is newly developed and elaborated for greater speed and endurance in difficult driving conditions.
Built to withstand high impact road junctions, the Ranger Raptor frame is made of various grades of high strength low alloy steel and is specially designed to support Ranger Raptor's increased trajectory and wheel travel.
To further underscore its interesting road credentials, Ranger Raptor's Terrain Management System incorporates an amazing Baja mode inspired by Mexico's famous Baja Desert Rally, which enables high-responsive, high-speed road performance.
In this mode, vehicle systems such as traction control are reconnected to allow excited road driving without the intervention of the vehicle's onboard systems.
When you have to stop, the braking system on the Ranger Raptor provides intense stopping power with new and bespoke components. The front braking is done by dual-piston front callipers, the piston diameter is increased by more than 20 per cent compared to the standard ranger, and with 332 x 32 mm ventilation discs.
To better handle the crash jumps and wild rides of your off-road endeavours, the Ranger Raptor features Fox Sensitive Damping shock absorbers made exclusively by Fox for this model.
They provide high-density forces for unparalleled road capability and low-density forces at very moderate levels for smooth riding on the road. Front-wheel travel increased by 32 per cent and rear-wheel travel by 22 per cent.
To deal with unforgivable terrain, the Ranger Raptor's specially designed PF The Goodrich 285/70 R17 all-terrain tires provide a tough sidewall to confidently withstand very strong environments, as well as wet, mud, sand and snow conditions.
Safety and Driver-Assistance Features
The Ranger Raptor is equipped with safety and comfort features, making it ideal for on-road and off-road driving. There are driver-assist technologies at the push of a button, incorporating unique design features tailored to the Ranger Raptor.
For example, Ford's standard SYNC3 with the navigation system provides a unique breadcrumb feature to leave a track in unnamed areas – suitable for the extreme rotor.
As safety comes first, the Ranger Raptor is fitted with Ford Stability Control, which includes Roll Stability Control, which was developed specifically for Ford's sport utility vehicle range, and is well suited for this exciting new Ford Performance model.
How much is a Ford Ranger Raptor in Uganda
You'd spend approximately $80,000 (UShs299.2m) in Uganda on the 2020 Ford Ranger Raptor.
However, Stanbic Bank has partnered with Cooper Motor Corporation, where it will provide financial assistance to customers who are unable to pay the full amount at once.