In a tweet, Nigerian singer Fireboy DML, real name Adedamola Adefolahan confirmed that he will perform in Kampala, Uganda in April.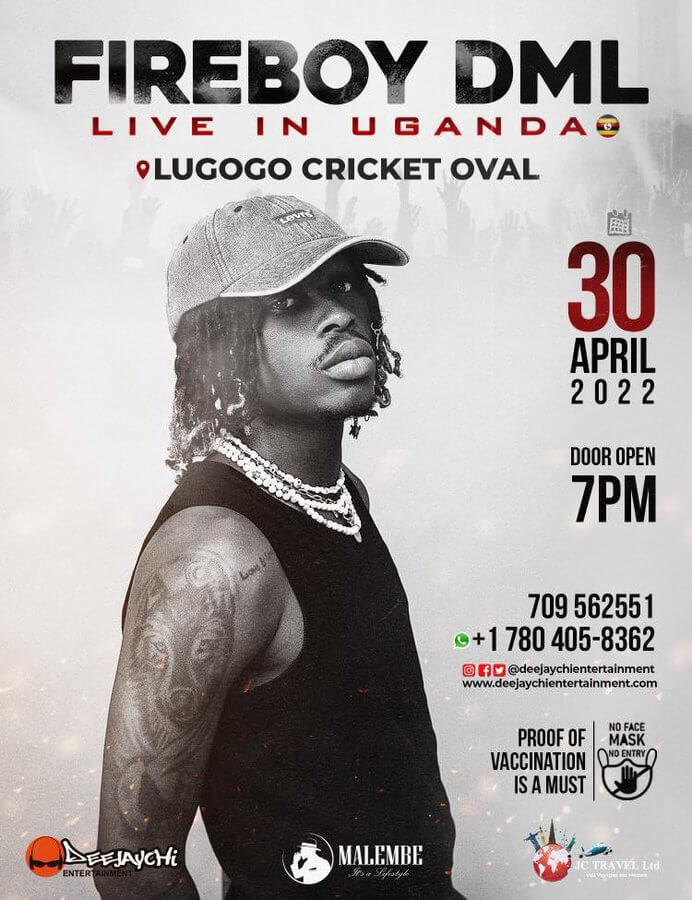 KAMPALA | LIFESTYLE UGANDA (https://lifestyleuganda.com/) — Adedamola Adefolahan, better known as Fireboy DML in Nigeria, has confirmed that he will be coming to Kampala, Uganda this April via Twitter.
Fireboy DML will perform on 30th April 2022 at the Lugogo Cricket Oval, Kampala.
He is currently signed to two labels, YBNL Nation, and Empire Distribution.
'Laughter, Tears and Goosebumps' is the singer's first album focusing on social and love issues.
In his 'Apollo' tour, Fireboy DML will visit 13 cities, including New York, Chicago, and Atlanta.
Fireboy DML was scheduled to perform in Kampala in early 2020, but his maiden performance was hit by the outbreak of Coronavirus, which saw Uganda go under lockdown in March.
On 30th April 2022, Fireboy DML will be performing at the Lugogo Cricket Oval in Uganda just about a month after his 'The Apollo Tour' in the United States.
"Apollo Tour" will be organized by Duke Concepts, a promotion company for African artists and singers and their tours, primarily in North America. Duke Concepts have also supported Davido, Tems, and Wizkid on their tours.
A total of 13 cities will be visited by Fireboy DML on his 'Apollo' tour, including New York, Chicago, and Atlanta.
This tour is slated to start in early February of 2022 and is scheduled to end at the end of that month.
He has released several albums, including Apollo, which won the "Album of the Year" and "Best Pop Album" awards at The Headies 2020. Fireboy DML is currently signed to YBNL Nation and Empire Distribution labels.
In 2020 alone, Fireboy DML products have won four awards, including Best R&B Album for "Tears, Laughter & Goosebumps", Best R&B Single for "Tattoo" and Fireboy himself won the Headies Revelations Award.
The singer's first studio album, titled "Laughter, Tears, and Goosebumps", was released on November 29, 2019. It addresses issues related to love and social issues.
There are 13 songs on the album, including 'Jealous', 'What If I Say', and 'King'.
A number of his sensational songs have captured major airplay in Kampala, including 'Jealous' and 'What If I Say'.
In other news, Rihanna is pregnant, Cheslie Kryst is dead, Minister Simon Lokodo is dead, Global Music Awards Africa 2022 nominees are out, Nasdaq to list Anghami, 2022 Grammy Awards set for April, Wizkid heads to iHeartRadio Music Awards 2022 and NAACP Image Awards 2022 nominees are announced.