Although it's not recommended for everyone, fish soup can be healthy and provide various benefits. The key to knowing if it's healthy and nutritious is the type of fish that's in it.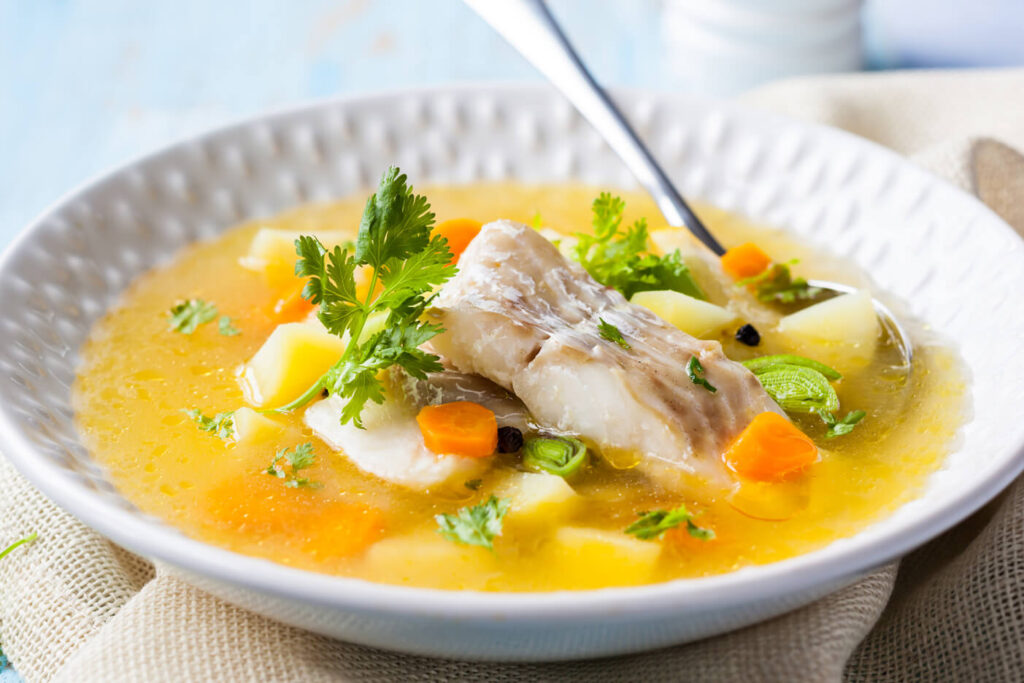 KAMPALA | LIFESTYLE UGANDA (https://lifestyleuganda.com/) — The health benefits of fish soup are well known. Fish contains many essential nutrients, such as omega-3 fatty acids and high-quality proteins, which are all healthy for the human body.
Fish soup is a traditional food that is popular not only in Western society but also in many Asian countries. The key to whether or not fish soup is healthy and nutritious for you depends on the type of fish that's in it.
Fish contain important nutrients such as omega-3 fatty acids and high-quality protein, which provide plenty of advantages for people's health.
Moderate consumption of fish can provide benefits for your health and prevent diseases caused by bad lifestyles.
The following are some of the health benefits of eating fish soup:
It has high-quality protein, which provides plenty of advantages for your health.
It contains omega-3 fatty acids, which can help your heart.
It contains calcium, magnesium, potassium, zinc and other essential minerals that are beneficial to your body.
What are some of the nutrients found in fish soup?
Fish soup is a type of food that is made with the help of vegetables and fish.
Some types of nutrients found in fish soup include:
Vitamins and minerals: Selenium, phosphorus, calcium, vitamin A, vitamin D, and vitamin B12.
Omega 3 fatty acids: These acids are used for many different things such as decreasing inflammation and preventing heart disease.
Why is fish soup beneficial for the human body?
Fish soup is a nutritious and healthy soup. It is made of fish broth, vegetables, and herbs. Fish broth provides protein and minerals to the body.
Fish has been said to have a calming effect on the brain and can help deal with anxiety or depression.
This dish could also be a good source of Omega-3s, which are essential fatty acids that help protect you from heart disease and other chronic conditions.
Which fish are most often used in fish soup?
Having a seafood soup is a great way to satisfy one's hunger while also getting the necessary nutrients. There are many different types of fish that can be used in these soups.
Salmon, tuna, anchovies, mackerel, herring, pike, carp are some of the fish that are often used in fish soup recipes.
What are some of the different ways to make fish soup?
There are many ways to make fish soup. Some people might like to fry the fish and add spices and vegetables, while others may like to use a slow cooker and add in spices and vegetables.
There is no one best way to cook it, but these are just some examples of different approaches you could take when making it. As an example, we will look at a North Eastern soup recipe that will satiate your taste buds.
Fish Soup (5 servings) contains the following ingredients: 1-kilogram fish, salt as required, 1 teaspoon Ajinomoto, 1 teaspoon black pepper, fish bones as necessary, 6 teaspoons arrowroot powder, 4 eggs, and 4 cups cold water.
Wash, clean, and remove the bones from the fish. Slice the fish into very small pieces. In a bowl, combine the slices of fish with salt, black pepper, Ajinomoto sauce (reserve a little for later use), eggs, and arrowroot powder.
From this mixture, roll small balls. Put a pan on low heat and add water along with the fish balls.
Keep stirring the pan after you have added the fish bones, salt, and Ajinomoto (the one you set aside from step 1).
After the fish balls are cooked and the water has boiled, turn off the flame, and serve the soup piping hot in soup bowls.
We hope you enjoyed reading this article. Please share it with your friends, they might find it useful.