Subscribers will no longer have to pay extra for the new Roke Plus data packages, which include bigger internet bundles and more bandwidth.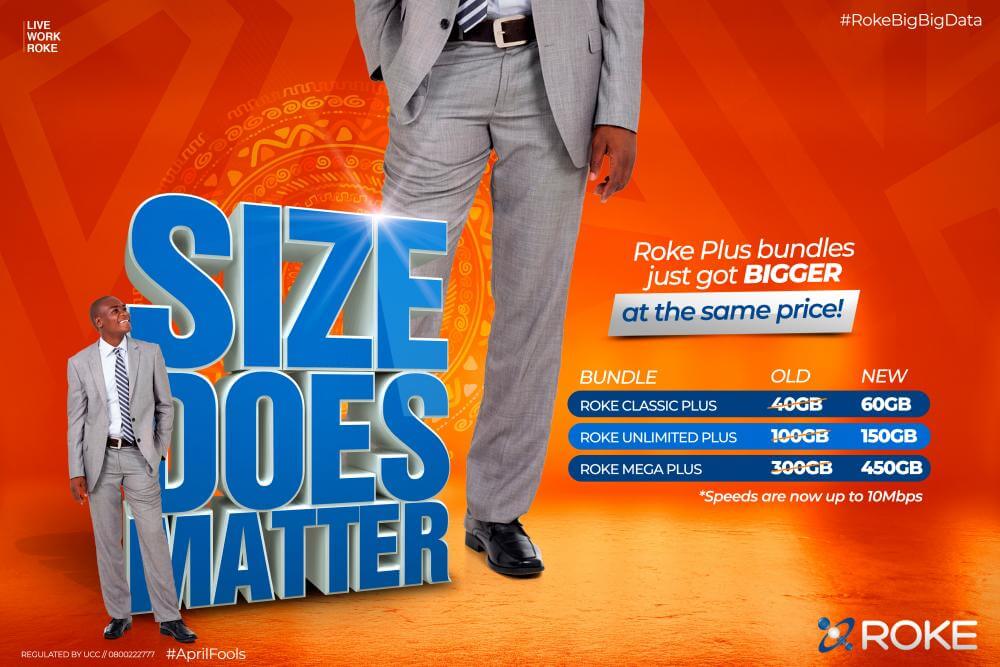 KAMPALA | LIFESTYLE UGANDA (https://lifestyleuganda.com/) — The new Roke Plus data packages offer subscribers the opportunity to increase bandwidth and add bigger internet bundles at no additional cost.
Here are some things you need to know about Roke Plus Data Packages in Uganda.
Is Roke Classic Plus better than Roke Unlimited Plus data package?
When the 150GB of data is used up, the package slows down to 1 Mbps.
Check out also, Airtel Uganda launches new data bundle offer for Africell Customers.
Check out Airtel Uganda's Double Data Bundles for Smartphone Users, as well.
Roke Telkom has been offering internet, VoIP, and data services in Uganda for over 16 years, but these upgraded packages promise a better user experience for their advanced features and more comprehensive data bundles.
To ensure that ROKE Telkom's consumers get value for money, the company provides innovative and customer-centric products and services as part of its delivery process.
The Roke Classic Plus package has been upgraded from 40GB to 60GB with up to 10 Mbps, and the Roke Unlimited Plus package has been upgraded from 100GB to 150GB with 10 Mbps.
Roke Classic Plus
This Roke Classic Plus Data Package is what you need if you want an internet service that lets you do a lot during the day and even more at night. It expires after 30 days.
Roke Classic Plus Data Package offers 60GB of internet access between 7 am and 7 pm for only UGX 112,000 during peak hours; off-peak hours (7 pm to 7 am) during weekdays; and on weekends and public holidays, you can get free access.
Off-peak and peak bandwidths are both 10 Mbps. Once you've used up your data, you'll need to re-subscribe to continue using the internet.
Roke Unlimited Plus
Roke Unlimited Plus Data Package offers superior internet service for commercial and home users who work long hours for their business. The 30-day expiry makes this package ideal for a small business.
Work with 150GB of data for only 280,000 UGX from 7 am to 7 pm during peak hours, and surf with free internet from 7 pm to 7 am on weekdays, as well as all weekends and on holidays with the Roke Unlimited Plus Data Package.
Data usage for this package is limitless, slowing to 1 Mbps once 150GB has been consumed.
Up until bundle exhaustion, bandwidth is 10 Mbps in both on and off-peak times, after which it drops to 1 Mbps.
Mega Plus – Bonus
Using the Roke Mega plus package, businesses can locate a fast and functional internet connection not just in terms of size, but also in terms of speed.
With Mega Plus you can have 450GB of internet for only UGX 728,000 at peak hours (7 am to 7 pm) and free Internet during off-peak hours (7 pm to 7 am) on weekdays, and free Internet on the weekends and public holidays.
These prices do not include the Roke Telkom UGX 300,000 installation fee for the WiFi connection. Please review these terms and conditions for more information.
With Roke Plus Data Packages, you can pay your bills in a variety of ways.
Using *252#.
Dial *252#
Select 6 – Airtime & Bundles
Select 2 – Internet Bundles
Select 1 – Roke Telkom
Select Desired Bundle
Using PayWay
Select Internet
Select Roke Telkom
Input Roke Account ID
Input Contact Number
Select Bundle
Using VISA/Mastercard
Insert Roke Account ID
Input Amount & Personal Details
Click Pay
Select Visa or Mastercard
Input Card Details
Bank Deposit
With the Roke bank account information provided on your invoice, you can make a bank deposit or an EFT/RGTS.
Using Mobile Money
Insert Account Username & Password
Select Show More
Select Mobile Payments
Input Contact Number
Input Amount
Select Process Payment
When prompted, enter your Mobile Money PIN.
The Uganda Communications Commission released its latest sector market performance report (Q3 2020) which shows that there are about 20 million internet subscribers or roughly half of the country's population.
The number of Ugandans with access to the Internet has crossed 20 million for the first time, implying that nearly one in every two Ugandans now have this option available to them.
Internet use has increased in Uganda across multiple devices and platforms, from online radio and TV to music and live streaming, and even online education and edutainment, thus indicating that more people need to stay connected to the internet.
Therefore, Roke Telkom Uganda, as a local internet service provider, must strive to deliver affordable, dependable, and enhanced internet services regardless of infrastructure challenges.