The US ambassador to Uganda has said the embassy has cancelled plans to observe the country's presidential election on Thursday.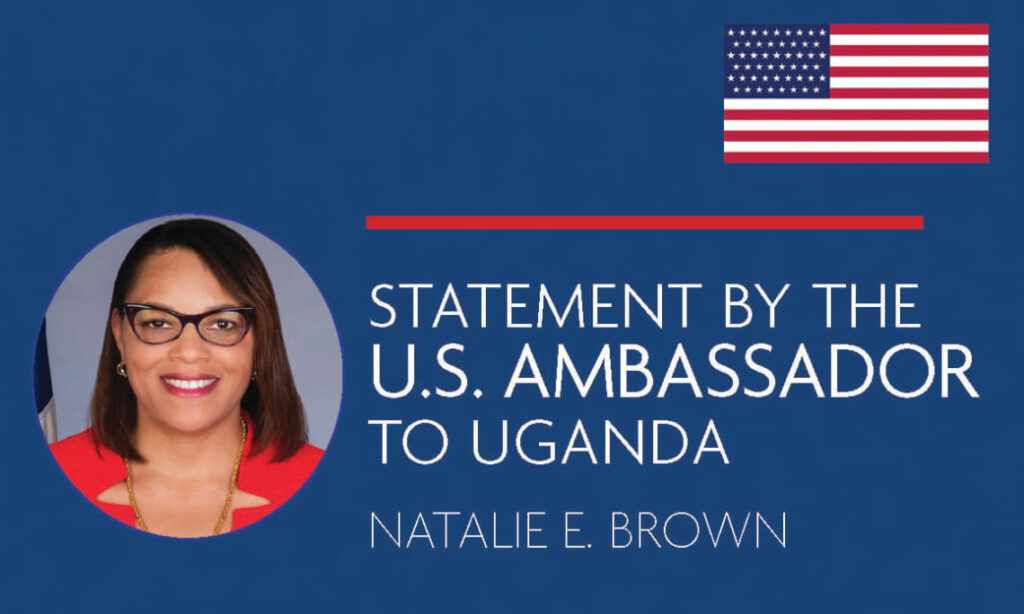 The U.S. embassy in Uganda on Wednesday cancelled plans to observe the country's tense presidential election on Thursday, citing a decision by election officials to deny credentials to most members of the monitoring committee.
U.S. embassy cancels plans to observe Uganda's tense presidential election.
Since independence in 1962, Uganda has never seen a peaceful transfer of power.
Visit Lifestyle Uganda homepage for more stories like this.
Ambassador Natalie E. Brown expressed "deep disappointment" in a statement that more than 75% of the credentials requested had been denied.
"With only 15 accreditations approved, the United States does not consider it meaningful to observe elections in Uganda at polling stations across the country," the statement said.
"As we have said before, the United States will not take sides in Uganda's upcoming elections. We support a free, fair, peaceful and inclusive electoral process. "
Without "the robust participation of observers", "there will be no responsibility, transparency and confidence in providing observer services in Uganda's elections."
Longtime Ugandan President Yoweri Museveni has spoken out strongly against development partners, Facebook and unnamed external groups accused of being "arrogant".
The Ugandan government has repeatedly accused foreigners of acting in support of the opposition. Museveni's main challenge is that the so-called singer and legislator, Bobi Wine, has been accused of being an "agent of foreign interests", which he denies.
Museveni announced that his government had cut off access to social media and trashed Facebook after the social network deleted Ugandan accounts related to his re-election campaign.
"That social channel you are talking about, if it is going to operate in Uganda, should be used equally by everyone who wants to use it," Museveni said of Facebook. "If you want to take sides against (the ruling party), that group will not operate in Uganda."
Facebook said it deleted some Ugandan accounts this week because they were involved in integrated misconduct.
Allegations of outside interference have contributed to an alleged situation, with officials fearing that opposition parties are plotting to overthrow the regime as Museveni has stationed troops in the streets of urban centres.
Bobi Wine, whose real name is Kyagulanyi Ssentamu Robert, insists his campaign is non-violent and urges his supporters not to be intimidated by heavy military invasions in the capital, Kampala.
The 38-year-old singer turned politician has captured the imagination of many at home and abroad in his generational conflict with the 76-year-old Museveni, who has refused calls to retire from power for 34 years.
At least 54 people were killed when security forces provoked riots in November, sparking riots with the arrest of Bobi Wine, and their rallies were frequently disrupted as police allegedly implemented coronavirus control measures.
Wine's supporters accuse security forces of destroying his supporters. Many have been beaten, and at least 49 of his associates and supporters have been charged with criminal mischief.
The European Union (EU) has not sent an observer ahead of Jan.14, saying in a statement on Tuesday that the use of excessive force by security forces has tarnished the electoral process.
Uganda elections are often marred by allegations of fraud and militarization. Since its independence from Britain in 1962, the country has never seen a peaceful transfer of power.
Read the full statement from the US Embassy in Kampala at https://ug.usembassy.gov/statement-by-u-s-ambassador-natalie-e-brown-on-cancellation-of-u-s-diplomatic-observer-mission-of-ugandas-elections/