In this article, we'll answer 7 frequently asked questions about Airtel Money Mastercard, how to get one, and how to use the Airtel Uganda Mastercard for online shopping.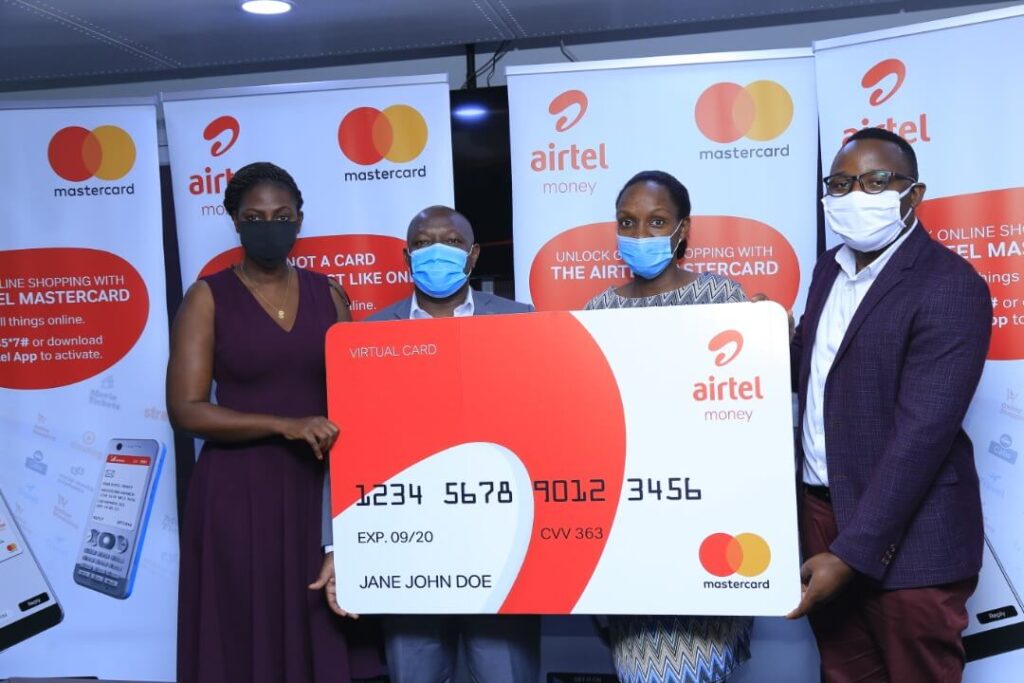 KAMPALA | LIFESTYLE UGANDA (https://lifestyleuganda.com/) — Through the Airtel Africa Mastercard partnership, Airtel Africa now offers Mastercard worldwide to over 100 million mobile phone users, mainly Airtel Money subscribers, across 14 African countries.
Do you know what Airtel Mastercard is, how to get it, and how much it costs?
As of today, over one million merchants accept Mastercard QR payments across Africa.
See also: Airtel announces partnership with KCB bank for 'airtel Money Super Saver'.
You can also read about The Real Housewives of Lagos to air on Showmax in early 2022.
Watch Sauti' Sol Family on Showmax: All the Details.
Customers of Airtel Money can use the Mastercard virtual debit card to make payments to local and global online merchants accepting Mastercard cards, even without a bank account. The card keeps the customer's personal banking information secure and private at all times.
Additionally, Airtel Money customers will be able to make in-person payments at locations that accept Mastercard QR using Quick Response (QR) codes (by scanning the QR code displayed at checkout or entering a merchant identifier from their mobile phones).
The Mastercard QR payment system is now accepted by over one million merchants across Africa.
Also, Airtel Money customers will be able to enjoy competitive pricing and preferential exchange rates for international payments, in addition to bill payment, merchant payment, and many additional services like cash management.
This article examines the 7 frequently asked questions regarding Airtel Money Mastercard for online shopping, how to get and use the Airtel Uganda Mastercard virtual debit card.
#1. What is Airtel Money?
Airtel Money is a digital wallet that allows subscribers to make many different types of financial transactions including cash in, payment of bills, cash out and many others.
#2. How do I get an Airtel Mastercard?
You need an Airtel MSISDN like *185*7# on Airtel to get an Airtel Money Mastercard, as it is tied to the AirtelMoney wallet and not a standalone card.
#3. Airtel Mastercard: What is it?
Airtel Money Mastercard is a virtual debit card that enables Airtel Money wallet customers to make online purchases from merchants around the world. It is a virtual (non-plastic) debit card that is connected to Airtel Money wallet to serve as a method of payment.
#4. How does the Airtel Mastercard work?
With this virtual (non-plastic) Mastercard card, Airtel Money customers can make payments to local and international online merchants that accept Mastercard cards, and their financial data remains secure and private.
#5. Using USSD to create an Airtel Money Mastercard
Dial *185*7# on Airtel
Select option #9 (AirtelMoney Mastercard)
Select option #1 (Get a Card)
Enter Airtel Money PIN to continue.
An SMS will be sent with your Mastercard information.
#6. My Airtel App: How to get Airtel Mastercard?
Open the My Airtel App.
Tap or swipe Airtel Money and enter your PIN to use the service.
Choose 'Mastercard Get Card' from the wallet tile, with the Mastercard logo on it
Enter your AirtelMoney PIN again to generate a virtual Mastercard in your name.
You will receive an SMS containing the details of your virtual Mastercard.
#7. Showmax Airtel Money Mastercard Promotion, who is eligible?
The Showmax Airtel Money Mastercard Promotion is only open to customers who meet the following requirements.
To qualify for the promo, first-time Showmax Service customers must pay with an Airtel Money Mastercard and sign up during the Promo Period to receive a discount of up to 90% and 1GB of Airtel data.
Customers who have already subscribed to Showmax Services must use an Airtel Money Mastercard to change their payment method during the Promotion Period. The Mastercard must be eligible for recurring billing.
Additionally, customers signing up for Showmax Service must have IP addresses from Uganda, Zambia, Tanzania and the Democratic Republic of Congo.
The Showmax plans eligible for the promotion are Showmax Mobile and Showmax Pro Mobile.
The promo period is the time from 04 October through 31 March 2022. It is during this time that prospective customers can sign up for Showmax Airtel Mastercard Promotion.
This article is supported by Makeup Store Uganda, a Cosmetics Store in Kampala with original makeup products from Europe. They are located at Equatorial shopping mall, level 2 shop no 272, and you may contact them via WhatsApp at +256793851784 or by phone at +256789436581.