A woman, identifying herself as Alison Anna Gabula Nadiope, has taken legal action against the Kyabazinga of Busoga, William Gabula Nadiope, in the United Kingdom. She alleges that she is still legally married to him and, as such, his upcoming wedding to Ms Jovia Mutesi should be considered bigamy.
In a letter from Anne Cuthbert Solicitors Ltd, a UK law firm, dated October 16, it is claimed that Alison Nadiope married the Kyabazinga in December 2016, and they have two children together. The letter warns that the Kyabazinga could face up to six months in imprisonment for bigamy if he proceeds with his wedding.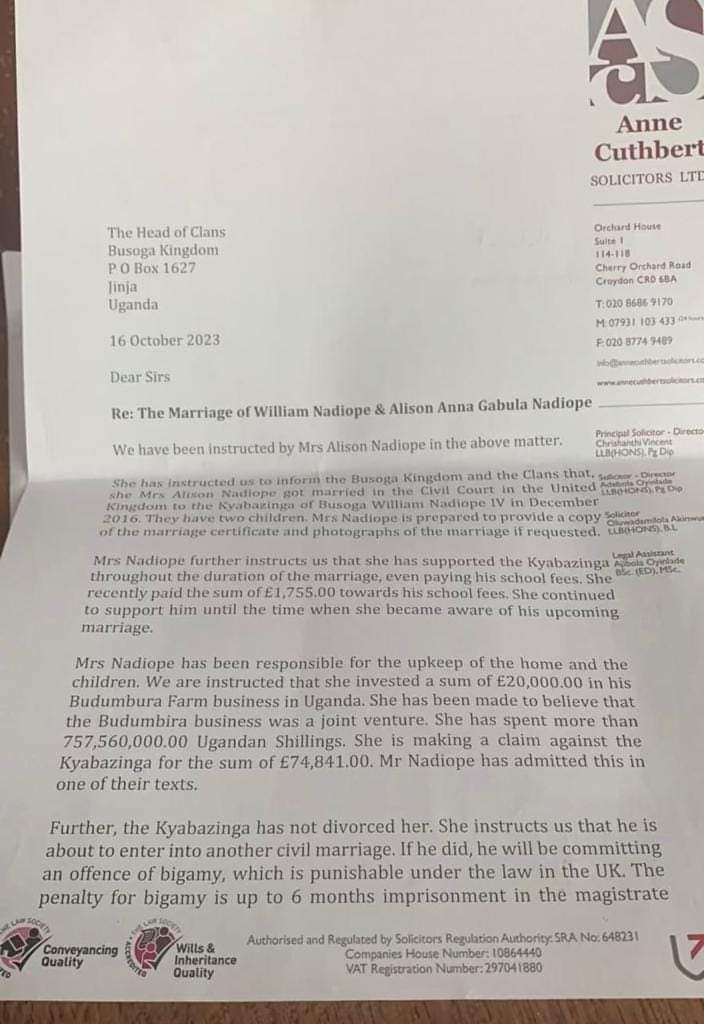 Efforts to verify the authenticity of the letter from the UK law firm were unsuccessful. Busoga Kingdom's spokesperson, Mr. Andrew Ntange, dismissed the letter as negative energy and said that the wedding preparations are proceeding smoothly.
Justine Kasule Lumumba, head of media and entertainment on the organizing committee of the Busoga royal wedding, stated that as per culture, the Kyabazinga is responsible for introducing his Inebantu (Queen) to the kingdom. The introduction is scheduled for November 18.
Lumumba also announced a Royal Dinner Bouquet event on October 27, as part of the activities leading up to the Kyabazinga's wedding. This event will be held at Kololo Independence Grounds in Kampala and is meant to allow friends of Busoga, corporate entities, humanitarian agencies, and other partners to be part of the royal celebrations.