Mavo Kampala, Kaijuka Abbas, Anita Beryl, Tinah Teise, and Malaika Tenshi nominated in East Africa Fashion Awards 2020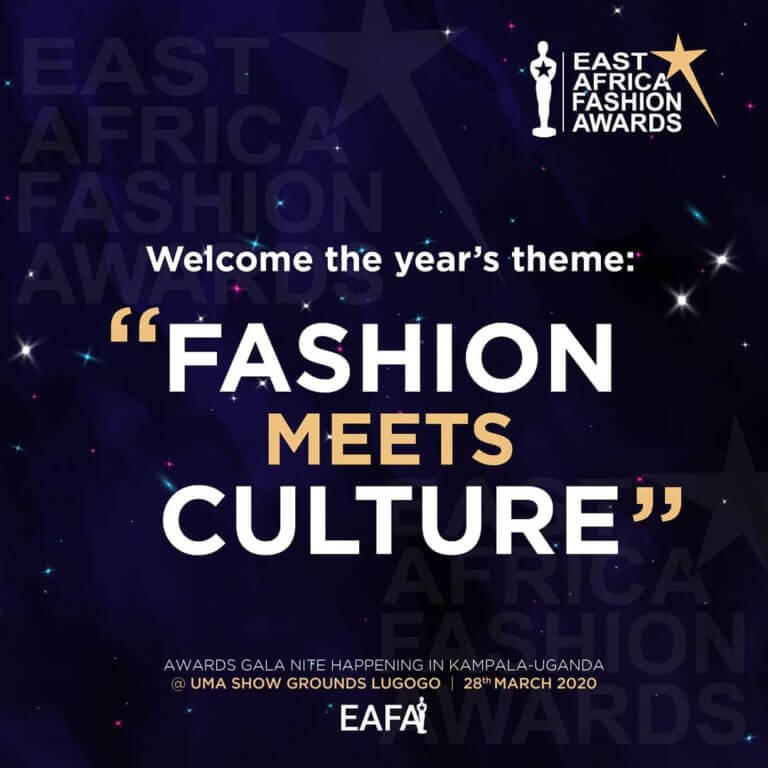 East Africa Fashion Awards 2020 (EAFA) is a new fashion award ceremony designed for fashion participants from across Africa to be honoured.
The theme for this year is "Fashion Meets Culture" and is an invitation-only soiree.
The inaugural East Africa Fashion Awards event, scheduled to take place on 28 March 2020 at UMA Lugogo show grounds, features nominees from all over East Africa fighting for the top spot.
Voting is on till the 12th of March. To vote, click here
The awards that honour the accomplishments of the different fashion stakeholders who made outstanding contributions to the growth of the East African fashion market have chosen nominees in different fashion categories.
Nominees for East African fashion stylists of the year include Brian Babu, Juan Nsabiye, Ryan Stylish Inc, Mavo Kampala, Noel Giotz and Kaijuka Abbas.
Nominees for the most stylish female media personality of the year in East Africa include Tinah Teise, Amina Abdi, Malaika Tenshi, Fridah Mwaka, Shadee, Betty Boniface Omara, Makeda, Christelle Kabagire and Aaliyah Mohamed.
The nominees for East Africa's female fashionista of the year include Miriam Odemba, Mwaj Ahmed, Joy Kendi, Sacha Kaate, Rae Paraz, Shaddy Boo, Macrida Joseph and Bettinah Tianah.
Nominees for East Africa's Female Fashion Designer Of The Year include Fatumah Asha, Akinyi Odongo, Monica Kansiime, Jamilla Vera Swai, Linda Mukangoga, Rwema Laurene, Aulgah Nato, Kiki Zimba.
The nominees for East Africa fashion Entrepreneur of the year include Anita Beryl, Kabano Franco, Ally Rehmtullah, Joram Muzira and Miss Achai Wiir.
See the full list of East African Fashion Awards 2020 nominees
EAST AFRICA'S FASHION PHOTOGRAPHER OF THE YEAR
Oscar Ntege
Eskandanow
Nib Studioz
Franck Axel
Kuyo Photography
Keef Photography
The Mike Picture
Fred Bugembe
EAST AFRICA'S MOST STYLISH FEMALE MEDIA PERSONALITY OF THE YEAR
Tinah Teise
Amina Abdi
Malaika Tenshi
Fridah Mwaka
Shadee
Betty Boniface Omara
Makeda
Christelle Kabagire
Aaliyah Mohamed
EAST AFRICA'S MOST STYLISH MALE MEDIA PERSONALITY OF THE YEAR
Samson Kasumba
Jamal Gaddafi
Douglas Lwanga
Nick Mutuma
Hamisi Mandi
Friday James
Deogratius Kithama
EAST AFRICA'S FASHION WEEK OF THE YEAR
Swahili Fashion Week
Kampala Fashion Week
Collective Rw
Fashion Development Consortium
Kigali Fashion Week
EAST AFRICA'S FASHION & DESIGN TRAINING INSTITUTE OF THE YEAR
YMCA
Nkumba University
Mcensal School Of Fashion
Malaika Institute
Kyambogo University
Makerere University
EAST AFRICA'S EMERGING FASHION DESIGNER OF THE YEAR
Hers Ug
Stella Customized
Davy Karmel
Emmanuel Kisusi
Sonia Mugabo
Kaaku Mickydad
Elsy House of Fashion
EAST AFRICA'S FASHION ENTREPRENEUR OF THE YEAR
Anita Beryl
Kabano Franco
Ally Rehmtullah
Joram Muzira
Miss Achai Wiir
EAST AFRICA'S EMERGING FASHION BRAND OF THE YEAR
Happy Feet
Krump Ug
African Boy
EAST AFRICA'S MALE FASHIONISTA OF THE YEAR
Nimrod Nick
Muzodde Black
Bolo Bespoke
Brandon Brandon
Fred Lyon
Sutibega
EAST AFRICA'S FEMALE FASHIONISTA OF THE YEAR
Miriam Odemba
Mwaj Ahmed
Joy Kendi
Sacha Kaate
Rae Paraz
Shaddy Boo
Macrida Joseph
Bettinah Tianah
EAST AFRICA'S MOST STYLISH NEW ARTISTE OF THE YEAR
Grenade Official
Ymo
Double Jay
Fany Zanzbar
EAST AFRICA'S MALE MODEL OF THE YEAR
Chady Black
Deu Thiong
Gabu fords
Ali Raymond
Paul Mwesigwa
Yasili Human
Gigi Habib
Miki Deo
EAST AFRICA'S FEMALE MODEL OF THE YEAR
Aketch Joy Winnie
Ajuma Nasanyana
Anyon Asola
Ssanduina
Leila Nda
Aliet Sarah
Flaviana Matata
EAST AFRICA'S MOST STYLISH FEMALE HOST OF THE YEAR
Amina Abdi
Makeda
Malaika Tenshi
Christelle Kabagire
Mc Menina
Anitah Fabiola
EAST AFRICA'S MOST STYLISH MALE HOST OF THE YEAR
Alex Muhangi
Jamal Gaddafi
Mc Luvanda
Andrew Hatibu
Nick Mutuma
EAST AFRICA'S HAIRSTYLIST OF THE YEAR
Msanii the Barber
Hair by Zziwa
Flora Liana
Jeff Jjingo
Rehema Samo
Phoina Luxurious Hair
EAST AFRICA'S MAKEUP ARTIST OF THE YEAR
Lavie Makeup
Nahya Glam
Souvorov Beauty
Imani Makeup
Creative Phill
Milly Beauty
EAST AFRICA'S FASHION STYLIST OF THE YEAR
Brian Babu
Juan Nsabiye
Ryan Stylish Inc
Mavo Kampala
Noel Giotz
Kaijuka Abbas
EAST AFRICA'S MOST STYLISH MALE SOCIAL MEDIA ICON OF THE YEAR
Dr Jimmy Minja
Top Stylist
Dice Rich
Juan Nsabiye
Lee Charm
Bangzee
Karama Huzaifah
Mugagga Alex
EAST AFRICA'S MOST STYLISH FEMALE SOCIAL MEDIA ICON OF THE YEAR
Bridget Shighadi
Jacquelin Wolper
Elizabeth Michael
Umuhoza Liliane
Joxy Parker
Kentie Olivia
Natalie Tewa
Queen Shinah
EAST AFRICA'S MOST STYLISH KID CELEBRITY OF THE YEAR (GIRL)
Ladashabelle
Heaven Bahati
Princess Blossom Yar
Kellisha Nayebare
Princess Frenisha
Abigail Lakor
Princess Jordanna Noelle
EAST AFRICA'S MOST STYLISH KID CELEBRITY OF THE YEAR (BOY)
Jaydan Vanny
Ezekiel
Prince Nillan
Fresh Kid
Naville Kimani
EAST AFRICA'S MOST STYLISH FEMALE ARTISTE OF THE YEAR
Fena Gitu
Spice Diana
Rosa Ree
Charly Na Nina
Rema Namakula
Butera Knowless
EAST AFRICA'S MOST STYLISH MALE ARTISTE OF THE YEAR
Otile Brown
Eddy Kenzo
Juma Jux
The Ben
Meddy
Octopizzo
Fik Fameica
EAST AFRICA'S FEMALE FASHION DESIGNER OF THE YEAR
Fatumah Asha
Akinyi Odongo
Monica Kansiime
Jamilla Vera Swai
Linda Mukangoga
Rwema Laurene
Aulgah Nato
Kiki Zimba
EAST AFRICA'S MALE FASHION DESIGNER OF THE YEAR
John Kaveke
Martin Kadinda
Matthew Rugamba
Joe Malaika
Moses Turahirwa
Kaijuka Abbas
Kulwa Mkwandule
Vinn Clizz
EAST AFRICA'S MOST FASHIONABLE MUSIC VIDEO OF THE YEAR
Uno (Harmonize)
Signal (Eddy Kenzo)
The One (Diamond Platnumz)
Gutujja (Rema & B2c)
Dede (Davis D)
Kiza Kinene (Nandy & Sauti Sol)
Sunday (Slick stuart, Roja & Toniks)