Wizkid, the Grammy award-winning singer/songwriter who played three shows at the O2 Arena in 2021, will return to London's Tottenham Hotspur Stadium in 2023.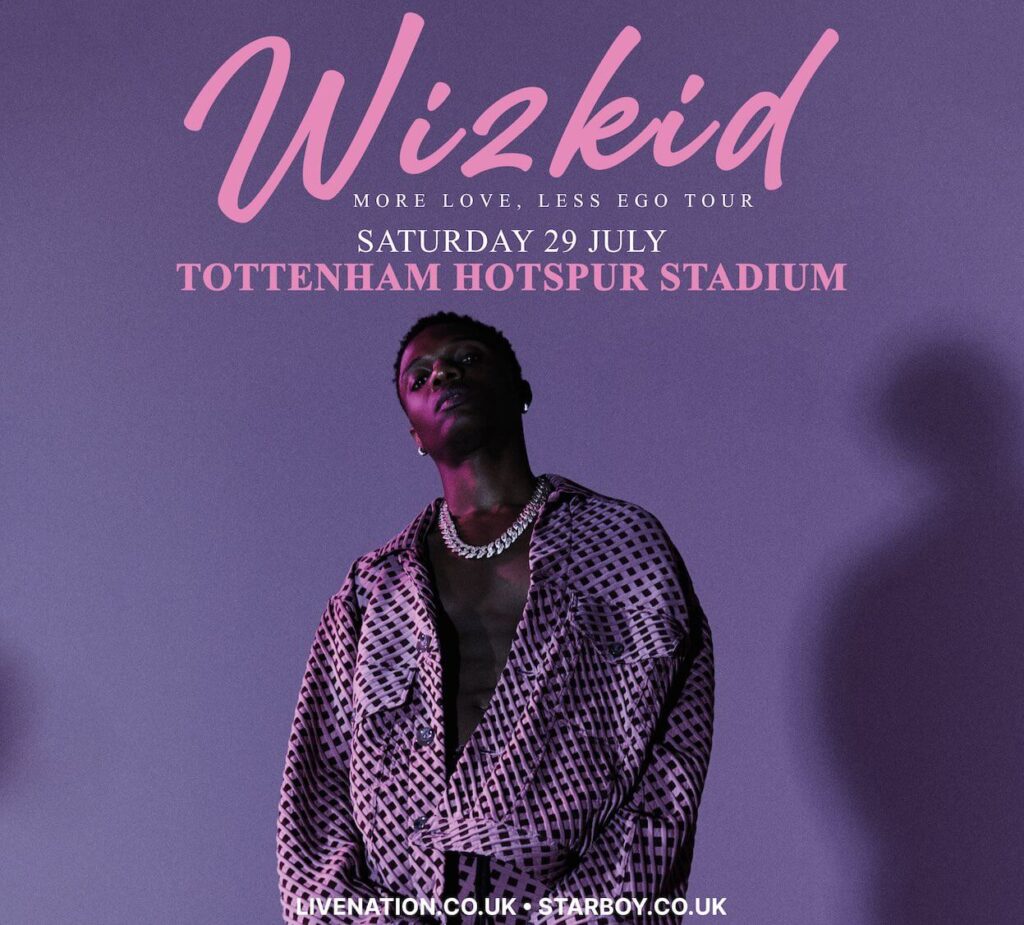 Known by his stage name Wizkid, the Grammy-nominated singer/songwriter will return to London's Tottenham Hotspur Stadium once again in 2023 for the first time since he performed at the O2 Arena in 2021 on three dates.
This marks a significant milestone for the Nigerian artist, whose career has been on the rise since his debut album, Superstar, was released in 2011. He is now one of the most recognisable African artists, and his return to London is sure to be a huge success.
For the first time, Wizkid (real name Ayodeji Balogun) will perform at Tottenham Hotspur Stadium following the release of More Love, Less Ego in November.
The album has been widely praised for its catchy hooks and unique blend of Afrobeat, hip-hop and R&B, making it a perfect fit for a stadium performance. Fans have been eager to see Wizkid perform his new songs in a live setting, and will finally get their chance at the Tottenham Hotspur Stadium.
Wizkid released the singles "Money & Love" and "Bad To Me" prior to More Love, Less Ego. Additionally, he featured on Chris Brown's "Call Me Every Day" track. Skepta, Shenseesa, Ayra Starr, Skillibeng, Naira Marley, and Don Toilver collaborate on More Love, Less Ego's 13 tracks.
Also, streams of the Nigerian singer's album Made in Lagos have exceeded a billion.
In addition to reaching number one on the Billboard World Albums chart, Made in Lagos also gave Wizkid his first top 20 UK hit, Essence, which spent 21 weeks in the Official Charts, peaking at 16, and has amassed over 150 million Spotify streams to date.
Where to buy Wizkid tickets
This summer, Wizkid will perform in London for the first time in two years. Find out where and when Wizkid is performing and how you can purchase tickets.
Fans of Wizkid can now look forward to his first performance in London in two years this summer. Find out below where and when Wizkid will perform, as well as how to purchase tickets.
Get your tickets to the Wizkid concert at Tottenham Hotspur Stadium on Friday 27th January at 10 am. Check out https://wizkid.london/ to see how much energy Wizkid can bring to a concert.