Samuel Kakande is a Ugandan prophet, farmer and businessman. Founder of the Synagogue Church of All Nations, based in Mulago Kubiri, Kampala.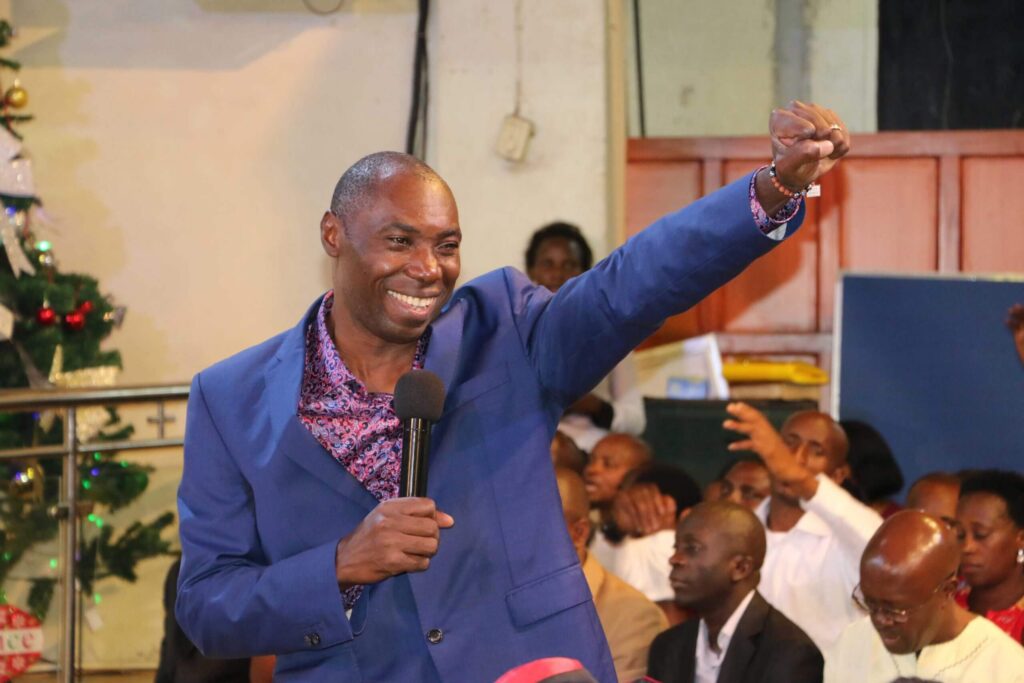 Samuel Kakande is a Ugandan prophet, farmer and businessman. Founder of the Synagogue Church of All Nations, based in Mulago Kubiri, Kampala.
Prophet Samuel Kakande was summoned by the Parliamentary Committee on Natural Resources for his company Aqua World Uganda Ltd. for illegal sand mining in the Lwera Wetlands in the districts of Kalungu and Mpigi.
It was said that the activity would adversely affect the environment and that his land rights were revoked in 2018.
During the lockdown of COVID-19 pandemic, Prophet Kakande, through his own company, Aqua World, donated three tons of cornflour to the poor in the Mpigi district.
The donation of 10 million shillings was received at the district headquarters by RDC, Rose Byabasaija and District Chairman Peter Clever Mutuluza. The donation was announced in March 2020 as the first relief aid to the district task force, which lasted for several weeks.
Prophet Kakande is famous for the miraculous rice and magical water; He has a chain of churches located in various regions and has guided many pastors such as Brother Ronnie Makabai of ETM Church International.
Kakande is a commercial farmer. Recently, he was criticized on many occasions by his fellow preachers for his miraculous miracles, with some saying he's a false prophet and a devil worshiper.
One of them Pastor Jackson Senyonga of Christian Life Church said that Kakande buys people and takes them to church and gives false testimonies and false miracles for a fee, some earning up to 500,000 for dramatic deeds.
Synagogue Church of All Nations
The Prophet Samuel Kakande is the head pastor of the Synagogue Church of All Nations, centred on Mulago Kubiri in the city of Kampala.
The synagogue has sacred retail items sold to believers, including the holy rice he harvests from his farmland centred in the Masindi district.
In 2017, Samuel Kakande ran mad and was admitted to a psychiatric hospital. Kakande was said to have suffered from mental illness as a result of the mysterious death of his all-powerful evil serpent.
The serpent was his God that gave him the power to manipulate his followers.
Kakande was denied and criticized by fellow pastors and Christians for his satanic actions in the church of the Prophet. Horrible stories have been told about him by the victims of his services.
Kakande was denied by the umbrella organization of Pentecostal churches in Uganda in 2006, saying he had failed to deal with the code of conduct for born-again.
Sam Kakande, son of Prophet Kakande, a founder of Synagogue Church of All Nations, rebuked his father and joined the Seventh-day Adventist Church (SDA), saying he could no longer live a life of lies, miracles performed on stage, witchcraft. And endless evil sacrifices.
Kakande and the troubled marriages
Prophet Samuel Kakande was married five times in 10 years. After his divorce from Royce, whom they had two children, Kakande married Margaret Emily Pendeza, a Congolese woman, in 1997 at the Cult Francophone Cathedral in Butembo, DRC.
Kakande was unfortunate when his Congolese wife failed to conceive. In the desperate search for a child, Kakande even considered occupying the sacred area of ​​Emily's sister, where they lived in Muyenga.
It was too much for Emily to bear, and she ran away.
In 2007, Kakande married a Rwandan woman at a lavish wedding in Kigali, Rwanda. In 2009, he then married a Filipino businesswoman at a lavish wedding in the Philippine capital, Manila.