Vice President Samia Suluhu Hassan was sworn in as the first female President of Tanzania on Friday following the sudden death of John Magufuli.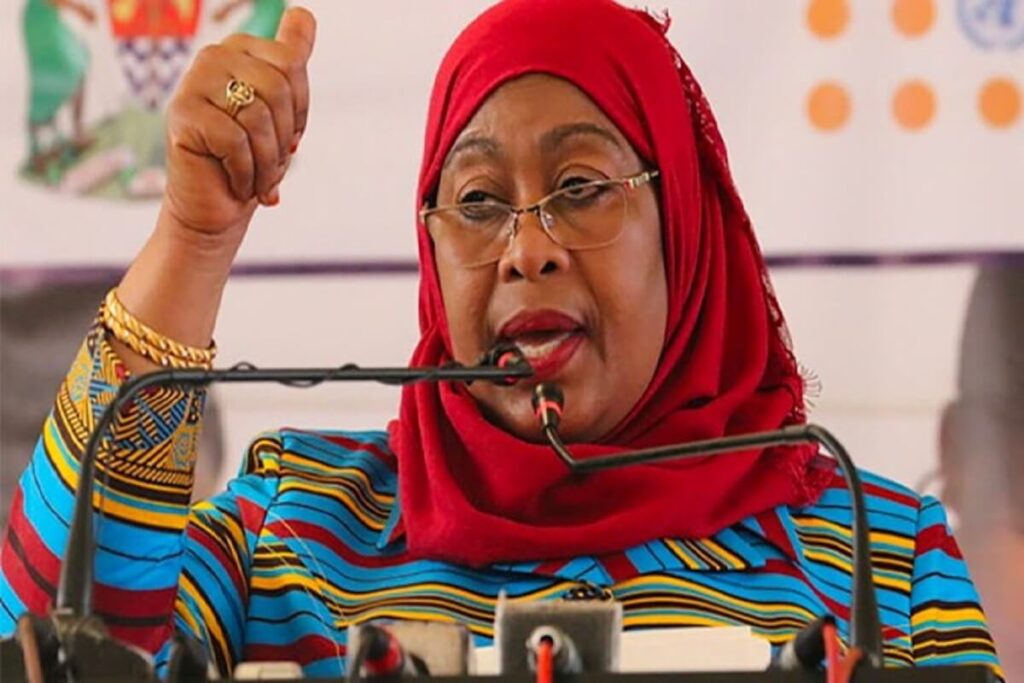 Samia Suluhu Hassan, the 61-year-old became the first female President of Tanzania on Friday after the sudden death of John Magufuli from a mysterious illness.
"I, Samia Suluhu Hassan, promise to be honest and obedient and protect the Constitution of Tanzania," she said in front of a dignitaries' room, applauding her after the brief ceremony.
Under the constitution, Samia Suluhu Hassan will serve for the remainder of Magufuli's second five – year term, which does not expire until 2025. She is the other female leader currently serving in Africa, along with Ethiopian President Sahle-Work Zewde, who is primarily ritualistic.
Hailing from Zanzibar, a semi-autonomous island in the Indian Ocean, Samia Suluhu Hassan rose through the ranks in her 20-year political career, from local government to the National Assembly.
A key figure in the ruling Chama Cha Mapinduzi (CCM), she was named as Magufuli's running ally in the 2015 presidential election campaign. The couple was re-elected in October last year in a controversial poll that has been plagued by allegations of election abuse.
Analysts say she may face pressure from powerful Magufuli allies within the CCM, who dominate intelligence and other important aspects of government, and may try and influence her decisions.
Samia Suluhu Hassan was not much known outside Tanzania until she appeared on state television on Wednesday night when it was announced that Magufuli had mysteriously died at the age of 61 after being out of public view for three weeks.
There are questions about the real cause of his death, after many rumours he had Covid-19 or sought treatment abroad.
Who is Samia Suluhu Hassan?
"She has risen slowly and systematically," according to the African social newspaper Mshale. As a result, she was Tanzania's first, and Uganda's Specioza Kazibwe as the first female vice president of the region from 1994 to 2003.
Samia Suluhu Hassan, 61, of Zanzibar, is the 10th Vice President of the United Republic of Tanzania, who first took office on November 5, 2015, under President John Pombe Magufuli.
Previously, she was the Minister of State and the Office of the Vice President in charge of Central Affairs. Previously, she was the Minister of State in the Office of the Vice President in charge of Central Affairs.
She served as Minister of Tourism, Trade and Investment in Zanzibar from 2005 to 2010 and as Minister of Youth Employment, Women and Child Development in Zanzibar from 2000 to 2005.
Education
Samia Suluhu Hassan received her primary education from 1966 to 1968 at Chwaka Primary School in Unguja, from 1970 to 1971 at Ziwani Primary school in Pemba and in 1972 at Mahonda Primary School in Unguja, according to the biography on the Vice President's website.
From 1973 to 1975 Samia attended Ngambo and Lumumba Secondary School in Unguja. After completing her secondary education in 1977, she joined The Zanzibar Institute of Financial Administration (ZIFA) for statistical studies.
After graduation, she was hired by the Ministry of Planning and Development. In 1986, she enrolled at the Institute of Development Management (now Mzumbe University) in Morogoro for advanced courses in public administration.
After various studies in Tanzania, she joined the National Institute of Public Administration in Lahore, Pakistan. In 1991 she joined the Leadership Management Institute in Hyderabad, India for a certificate management course.
After graduating in 1992, she worked on a program funded by the World Food Program (WFP). Samia studied at the University of Manchester in London for a bachelor's degree to pursue a master's diploma in economics.
From 2004 to 2005, she received a master's degree in socio-economic development through a joint program between the Open University of Tanzania and the University of South New Hampshire in the United States.
Political Career
In 2000, Samia was elected a member of the Zanzibar House of Representatives for Special Place and was appointed Minister by President Amani Karume. She was the only high-ranking female minister in the cabinet. In 2005 she was re-elected and appointed as another Minister.
In 2010, she called for elections to the National Assembly, in which she won more than 80% of the seats in the parliament representing the Makunduchi constituency.
In 2014, Jakaya Kikwete, President of the United Republic of Tanzania, appointed Samia Minister of State for Union Matters.
In the same year, she was elected Vice-Chairperson of the Constitutional Assembly, which was engaged in the work of drafting the new constitution of the country.
In 2014, Samia was elected Vice-Chairperson of the Constituent Assembly, which is tasked with drafting the country's new constitution.
In July 2015, the ruling party's (CCM) presidential candidate, John Magufuli, elected her as his ally for the 2015 general election, becoming the first female ally in the party's history.