Swangz Avenue joins forces with US-based Black Market Media to lift indigenous talent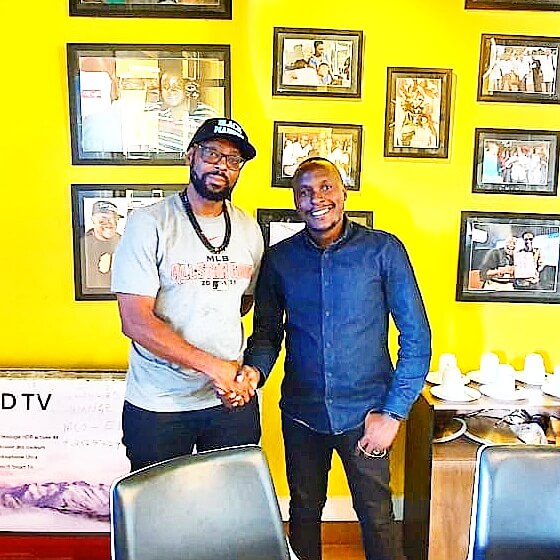 Reliable latest information confirms Cedric Singleton, CEO of Black Market Media, has already flown into the country and had a successful sit-down chat with the Swangz Avenue team based in Industrial Area to begin the mission.
With this picture featuring the boss of Swangz Avenue, Mr Julius Kyazze and Cedric, we can tell that it will pave the way for collaboration aimed at improving marketing models, expanding the financial muscle, exporting high-quality acts to Hollywood and the far east.
Black Market Media is recognized to many here as the umbrella of management in charge of the famous chart-topping singer and record producer, Daddy Andre.
Black Market's global presence has so far grown to fifteen countries with the majority featuring artists, DJs, comedians, film producers and videographers in Swaziland, Liberia, Ivory Coast, Tanzania, Uganda and Nigeria.
Mr Cedric Singleton also serves as a long-standing partner of New York-based YouTube and Vevo, the world's largest all-premium music video service, giving artists an immense global audience across its distribution networks.
Black Market Africa, like Swangz Avenue, has Ugandan artists like KVAN, Daddy Andre, Ava Peace, Uga Boyz, Gentle Junior, Dj Hearts and Selecta Jeff signed on top of other acts from all over Africa to their label.
About Swangz Avenue
Swangz Avenue is one of Uganda and East Africa's leading audio and film production firms, also specialized in video production, promotion of events and talent management.
With an outstanding team led by seasoned directors and managers, with both local and foreign expertise and a wide range of facilities for both audio and video, Swangz Avenue provides a full package for any production requirements.
Vinka and Winnie Nwagi are amongst the renowned acts managed by Swangz Avenue under its talent management arm.