Kabuye Semboga, Mariam Ndagire, Ragga Dee and more to perform at the 2020 Tugende Mu Kikadde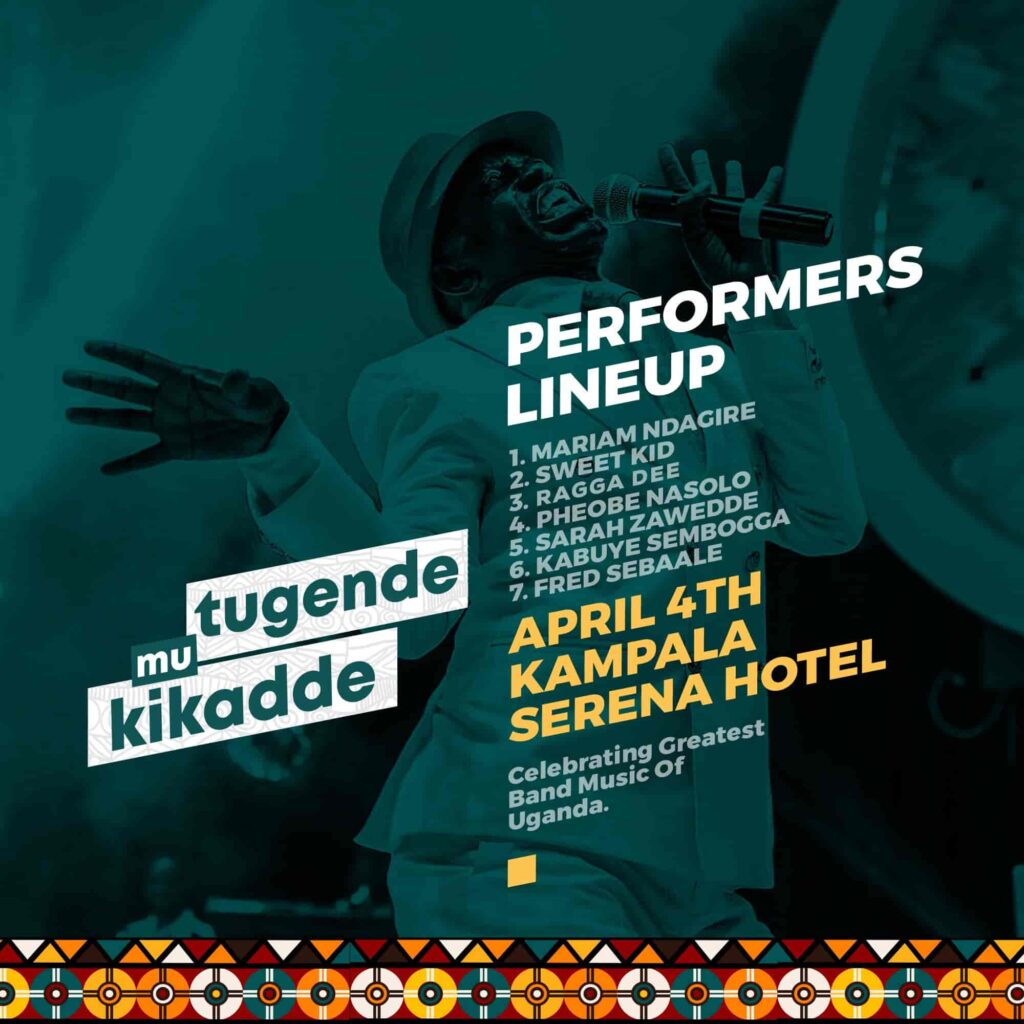 The 2020 Tugende Mu Kikadde is going to be a night to remember not just for the dozens of people attending the Kampala Serena Hotel based event but for the killer artists expected to perform too.
Many superstar musicians are scheduled to hit the stage on April 4, when the Tugende Mu Kikadde goes live, and perform some of their biggest songs at the Kampala Serena Hotel.
List of performing acts
Mariam Ndagire
Kabuye Semboga
Mariam Ndagire
Ragga Dee
Sweet Kid
Phoebe Nasoolo
Fred Sebaale
Sarah Zawedde
Perhaps one of the night's most awaited performances will come from Ugandan singer Mariam Ndagire, who doubles as an entertainer, actress, playwright, film director, and film producer.
Ndagire, 48 years old, is popular for Abakazi Twalaba, Bamugambe, Kiki onvuma and.
She will be joined by Kabuye Semboga, Mariam Ndagire, Ragga Dee, Sweet Kid, Fred Sebaale, Phoebe Nasoolo and Sarah Zawedde at this year's Tugende Mu Kikadde.
Another major music moment will be a tribute to one of the ever-grandest music icons in Uganda-late Elly Wamala, who passed away in 2004.
As a way of remembering the life, legacy, times and timeless music of the fallen hero, each of the invited artists will be requested to perform at least one song from the album of the late Wamala-over eight of the most famous vibes.
The show will be a special one for late Elly Wamala, who left many weeping tears and hypnotized others. His work influenced many people within the music industry, including fellow musicians.
Sixteen years after his death he remains alive in the hearts of many people who perform and listen to his brilliant lyrical music regularly during their free time.
Suggest an edit? WhatsApp +256781873083