Ugandan Afrobeat artist Jose Chameleone (born
Joseph Mayanja

; 30 April 1979) honoured on YouTube with a Silver Play Button for reaching 100K Subscribers.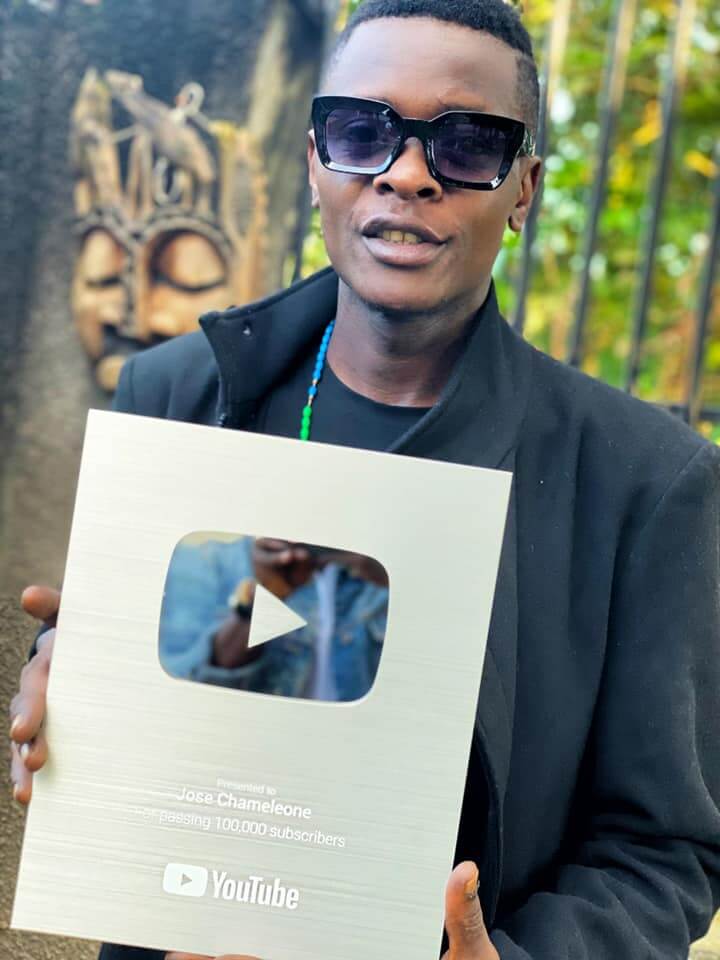 With over 737K followers on Instagram, 588K likes on Facebook, nearly 200K followers on Twitter and now 100K plus subscribers on YouTube, Jose Chameleone, CEO of Leone Island Music Empire, has secured his place at the top of the social media sector.
And now he's officially joined the coveted ' Viewers Club ' on YouTube. Jose Chameleone recently received a Silver Play Button from YouTube to hit 100K subscribers on the video-sharing platform.
This is a huge feat for the BALIWA hit-maker, considering how hard a task it is to convince people to subscribe to your YouTube channel.
Jose Chameleone broke the good news with an Instagram, Twitter and Facebook post expressing gratitude to his fans for his overwhelming love while flaunting his Silver Celebration Plate for passing 100K Youtube subscribers.
He posted,
It's such a great Honor from the Youtube Channel to be recognized for my hard work. I celebrate this achievement together with all my YouTube subscribers following me. Thank you. We achieved this together. LEONE ISLAND MUSIC EMPIRE

Jose Chameleon
Now he joins fellow artists like Eddy Kenzo, Radio & Weasel, and director Sam Yiga as some of the celebrities that have been recognized by YouTube after such a milestone.
Statistically, artists from Tanzania enjoy more viewership on YouTube than their counterparts in Kenya and Uganda.
Diamond Platnumz is the leading artist in Tanzania with over 2 million subscribers, Eddy Kenzo in Uganda with over 600K subscribers while Sauti Sol leads in Kenya with approximately 325,000 subscribers.
YouTube channel levels
YouTube has four levels of channel award in terms of subscriber achievement. The Diamond Play Button for channels with 10,000,000 subscribers is the first and highest award.
The second highest button is the Gold Play button for channels with 1,000,000 subscribers.
The third highest button is the Silver Play button for channels with 100,000 subscribers. Last but not least, the Ruby Play Button for channels with 50,000 subscribers.
The new achievement of Leone Island Music Empire CEO Jose Chameleone will have a direct impact on his earnings, as YouTube is one of the main sources of income for artists.
The number of subscribers reflects not only his value on YouTube but also his earning.
Congratulations, Jose Chameleone