If you visit Uganda and want to know beforehand which places to eat and taste Uganda's typical culinary delights, the following article lists 5-star hotels in Kampala.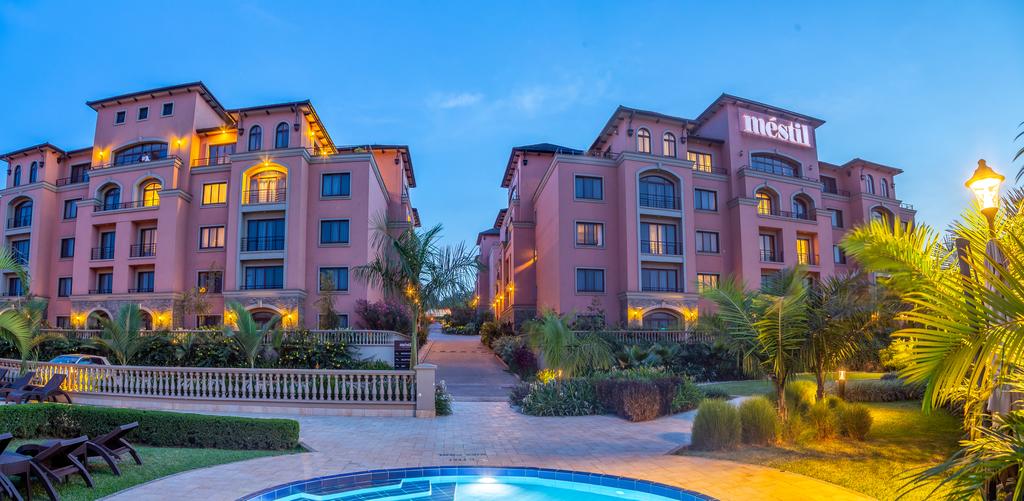 If you are visiting Uganda and want to know about the recommended places to eat and try the food typical of Uganda, the following article lists seven of the 5-star hotels in Kampala, Uganda chosen by Booking.com.
For many reasons, Uganda is famous around the world, and its tourism is one of those reasons. In fact, in the New York Times travel magazine, an article titled 52 places to go in 2020 puts Uganda in the 30th position describing the Pearl of Africa as the Primate Capital and birder paradise.
Therefore, it is no wonder that hotels around Kampala know this and many capitalize on providing the best in terms of accommodations, dining and wineries for visitors coming from all over the world.
There are plenty of choices to choose from when it comes to beautiful hotels in Kampala and a great hotel where you can stay really is not a problem.
Today I'll give you our recommended 5-star hotels in Kampala, each of them will give you its own unique memories.
#1. The Mestil Hotel
The Mestil Hotel and Residences offers accommodation with restaurants, free private parking, outdoor pool, and fitness center, located in Kampala, less than one kilometer from Clock Tower, Kampala. This 5-star hotel offers free Wi-Fi and a bar and a garden.
There is a 24-hour reception desk, room service and guest currency exchange. It's very clean, and, customer friendly. A kitchen with a microwave, refrigerator and stove is provided in some rooms. A continental breakfast is served to guests at the hotel.
Guests are invited to use a Turkish bath and sauna in Mestil Hotel & Residences. The property is situated 1.8 km from Kamu Kamu Plaza and 2.1 km from Nakumatt Oasis.
#2. Le Petit Village Boutique Hotel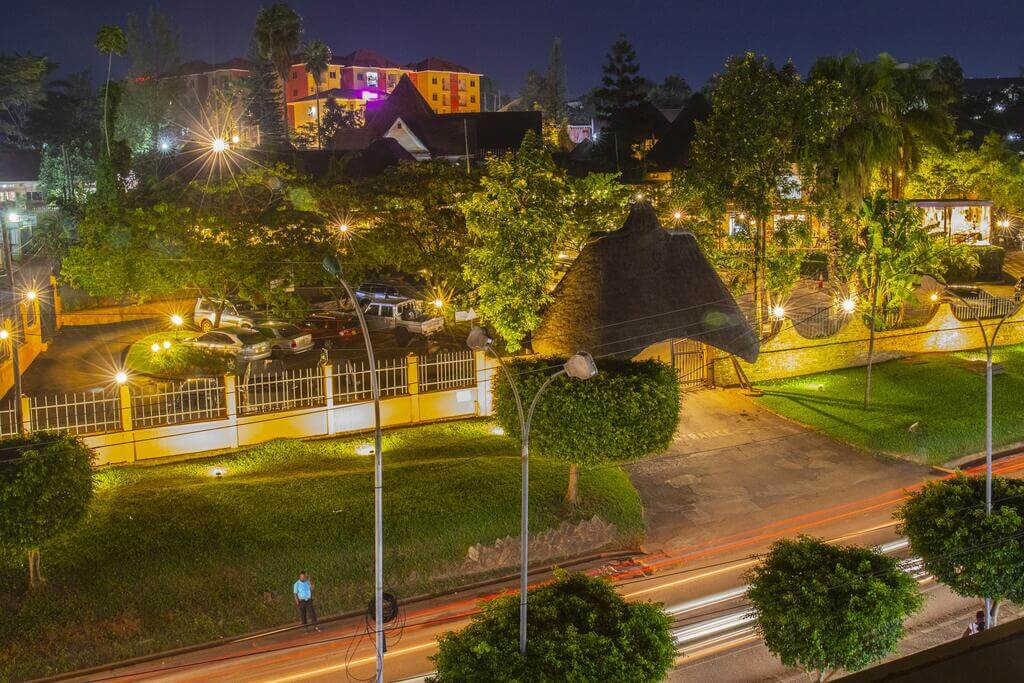 Le Petit Village Boutique Hotel is situated in Kampala, just 2.3 km away from Independence Monument. The on-site restaurant is available for guests. Private parking on site is provided free of charge. Very good staff, lodging and grounds.
Gaze at the swimming pool and garden for a cup of coffee or tea. A private bathroom is provided in every suite. Bathrobes and free toiletries are available to your comfort.
This hotel offers car rental, and the golfing area is popular. Kabaka's Palace 2.1 miles away, while the Gaddafi National Mosque is 2.2 miles away from Le Petit Village Boutique Hotel.
#3. Sheraton Kampala Hotel
Sheraton Kampala Hotel offers an outdoor swimming pool and restaurants in the heart of Kampala's Sheraton Garden. Uganda Golf Course is located 2 km from the hotel. The classy-style rooms are air-conditioned, equipped with a balcony, telephone and TV. There is a separate lounge in the spacious suites.
The Hotel offers a restaurant with a garden, the breakfast room, a cafeteria and a pastry shop, and a restaurant serving meats and steak. Guests can have drinks at the swimming pool bar or relax in the hall with garden views.
A fitness center, a beauty salon and a sauna can be found in the hotel's wellness facilities. A 24-hour reception, free Wi-Fi access, private parking, a playground for children and a business center are available.
A 1-hour drive from the hotel is Entebbe International Airport and airport shuttles can be arranged.
#4. Kampala Serena Hotel

Kampala Serena Hotel is located in Kampala and features an outdoor pool and a restaurant. Wi-Fi is available free of charge.
A TV, air conditioning and a balcony are provided for each room. An electric kettle is also available. A bathroom with a shower and a hairdryer is also provided in the private bathroom.
The room offers views of the city. All from service to atmosphere to top-class food. Their wellness center called Maisha has perfectly offered everything.
A fitness center is available at Kampala Serena Hotel. An on-site tour desk and luggage storage are also available. Free parking is available on site.
#5. Day 2 Day Prime Hotel
The Day 2 Day Prime Hotel is located in Kampala, 3.8 km from Pope Paul Memorial. It offers restaurants, free private parking, a bar and a shared lounge. The 5-star hotel features a patio and air-conditioned rooms, each with a private bathroom and free Wi-Fi.
The rooms are equipped with a 24-hour reception, a room service and foreign exchange. There is a playground, an in-house bar, a common lounge and certain rooms have balcony.
The hotel offers a gold breakfast buffet. The accommodation is equipped with darts and car rental is available. The Day 2 Day Prime Hotel is 5.1 kilometers from the Kampala Wonder World Amusement Park and 5.5 km from the Kabalagala Market.
#6. The Casa Sean Boutique hotel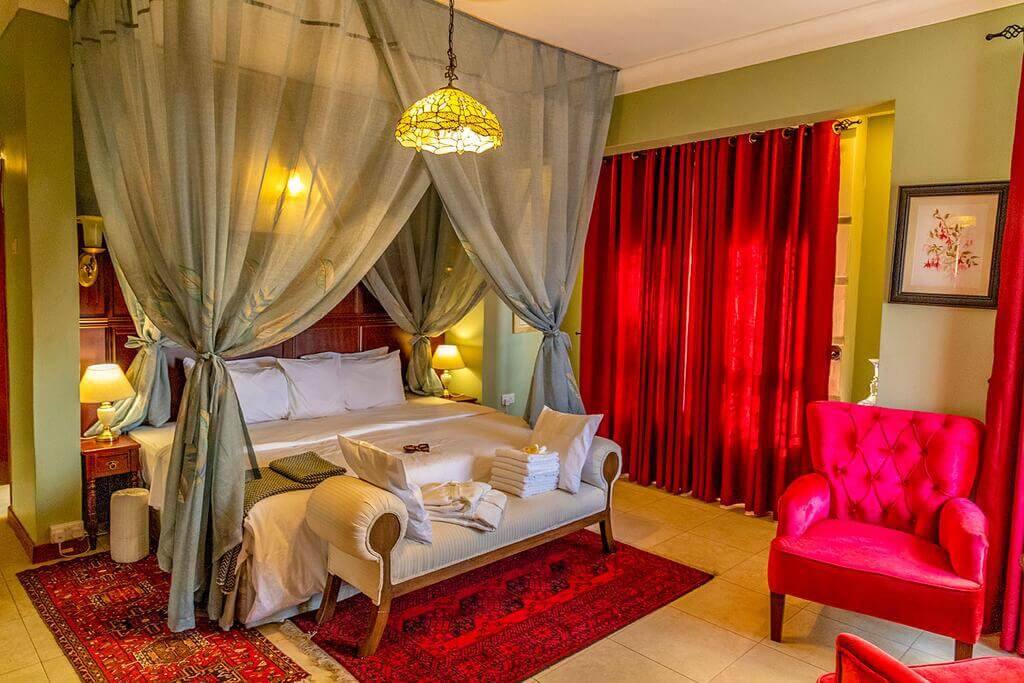 Casa Sean Boutique hotel offers restaurant accommodation, free private parking, a bar and a private garden in Kampala, 6 kilometers from the Pope Paul Memorial. A dry cleaning and a tour desk are offered at this 5-Star hotel.
A 24-hour reception, room service and currency exchange exchange are provided in the accommodations. The property is located 6.3 km from Kampala Wonder World Amusement Park.
Each room at the hotel has an armchair. All rooms have a private bathroom with toiletries and certain faciliities are also equipped with a seating area at the Casa Sean Boutique Hotel.
The hotel is 6.4 km from the Kabaka Palace.
#7. A'lure Hotel & Suites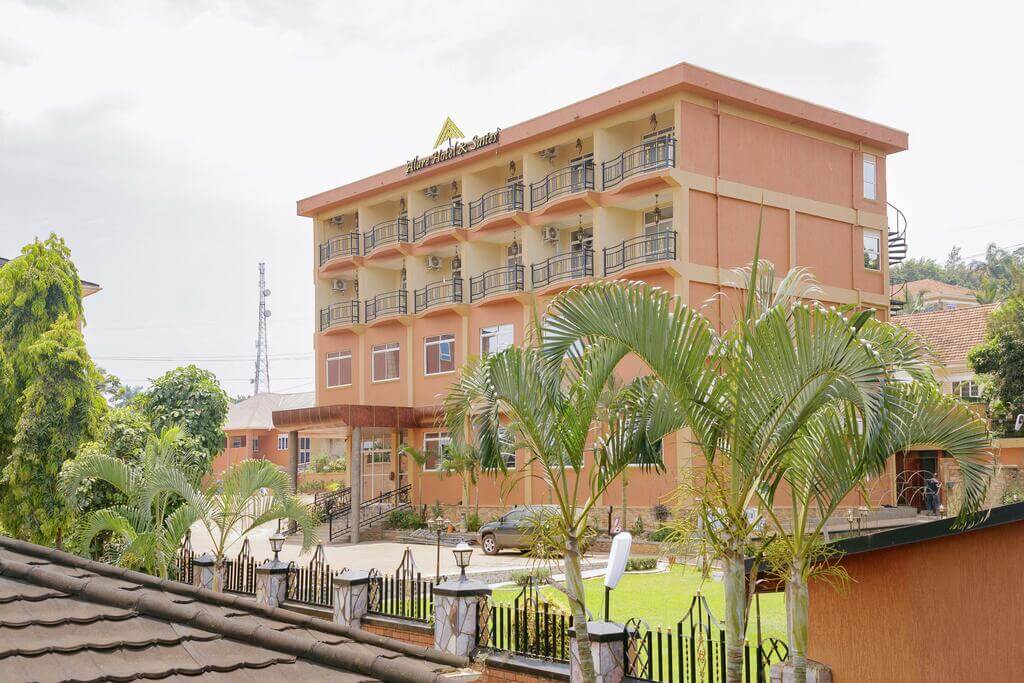 A'lure Hotel & Suites is located in Kampala, 3.3 km from Pope Paul Memorial, with a bar, garden and pool views. The property offers a restaurant, 24-hour reception and free WiFi throughout. The hotel also offers family rooms.
The hotel's rooms include a sitting area, a flat-screen cable TV and a private bathroom with shower and hair-dryer. Guests have a desk and an electric tea pot in their guest rooms.
A'lure Hotel & Suites offers daily continental and buffet breakfast options. It is situated 3.7 km from Rubaga Cathedral, and Kabaka Palace is 4.7 km away.
Have you visited any of these 5-star hotels in Kampala? Kindly share your experience in the comments.