Want to ask MTN Mobile money questions but don't know where to ask? We put together a list of 11 frequently asked questions and answered them below.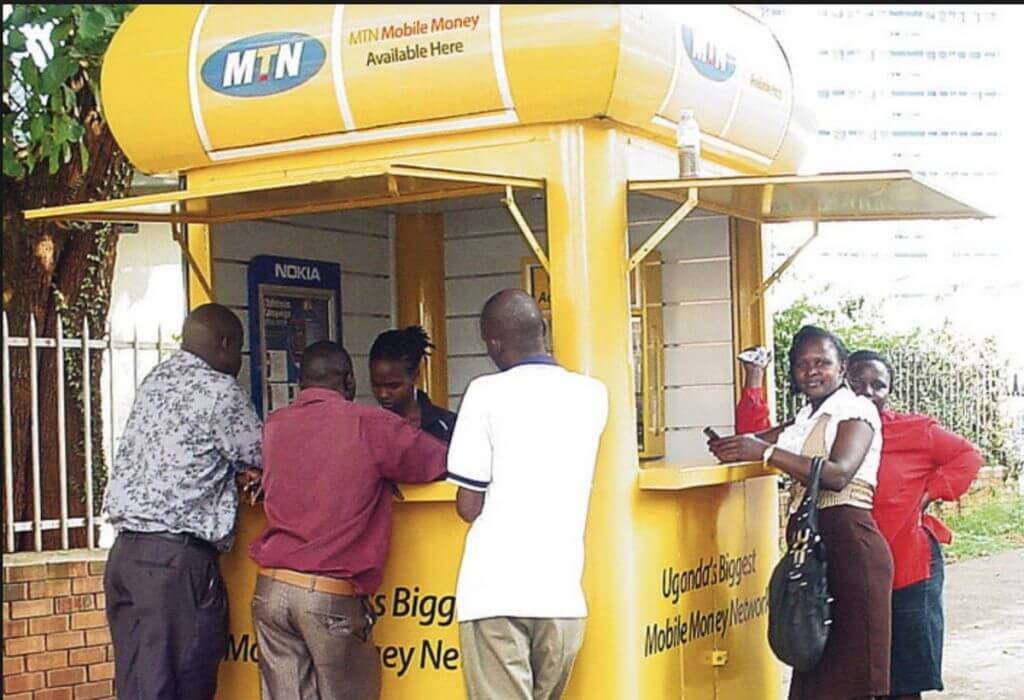 KAMPALA | LIFESTYLE UGANDA ( https://lifestyleuganda.com/) — Mobile Money, marketed by MTN, enables users to receive, send, and store money on their phones; it is an alternative to bank accounts and can be accessed on basic phones as well as smartphones.
Do you have burning questions about MTN Mobile money service but no one to ask?
In this article, we address 11 questions about Mobile Money.
MTN Uganda reported 11.2 million subscribers as of 31st December 2018.
In related news, MTN Uganda floats 20% of its shares on the Uganda Securities Exchange.
MTN Uganda was launched in 1998 and today is the leading telecommunications provider in Uganda, offering mobile and fixed telecommunications, financial services, and access to the Internet.
According to MTN Uganda data as of 31 December 2018, there were 11.2 million subscribers across Uganda.
The following are the 11 questions we addressed in this article regarding mobile money.
#1. What is MTN Mobile money?
Mobile Money is a secure e-wallet service that allows users to store funds, send and receive money, make payments and do a wide range of other transactions simply using their phones.
It's fast, simple, convenient, and affordable, and MTN offers it in many African countries through a partnership with over 10 banks.
#2. How do I sign up for MTN Mobile Money?
MTN Uganda customers can get started by dialling *165#, you will need to create a 5 digit PIN.
If you are not fully registered, you will need to visit the nearest MTN service centre with a copy of your ID to be registered for it.
#3. What are the steps for accessing Mobile Money?
MTN Mobile Money can be accessed by dialling *165#. Alternatively, you can download the MyMTN App at www.mtn.co.ug/mymtn.
#4. What services does MTN Mobile Money offer?
MTN Uganda offers nine different services; Sending and receiving money in Uganda and abroad, saving and borrowing money through MoKash, depositing and withdrawing from your bank account, withdrawing from ATMs, and paying for MTN Services.
The company also offers MTN bills, airtime, voice (voice bundles) and data packages, payment for goods and services, payment for utilities (such as water and UMEME) and donations to cultural and religious institutions.
#5. How much money can I send and receive with my Mobile Money account?
There is a minimum and a maximum amount of money you can use on your Mobile Money: UGX 500 as the minimum amount, UGX 7,000,000 as the daily transaction limit, UGX 15,000,000 as the maximum, and UGX 0 as the minimum.
#6. What is the cost of using Mobile Money?
The fees for Mobile Money will be deducted automatically from your account.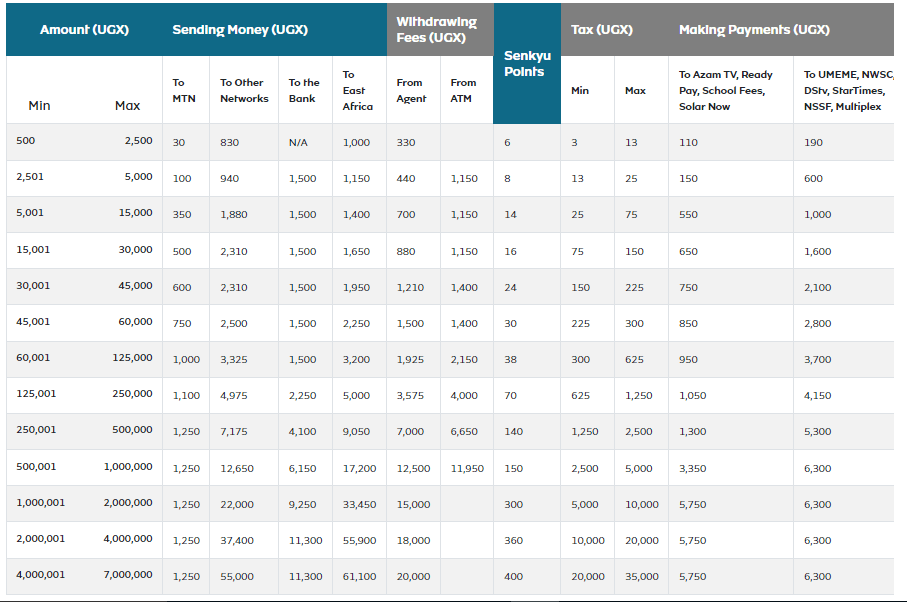 During an announcement held at Hotel Africana on the 1st of May 2021, MTN Uganda announced a reduction of the fees for the withdrawal of mobile money.
As the General Manager of MoMo Financial Services at MTN Uganda, Stephen Mutana explained that this move is aimed at bolstering financial inclusion across the country and enhancing the benefits customers get by choosing MTN MoMo.
#7. Is it possible to send money from my Mobile Money account to people on other networks?
Yes, MTN Mobile Money can be used to send money to people on other networks in Uganda, like Airtel Money and others. Money can also be sent to Safaricom MPesa customers in Kenya and MTN Rwanda customers.
#8. Does Mobile Money work without airtime?
Yes, it is possible to use your Mobile money without having airtime on your phone. The charges are deducted from your Mobile Money account.
#9. Is my Mobile Money account eligible for interest?
Your MTN Mobile Money balance will not earn interest. To earn interest, you must open a MoKash account and save your money there.
#10. Is my MTN Mobile Money account safe?
Because every transaction requires a PIN to complete, your money is secure. However, you should always keep your PIN a secret and change it regularly if you suspect someone else knows it. ​​
#11. Is Mobile Money available internationally?
You can receive money from over 50 countries into your MTN Mobile Money wallet through WorldRemit in these 50 countries: Liberia, Nigeria, Benin, Ghana, Ivory Coast, Rwanda, Republic of Guinea, Uganda and Zambia.
When it comes to receiving money from abroad, using the WorldRemit app or Chipper cash is the quickest and most efficient method.
Editor's Note: We would appreciate it if you could let us know if any of our content is inaccurate or outdated at support@lifestyleuganda.com.