Airtel 4G Portable Pocket MiFi is a lightweight and portable wireless hotspot router that offers blazing fast internet speeds. You can connect up to ten devices with it.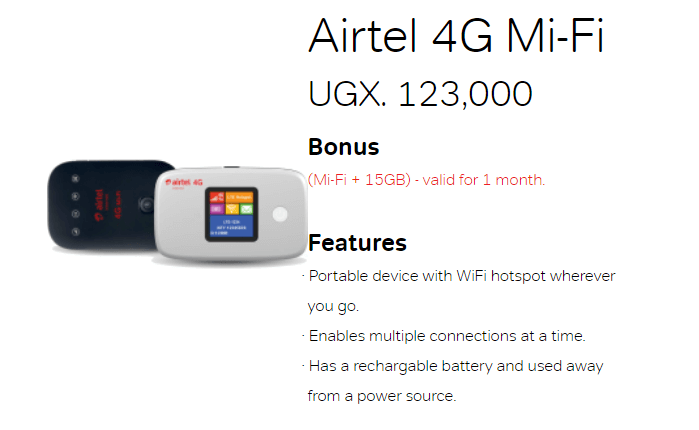 KAMPALA | LIFESTYLE UGANDA (https://lifestyleuganda.com/) — Whether you're looking for a MiFi device for your business or home use, Airtel Uganda offers a variety of 4G Home Internet Solutions including Airtel 4G Pocket MiFi, Airtel 4G SmartBox, and Airtel 4G Broadband.
Make your business more successful with a 4G Portable Pocket MiFi from Airtel Uganda.

This Airtel 4G pocket MiFi costs UGX123,000 and can connect up to ten users.
The device comes with 15GB of free monthly data.
Uses a rechargeable battery and can be used away from a power source.
While an Airtel Uganda 4G WiFi router is priced at 280,000 UGX.
Check out also Airtel Uganda's new data bundle offers for Africell customers.
See also 7 Frequently Asked Questions about Airtel Money Super Saver.
4G MiFi WiFi routers from Airtel have been in the market for some time. The most attractive feature of a pocket MiFi router is its ability to operate independently of a power source.
In Uganda, the Airtel 4G pocket MiFi costs UGX123,000 and allows up to 10 users to connect. It also comes with 15GB of free data valid for a month, or you can purchase an Airtel 4G WiFi router for 280,000 UGX.
It is important to note that MiFi routes typically have a limited coverage range, and this is no different. The limited coverage range results in a weaker WiFi signal when you are far from the MiFi device.
Features of the Airtel 4G Pocket MiFi
For a month, you get 15 GB of free data.
A portable WiFi hotspot wherever you go.
You can connect up to 10 devices at the same time.
It can be used without a power source and has a rechargeable battery.
Wi-Fi: What Is It?
WiFi is the wireless networking standard that allows different devices to connect without the actual use of wires. If your device is Wi-Fi enabled or compatible with Wi-Fi, then it can share information with other Wi-Fi enabled devices.
Your smartphone, for instance, is able to connect to a mobile hotspot via its Wi-Fi chip. The same is true for a laptop, tablet, hotspot or any other WiFi-enabled device.
MiFi: What is it?
It is the brand name coined by Novatel Wireless for its portable devices that provide Wi-Fi connectivity on the go.
However, these days, the term 'MiFi' is used as a generic term for any device that can function as a Wi-Fi hotspot.
Using MiFi, multiple mobile devices and users can connect to the internet via 3G or 4G mobile broadband.
Essentially, MiFi routers consist of 2 components: the modem and wireless router. The modem contains wireless 3G, 4G or LTE bands and connects to wireless devices. The Wi-Fi router provides wireless connectivity.
MiFi devices can connect up to 10 Wi-Fi devices simultaneously to a cellular connection depending on the capacity of the cellular network incorporated into the MiFi router.
You will need a service provider to connect MiFis to cellular networks.
Choosing the right MiFi device for your business can be challenging. Airtel Uganda offers a range of 4G home internet options like Airtel 4G Pocket MiFi, Airtel 4G SmartBox, and Airtel 4G Broadband.
For more details, visit https://www.airtel.co.ug/device_and_router?device.