Bettinah Tianah is the latest celebrity to announce the launch of her skincare product called BT Beauty Uganda.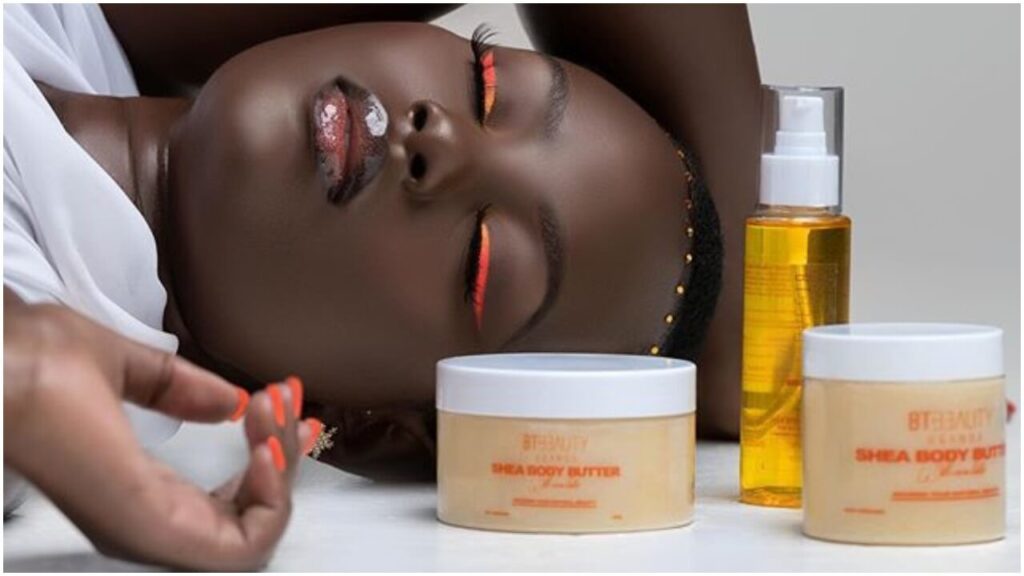 Bettinah Tianah (born Betty Nasali, 10 November 1993) is the latest celebrity to announce the release of her line of skincare products called BT Beauty Uganda, and it promises to nurture our natural beauty just like her.
About BT Beauty skin and hair care products
Shea body butter
Shea black soap
Shea body glow oil
Shea hair food oil
Celebrities often set trends in terms of beauty and fashion, which is why many of them started their beauty and makeup lines. Welcome aboard Bettina.
Her new organic beauty brand was launched on Instagram on October 1, 2020, and she is one of the many celebrities who explored the beauty world in the hope of becoming a beauty mogul like Selena Gomez (with Rare beauty) and Kylie Jenner.
"We present our 'right' organic beauty products at very pocket friendly prices with a strong team which has worked tirelessly for more than 14 months," Tianah said.
"I once saw a tweet saying 'Take no skincare tips from people who are genetically well skinned' and it has more than 10,000 likes and over 2,000 retweets that meant the message was co-signed by the users. The products are not just for every African lady, but most of them for those who are unheeded with genetically good skin. I did too, in fact.
BT Beauty Uganda Products
#1. Shea body butter
Our Shea Body Butter is packed with different types of fatty acids and vitamins like E, D and F to restore moisture to your skin.
Commenting on the product, Bettina said: "I use it every morning before going to work, at night, often around the eyes, on the forehead and around the chest before going to bed."
#2. Shea black soap
It is made from activated charcoal and attracts contaminants, toxins and bacteria from the deeper layers of the skin.
She talked about this shea black soap: "Our shea black soap is my best friend when I go out during that month, it dries the pimples, it leaves my skin soft and moisturized, I use it all over my body every day."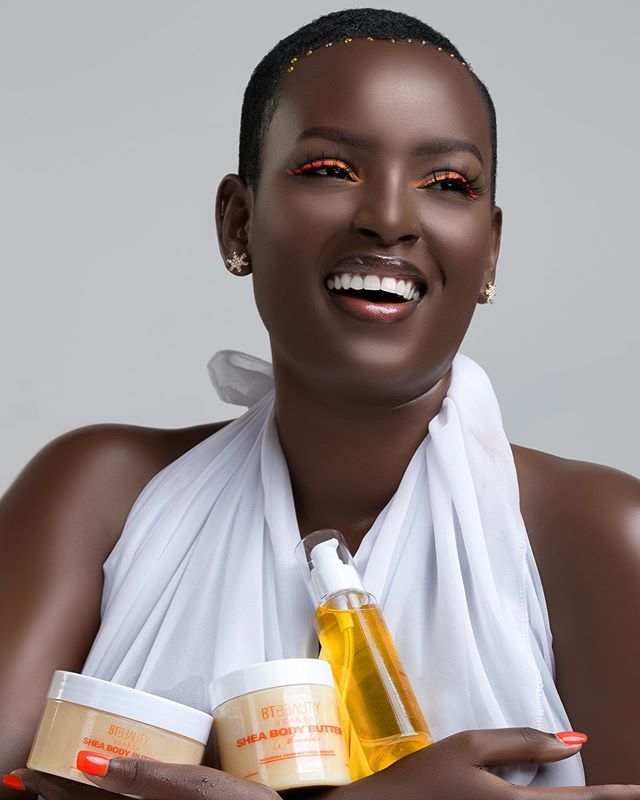 #3. Shea body glow oil
Have you ever wondered how Bettina gets that "shiny" skin for a TV show or photos, it's because she uses this Shea body glow oil every day for extra moisturizing lasting longer on the skin.
#4. Shea hair food oil
It is called hair food because it nourishes your scalp and hair fibres. Commenting on this product Bettina said: "Our Shea Hair Food Oil has helped a lot in removing dead skin/dandruff from my scalp, after trying some of the most expensive hair treatments, it did me a trick in a short period and what I love most is that it soothes my scalp whenever I use it."
Where to buy BT beauty products
100% Organic shea butter products by @bettinahtianah are available worldwide. For order and inquires, WhatsApp +256701503382. This includes free delivery in Kampala, and also international shipping available for those residing outside Uganda. And lastly, they are for all skin types.
Follow BT Beauty on Instagram at https://www.instagram.com/btbeautyuganda/
Follow Bettina on Instagram at https://www.instagram.com/bettinahtianah/