Buy Eddy Kenzo music festival Tickets scheduled for March 28, 2020, at Kololo Airstrip. Entrance fee is 10k for children, 20k for ordinary, 50k for VIP and 1.5 m for a table.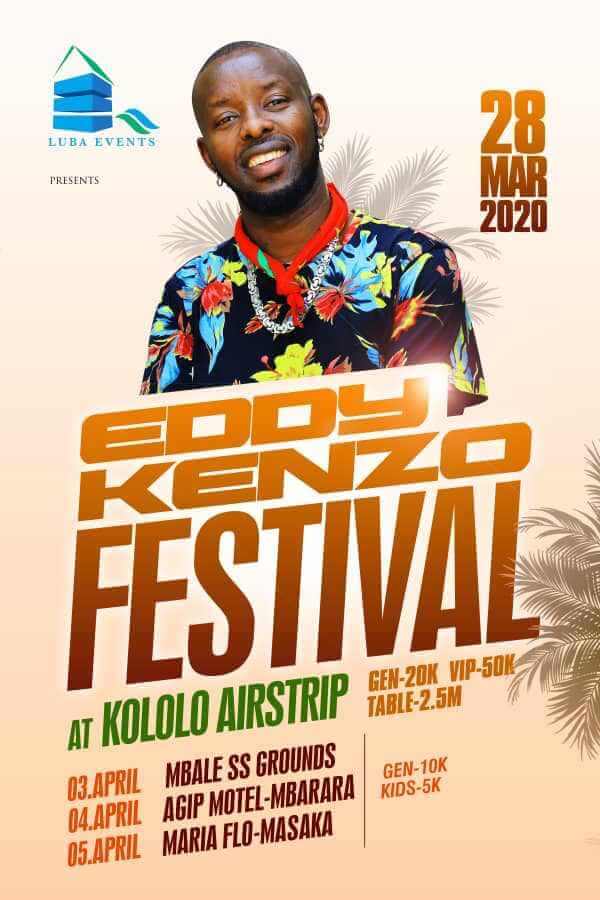 Don't miss the Eddy Kenzo music festival at Kololo Airstrip, scheduled for March 28, 2020. Discover the upcoming Eddy Kenzo music festival, tickets are on sale, the poster for details.
The first-ever festival of artists in Uganda will take place on 28 March in Kololo Airstrip.
The Eddy Kenzo Festival 2020, the first of its kind to be held by an artist in Uganda, will see the participants and their families enjoy an event full of entertainment and fun.
There will be bouncing castles for kids, face painting and other mob games that means it's a family show.
Eddy Kenzo music festival tickets are 10k for children, 20k for ordinary, 50k for VIP and 1.5 m for a table.
The award-winning singer will be giving back to his fans during the festival. Motorcycles, cookers and school fees are some of the things to be collected that day.
In other news, while speaking to journalists at Kati Kati restaurant on Tuesday morning, Kenzo revealed that most of the time it's just some of the big international artists who are invited to perform at Kololo Airstrip and the venue fills up.
And to make the day more memorable for himself and his fans, he invited his ex-wife Rema Namakula to take part in the festival.
I'm inviting Rema and Hubby Hamza to come to my show, I'm going to give them a VIP section. It's going to be better if she's performing at least one to two songs

He said
Despite being separated, Kenza and Rema have a daughter called Aamaal Musuuza who keeps them in touch. Kenzo is a father who feels he can share his love with his kid.
Venue
Kololo Airstrip
Kololo Airstrip, Prince Charles Dr, Kampala
,
Kampala
,
Central
256
,
Uganda
Phone :
+256750460803
Organizers
Luba Events
Phone :
+256750460803
Email :
eddykenzo@gmail.com
Website :
https://www.instagram.com/eddykenzo/?hl=en