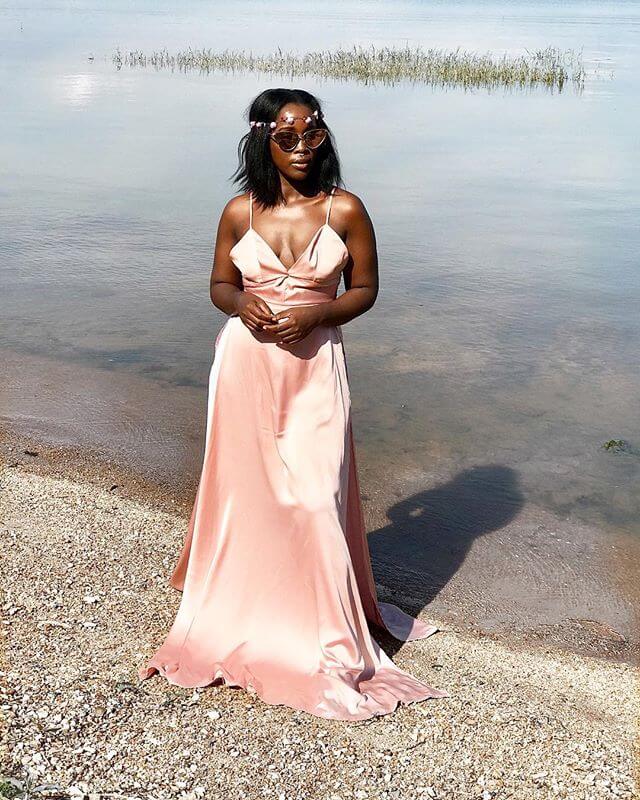 Maya B Aliza is a famous blogger behind ItsMayaBee. She blogs about fashion, style and beauty.
It is her number one goal to show how beautiful, trendy, stylish people can be in every sense according to the latest trends.
Maya aspires to inspire everyone who likes fashion and people who want to embrace this world.
She actively blogs on Itsmayabee.com, a Ugandan blog for all like-minded people who believe that style runs in their blood and is as important as breathing.
From inspirational blogging to life as a proud mother, we asked Maya B Aliza all about life, inspiration, tips and Uganda fashion.
Get to know Maya by checking out how she answered our 12 quick-fire questions below.
How did you choose to become a fashion blogger? Was this a thoughtful choice?
MAYA: Well, my story is not very interesting. I always wanted to share my story through fashion and lifestyle, but I was hesitant for years until I decided to challenge myself and JUST DO IT.
How was the response initially? Share some moments or experience?
MAYA: I must say that I was surprised by the positivity I got on the internet when I first started out, but that doesn't mean that I didn't have a few backs along the way.
Who or what has been your greatest fashion inspiration?
MAYA: Hmmmm…. I can say Life as it happens inspires everything about me, including fashion.
Do you think boutiques/e-commerce Stores like Jumia keep an eye of the fashion bloggers?
MAYA: I'm stuck between a rock and a hard place with it because I'm a proud owner of a fashion store (Maya's Gallery), but I have to admit that the Uganda market has not yet seen the significance of fashion bloggers and bloggers in general.
However, I'm optimistic because you can't run from change.
Whom do you envision as your target reader?
MAYA: Millennial women and some men who might want to understand a millennial woman.
There are a lot of people following you on your fashion blog. How do you manage this huge number of followers?
MAYA: I'm not yet in the number where followers ' management is needed, but with blogging and publishing content on the internet, one should expect some negativity and criticism.
And what are you doing about that? Take constructive criticism, Ignore the hate, use your block option and move on.
What motivates you to blog such great pieces?
MAYA: I'm flattered, thank you. Again, life as it happens is my greatest motivation, and I honestly remain true to who Maya is.
You have some great photos on your blog 'ItsMayaBee' and Instagram, how do you decide what type of photos to take and share?
MAYA: ItsMayaBee as a brand is "Fashion, Beauty, Lifestyle" and that's exactly what I share.
What are your 5 wardrobes Must Haves or things you can't live without in your wardrobe?
A Little / Midi Black Dress
A well tailored blazer
A pair of High waist pants
A pair of pointed toes heels
A denim jacket
Advise for all our fashionable readers or anyone looking forward to be like you?
MAYA: Well, pick a few tips from Maya and just be the best version of You!
Where do you see your blog in 5 years' time?
MAYA: The blog (site) will be a representation of my entire brand, bigger and better.
Lastly, what would you say is the major difference between Ugandan and Nigerian fashion style?
MAYA: Comparison is a joy sucker. However, I must say that Uganda is progressing steadily in the fashion industry as a whole and Nigeria is like our elder sister, who gives us some tips here and there.
Thank you Maya for your time. Get to know more about her work by visiting her website.