Here's everything you need to know about the first-ever Janzi Awards ceremony set for 11th and 12th December in 2021.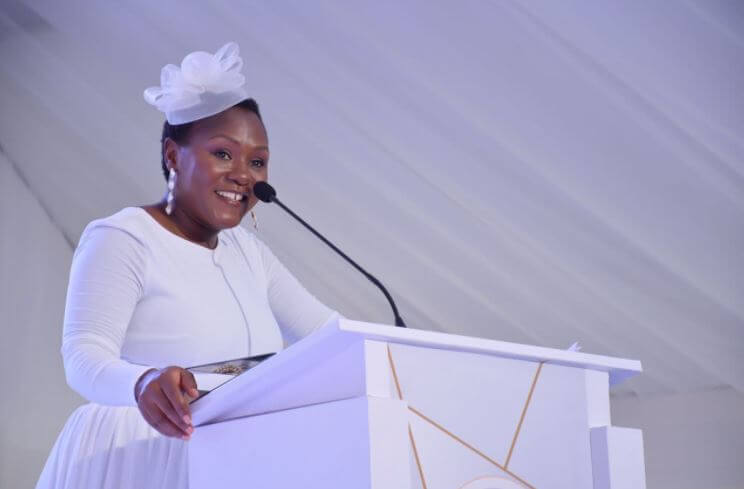 KAMPALA | LIFESTYLE UGANDA — The nominees for the inaugural Janzi Awards ceremony have been announced, and it will take place on 11 and 12 December 2021. Here is all you need to know.
Uganda's Cultural, Creative, and Performing Arts forms will be recognized and celebrated in the Janzi Awards, which aim to provide an opportunity for learners to discover and celebrate excellence, innovation, and diversity.
Awards are named after James Ssewakiryanga's creation, the Janzi Instrument, a string instrument.
The instrument takes its name from 'Ejjanzi', the Luganda word for grasshopper, whose spirit and natural form are reflected in the instrument's appearance and feel.
During a star-studded event at the Sheraton Hotel gardens on Friday evening, 300 nominees were revealed as the final list in the first-ever Janzi Awards.
The chairperson of the organising committee for the Janzi Awards 2021, Sylvia Owori, said they received over 75000 submissions before reducing them to 300, from which the winners will be announced this month.
The awards, she explained, celebrate the creative industry and its role in creating employment as well as its significance to the economy.
"These awards were the result of the Gulu arrangements (where musicians visited Gen Saleh), but they are also a testament that government stands ready to support this industry, and that Government now pays attention to us," she said.
In total, over 90 awards will be awarded in various categories spanning key domains in the industry, including:
Music
Performing Arts
Collecting Societies
Film & Video
Visual Arts & Crafts
Books & Publishing
Software & Innovations
Cultural & National Heritage
Support Services
Janzi Awards 2021 winners will be announced on December 11-12 at the Kololo Independence Grounds, where President Yoweri Museveni will be the Guest of Honor.
The full list of nominees for the Janzi Awards 2021 is as follows
MUSIC
Male Artist of the Year
Pallaso (Malamu)
Eddy Kenzo (Weekend)
Fik Fameica (Buligitta)
Female Artist of the Year
Shebaah Karungi (Nakyuuka)
Spice Diana (Body)
Outstanding Album of the Year
Outstanding Song of the Year
Mudra (Muyaayu)
Mr.Eezzy (Tumbiiza Sound)
Pallaso (Malamu)
Pia Pounds (Tupaate)
Outstanding Kadongokamu Artist (Male)
Willy Mukabya (Beera Mugumu)
JB Byekwaso (Ekirooto Kya Kafero)
Sekabira Moses (Nanfuka)
Outstanding Kadongokamu Artist (Female)
Josephine Ndagire (Teri Musajja W'omu)
Jackie Kizito (DNA)
Madina Nakiwala (Rasta Woman Omubanda)
Emerging Artist Award
Mudra (Muyaayu)
Zex Bilangilangi (Nalinda)
Mr.Eezzy (Tumbiiza Sound)
Outstanding Live Band
Zawee Band
Abeeka Band
Janzi Band
Outstanding Dance Hall Artist
Vyper Ranking (Kululwo)
Cindy Sanyu (Boom Party)
Ziza Bafana (Mbuzi)
Outstanding Hip Hop Artist
Flex De Paper (Mbikwaasa Gwe)
Tucker Hd (Leagues & Levels)
Ffe Ffe Busi (Gamba Chwii)
Songwriter Award
Liam Voice (Omwoyo)
Nince Henry (Body)
Daddy Andre (Andele)
Outstanding Dance Group
Fire K Stars Dancers (Weekend)
Kampala Junior Team Dancers (Weekend)
Masaka Kids Africana (Tweyagale)
Outstanding Video Award
Pallaso (Naloonda Ne mala)
Bebe Cool (Wire Wire)
Pia Pounds (Tupaate)
Outstanding Western Artist
Ray G (Eizooba)
Planet Aaron (Organic Manure)
Omega 256 (Deep in Love)
Outstanding Eastern Artist
Rody Gavana (Akello)
Lanisha Jovia (Mwirinde)
Karah Gloria (Ijo Amina ngo)
Outstanding Northern Artist
Evy Treyz (Blessings)
Judas Rap Knowledge (Joni)
Profesa Maros (Centre)
Outstanding Faith Based Musician
Zoe Melodies (Greater Love)
Joseph Generation (Embraced)
Levixone (Chikibombe)
Outstanding Contemporary/World Music
Giovanni Kiyingi (Buddu)
Kenneth Mugabi (Oliwa)
Joel Ssebunjo (Rise Up Africa)
Outstanding RnB Artist
Naava Grey (Ngi bambe)
Zuli Tums (Oluvanyuma)
Liam Voice (Omwoyo)
Outstanding Reggae Artist
Reggae Soldier (Mukulembeze)
Robert Rayz (Tukole)
Baba Raa (Reggaelize)
Viewer's Choice Award
Pallaso (Malamu)
Felista di Superstar (Bwotyo)
Eddy Kenzo (Weekend)
Humanitarian Award
Halima Namakula (Fistula)
Levixone (Kosovo NGO)
Bebe Cool (Heart Foundation)
Music Leadership and Inspiration Award
Pastor Bugembe
Muyinda raa ramah
Phina Masanyalaze
Music Journalist Award
Isaac Ssejombwe (Kampala Scoop)
Musa Ssemwanga (Online)
Herbie Kay (Metro FM)
Outstanding Cultural/Folk
Ndere Troupe (Soft Waists, No bones-Ganda dance)
Kika Troupe (Adungu Dance/Otwenge)
Percussion Discussion Africa (Malamu)
Outstanding Legendary Artist
Moze Radio (Tambula Nange)
Maddox Sematimba (Namagembe)
Jose Chameleon (Valu Valu)
Outstanding Entrepreneurial Artist
Sheebah Karungi (Holic Pads)
Bobi Wine (One Love Beach)
B2C (Kiyamba Ffena Wipes)
Outstanding Afro Beat/Pop Artist
Pallaso (Malamu)
Sheebah Karungi (Boy Fire)
Azawi (Slow Dancing)
Outstanding Afro-Zouk Artist
King Saha (On my Way)
B2C (Munda'awo)
Slick Stuart & Roja (Sunday)
Outstanding Performer
Sheebah Karungi (Boy Fire)
Azawi (Slow Dancing)
Eddy Kenzo (Weekend)
Pallaso (Malamu)
Outstanding Vocalist
Sandra Suubi (Ssembera)
Levixone (Mbeera)
Kenneth Mugabi (Nkwegomba)
Outstanding Audio Producer
Daddy Andre (Andeele)
Nessin Pan Production (Munda'awo)
Artin Pro (Buligitta)
Outstanding Audio Producer Regional
Dani Pro (Pe ilwor)
Masta Beatz (One love)
Street ft.Wazy (Beatboy)
Outstanding Video Producer
Ziga Phix (Mino Mina/Bakuweki)
Sasha Vybz (Bebe Cool /Wire Wire)
Crane Media (Stamina/Brothers Muzik.ft. Jose Chameleon)
Outstanding Video Producer Regional
McElvis Onset (Rasta Swagg-Pi Naka)
Woko Derrick (Ameri-Elton Loverby)
Jowee Amio (Akile Galva G Ft.Naffz cee.)
Outstanding Dee – Jay
DJ Nimrod
DJ Silverback
Slick Stuart & Roja
Young Talent Award
Fresh Kid (Bambi)
Fellista Di Superstar (Bwotyo)
Leyna (Good Day)
PERFORMING ARTS
Outstanding Comedy Performance
Fun Factory (Thursday Comedy)
Kibooneka Moses (Uncle Mo)
Okello Okello (Silent Comedy)
Outstanding Drama Production
Zansanze-The Village Belle (John Ssegawa)
Betrothal (Agannza Kisaaka)
Empuuna Malungu(Bad Omen) (Afritalent)
Outstanding Theatre Production
Tropical Fish (Deborah Asiimwe)
The Chains of Dance (Edward Sembatya)
Killing Time (Ibua)
Outstanding Musical Production (Theatre and other mediums)
Agape Concert (Cherubium)
An Evening of Christmas Music (Quitent Band)
Musengwa Mulungi (St. Francis Xavier Choir)
Outstanding Dance Group (Contemporary)
Masaka Kids Africana (Tweyagale)
Watwero Dance Co. (The witch-the mad trailer)
Epic Dance Crew (Sonko)
Outstanding Dance Group (Folk)
Watmon Troupe (Bwola Dance)
Nile Beat Artists (Tamina Ibuga)
Kika Troupe (Nabalanga Musical Dance)
Outstanding Magician and Illusionist
Athena Entertainment NetworkB
Outstanding Spoken Word (Including Bitontome)
A Forgotten Tune (Carolyne Afroetry MA)
I Want Humanity (Mercy Geno Apachi)
Ogenda wa (Lule Ssebo)
FILM & VIDEO
Outstanding Film
Tecora (Story by Muyanja Bashir)
November Tear (Written and directed by Richard Nondo, Daphne Ampire, Joel
Okuyo Atiku Prynce, Raymond Rushabiro, Cindy Sanyu, Housen Mushema)
The Girl in the Yellow Jumper (Produced and directed by Loukman Ali)
Outstanding Documentary
I Won't Kneel (Hilda Awori)
Demystifying Lifts and Lows (Kankunda Titi)
Kanungu Doomsday (Bart Kakooza)
Outstanding TV Drama
Outstanding Animation Film
Katoto
A Kalabanda Ate My Homework
Uganda Folk Tales in Animation
The Vow-Lwaki Emmese Ebba
Outstanding Actor
Allan Katongole (Sanyu, 27 Guns and Balikoowa in the City)
Mushema Housen (Bed of Thorns, November Tear, Veronica's Wish)
Micheal Wawuyo Jr. (Blind Date,16 Rounds, The Girl in the Yellow Jumper)
Outstanding Actress
Prossy Mukisa (Baguma-Nabbosa, The Right Path, Blood and Pain)
Eleanor Nabwiso (Sanyu, Bed of Thorns, Prickly Roses)
Doreen Nabbanja (Honourable, The Only Son, Black Glove Mutabaazi.94 Terro, Kafa Coh.C)
Outstanding Director FIlm
Cissy Nalumansi (Umoja, Missing Nothing, Ensulo, Promises, The Village Champion)
Kiziito Samuel Savior (Forbidden, Silent Depression, Kemi)
Ayenyi T.Steve (Kony, Order from Above, Kampala City)
Outstanding Costume Designer
Esther Nakaziba (Bed of Thorns, 27 Guns, Honorables)
Najjemba Lule Josephine (Tecora)
Tazibone Solomon (Prestige)
Outstanding Screen Play Writer
Cissy Nalumansi (Kela)
Louis Muhereza (Deception)
Mutoni Jordanah (Baguma)
Outstanding Visual Effects
Endeku Ya Mukungu (Description: Outstanding motion effects displayed in the battle
between a ghost called Mukungu and a water well called Nabaiyre)
Bad Black (Description: A Wakaliwood masterpiece with visual effects locally propped
depicting an enormous ability to create)
16 Rounds (A film that combines great cinematography with story and performance to a gripping effect)
Outstanding Producer
Aisha Kyomuhangi (Kemi)
Bob Nyanzi (Prestige, The Kampala Story)
Usama Mukwaya (Blind Date,16 Rounds, The Girl in the Yellow Jumper)
Regional Film Award
Obunkenke (A film locally produced in Busoga the lifestyle of the Basoga)
City of Destiny (A movie featuring a cast of top Northern Ugandan celebrities Liama,
Christine Blacky, Big Mike, Okello Steven)
King of Kings (A movie depicting the indigenous life style of the Africans in the Western part of Uganda)
Film Student Award
St. Joseph Secondary School, Kiteredde, Kyotera (Kaleka Kasome)
Kankunda Solange Titi (Demystifying Highs and Lows)
Isiko Abubaker (Engaito)
VISUAL ARTS & CRAFTS
Outstanding Crafts and Weaving
Sanaa Gateja (Craftsman and jeweler)
Stacey Gillian Abe
Paul Bukenya Katamiira (Ugandan Bark Cloth Marker)
Outstanding Painter
Ntensibe Joseph (Nature and Contemporary Artist)
Wilson Membe Lukenge (Visual Artist of International Repute)
Dorothy Migadde
Outstanding Sculptor
Dr. George Kyeyune (Sculptor and Charcoal and Pencil Artist)
PROF. F. X. NNAGGENDA (Designed the Monument of the Kabaka of Buganda)
Okwir Isaac (Managed to apply cubism style in his 3D bronze work)
Outstanding Photographer
Oscar Ntege
Edgar Batte
Paddy Muramura
Outstanding Fashion Designer
Stella Atal
Abbas Kaijuka
Discrete Ug
Outstanding Stylist in Fashion
Tazibone Solomon
Mavo Kampala
Larry Casual
Outstanding Make Up Artist
Esther Nakaziba
Monafaces
Imani Makeup Studio
Outstanding Graphics Designer
Kirigoola Benon
Armup Media
Reagan Nalikka
Outstanding Interior Designer
Po Designz
One100_int-ug
Muti Interiors
Outstanding Landscape Designer
Barefoot Landscaping
Divine Landscapes Ltd
Katooke Landscape
Outstanding Architect
Jonathan Nsubuga
William Henry Ssentoogo
Henry Twahiirwa
Outstanding Copywriter
Eric Mununuzi (Bosco campaign)
Henry Onen (I Choose Peace – IPOD)
Adonia Waibale (GoTV, DSTV)
BOOKS & PUBLISHING
Outstanding Book
The First Woman (Written by Jeniffer Nsubuga)
Zura Maids (Written by Apio Atuko)
Deserted (Written by Bob Godfrey Kisiki)
Outstanding Children's Storybook
Namulanda (By Walaabyeki Magoba)
Munini The weeping Bean (By Rachel Twinomugisha)
Battle of the Jungle Book (By Agaba Denis)
Outstanding Children's Book Illustrator
Philip Nsamba
Davis Bamwine
Tumuhaise John Baptist
Outstanding Fiction Writer
Beatrice Lamwaka (Butterfly Dreams)
Bridget Ankunda (Do Not Love Me in English)
Mathias Mulumba (Poet, Novelist, Short storywriter)
Outstanding Non- Fiction Writer
Charles Peter Mayiga (Work and Prosper)
Joyce Mpanga (It's a Pity She is Not a Boy)
Jimmy Spire Ssentongo (What I saw when I died.)
Outstanding Cartoonist
Jimmy Spire Ssentongo
Kwizera Arnold
Chris Ogon Atukwasize
Outstanding Newspaper/Magazine Columnist
Allan Tacca ("Will Tomorrow's African Soldiers Die for the Continent's Despots?")
Yusuf Kajura (The Observer)
Esther Namugogi (New Vision)
Best Vlogger
Kisaaka Elizabeth (Transform Africa, Global Unites)
Nakamanya Lynnet (How I am Surviving in Covid 19, How to Make Barkcloth in Uganda)
Otwong Wile Ki Otwong (V-loger Influencer from Acholiland)
Outstanding Podcaster
Lucy Chihandae (The World is Ours)
Nabuguzi Kiwanuka (We need to heal)
Prudence Nyamishana (Adult, Bullying)
SOFTWARE & INNOVATIONS
Outstanding Software Programmer
Emmanuel Isabirye
Kenneth Kwesiga
Sedrick Otolo
Outstanding Software Designer
Loft technologies
Javanet Systems
Jen troy
Outstanding App
EFRARMU-UGANDA
Fortiemart
Afromobile
Outstanding Gaming Programmer
Bulamu Net Games
Daniel Okalanyi
Outstanding Innovator
Zeenode Ltd
Eric Mujjona
Sedrick Otolo
CULTURAL & NATIONAL HERITAGE
Outstanding Community Museum
Igongo Museum (South Western Uganda)
Koogere Foundation Cultural Museum (Tooro)
Madi Cultural Museum (Moyo District)
Outstanding Art Gallery
Magezi Art Exhibition
Afriart Gallery
Umoja art gallery
Outstanding Community Library
Kawempe Youth Centre
Kitengesa Community Library
Bundibugyo Community Library
Outstanding Public Library
Nakaseke Telecenter and Library (Nakaseke)
Soroti Public Library (Soroti)
Kabale Public Library (Kabale)
Domestic Tourism Award
Ritah Karungi Abwooli
Hellenah Olga Namutamba
Trip Addicts
Indigenous Cultural Award (Folk Stories, Folk Song, Animation, Film, Rituals, Legends)
Annet Nandujja (Folk Singer, composer and dancer)
Zoe the Storyteller (Folklore storyteller, Poet, Theatre Maker, Musician)
Akogo Festival (Promoting and preservation of Itesot culture and cultural resources)
Suraya Namirembe (Composer, Collector of cultural folk tales)
Traditional Medicine Innovator Award
Bro Fr Anatoli Wasswa (First fully fledged herbal medicine clinic in the country)
Prof. Patrick Ogwang (Developer of Covidex)
Balibawo Herbert (Traditional skills in Bone Setting)
SUPPORT SERVICES
Outstanding Talent Manager
Julius Kyazze
Martin Beta Muhumuza
Dorothy Nabunjo
Outstanding Emcees
Patrick Mujjuko
Brian Mulondo
MC Kats
Outstanding Promoters
Talent Africa 256
Kasana Events
Kt promotions
Outstanding Event Producer
Fenon
Events Warehouse
Swangz Avenue