The new 'MTN Super Bundles' package from MTN Uganda gives its business and corporate customers more value for their money as they go about doing business.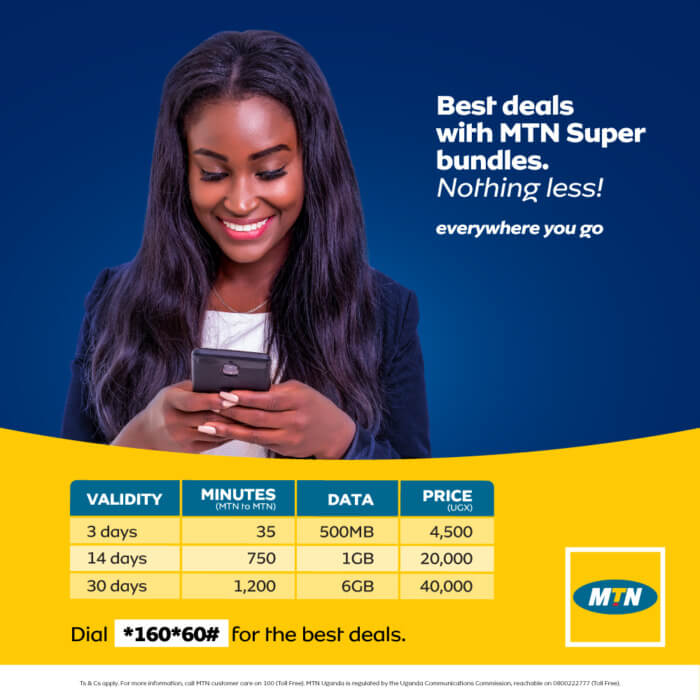 KAMPALA | LIFESTYLE UGANDA ( https://lifestyleuganda.com/) — With the new MTN Super Bundles package, MTN Uganda has improved the voice minutes and MBs for its corporate and business customers so that they can have more value for their money.
Customers get more data and minutes at the same price with MTN Super Bundles.
Please find below a list of MTN Super Bundles packages.
Check out also MTN Uganda Mobile Money: Everything you need to know.
Read also, MTN Uganda Gets CMA Kenya's Permission to Market IPO to Investors.
As part of its vision to deliver the benefits of a modern, connected world to its customers, the company is taking these steps.
The 'MTN Super bundle' packages come in 3-day, 14-day, and 30-day options; these packages offer customers more voice minutes and more data MBs for the same price, thereby enabling them to do more for the same price.
To subscribe to MTN Super Bundles, simply dial *160*60# to get started. This will give you the best deals on the most reliable and affordable voice and data plan available.
Mr Somdev Sen, Chief Marketing Officer for MTN Uganda (https://www.mtn.co.ug/), commented on the improved super bundle offer as follows:
"Our target clients for the MTN super bundles are in the prime years of their lives. They are shaping their dreams, building businesses, looking for prospective clients, upgrading their education, making meaningful social capital among other things. To do that, they need stable, reliable, and affordable voice and data which the super bundles deliver," said Somdev.
"The MTN Super bundles really work for anyone juggling the hustle, family and friends. I encourage anyone with any business, whether corporate, trading and school to try out this offer that has been tailor made for them with the intention of giving them more value to enable them to get to the top," Somdev added.
The following table shows the MTN Super Bundle packages.
| | | | |
| --- | --- | --- | --- |
| Validity | Minutes (MTN to MTN) | Data | Price (UGX) |
| 3 days | 35 | 500MB | 4,500 |
| 14 days | 750 | 1GB | 20,000 |
| 30 days | 1200 | 6GB | 40,000 |
This article is supported by Makeup Store Uganda, a Cosmetics Store in Kampala with original makeup products from Europe. They are located at Equatorial shopping mall, level 2 shop no 272, and you may contact them via WhatsApp at +256793851784 or by phone at +256789436581.
Follow us on Facebook, on Twitter @lifestyleug, or on Instagram at @lifestyle_ug. If you have a story suggestion or corrections, email us at support@lifestyleug.com.