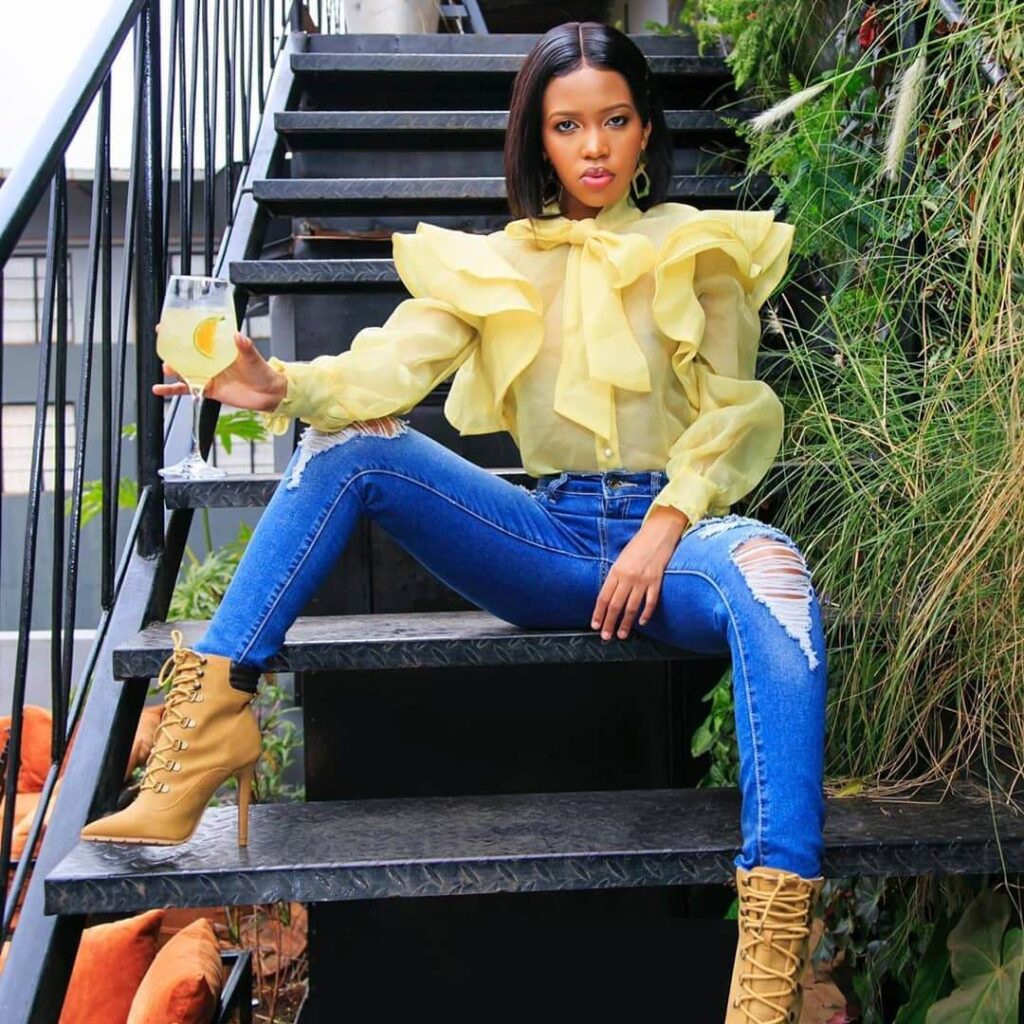 The social media world is the kingdom of Sheila Gashumba, and the rest of us like it, follow and comment.
With over 2 million social media followers and a favourite of every brand for endorsement deals, it is undeniable that Sheila Gashumba has mastered the art of social media storytelling to further enhance her popularity and promote herself and her business.
In doing so, she applies her brand directly to the consumer business to create impressive content and distribute it effectively in new media channels.
Fans have seen the continued success of the former T-Nation star as she continues with various projects such as multi-million endorsement deals with Africell, Iconic Uganda, Uber, Coca-Cola, and World Remit.
We look at the global social media presence of Sheilah Gashumba in this special edition of Digital Influencers Changing the World, and how the newly-known tweet titled Fame Won't Pay Your Bills is symbolic of the change in Uganda, East Africa, and the rest of the world.
And for people who want a brand and presence like Sheila Gashumba, here are five lessons from Lil Stunner on social media.
1. Get to know your audience
As a digital influencer and the daughter of Uganda's most famous motivational speaker, Gashumba, Sheila has mastered the fashion, entertainment and beauty market.
She has tapped into the Ugandan population who love new trends and have grown up watching television shows and now on social media.
She talks similarly to her followers about how to communicate with her family and friends and focuses on the distribution of content through Twitter, Snapchat, Facebook, Instagram, and sometimes YouTube.
Instagram is the world's leading brand discoaching platform, Twitter for shopping, news and lifestyle trends and Snapchat to document your shopping experiences, Hubspot market research says. With its brand and selling strategy, Sheila focuses on those channels to have a comprehensive approach to Social Media implementation.
LESSON: Understand your target audience to develop an in-depth social media strategy. Laser focus on brand matching and messaging associated with that statistic.
2. Promote your products
The power of brand house GASH GLAM Loft is that its social media followers are real fans. They want to know all the ins and outs of her daily life, from what she eats for breakfast to celebrate her birthday to any club or any photo with friends.
Because her audience is glued to every Twitter, Instagram post and Snapchat story, she uses this to her advantage and creates content about her new lifestyle and collections in particular. For every 1 to 3 photos on her Instagram highlighting her personal life, she gets plenty of likes and comments.
On Snapchat, she shows off all of the behind-the-scenes work of being Sheila Gashumba, telling her fans when a piece of upcoming news, challenge or collection begins and promotes herself with selfies.
LESSON: Integrate your community with fun, authentic content with products that increase sales. Take your followers throughout your day-to-day life so that they will connect with you and they will want to buy your product.
Think strategically about how your content and how many posts you create are personal and how much sales are driven.
3. Ignore the haters
As Giants comment on her social content, Sheilah shows that you need to move beyond negative magazines and focus on your vision and dreams. With a check of Shs17 million from an endorsement deal with Movit in 2016, that data and numbers can silence haters.
In overcoming negativity, she can focus on providing the community and followers with exclusive access to her lifestyle, and she forges a special bond with fans while responding to social media channels and reposting their content.
LESSON: There will be obstacles for every entrepreneurial person, but continue to trust your business and resolve any right concerns.
Ask for community feedback to improve your product and content, but remember to reward the community you want to succeed with special offers and experiences. In general, it is better to keep posting content rather than to let your negative feelings stop you.
4. Work with Influencers
Sheila already has a built-in network of influencers, but she is maximizing her partnership with her father, Gashumba and other brands. At every joint launch, there is a large-scale digital campaign, which includes billboards and social media posts.
Beyond her father's network, she tapped celebrity influencers like Africell as a brand ambassador, where her face attracted thousands of billboards in Uganda.
Also teamed up with Coca Cola to promote their flagship Coke Studio Africa show. Most importantly was the mobile app Uber that added her as a brand ambassador when they started operations in Uganda.
LESSON: Find influencers that go beyond your community that can verify social media content for your product or service. You can find influencers in different ways. These include: working with influencer agencies, using apps that connect brands and influencers, using hashtags to find relevant influencers in your industry, and then accessing social media via email or direct messaging to start a relationship.
5. A symbol of change
Whether it's a tweet, an Instagram / Facebook story or a Snapchat story, Sheila uses social media to educate and inspire her community. On May 2nd, Sheilah Gashumba opened a pandora box on Twitter when she called out TV stations for exploiting presenters and paying them peanuts.
She revealed that while co-hosting a weekly fashion talk show called The Style Project on NTV Uganda, she was paid Sh100,000 per show, which is Sh400,000 per month. She added that this is peanuts because big sponsors paid NTV Uganda up to Sh25 million for the 30-minute show.
Fans quickly noticed the new developments, which prompted them to engage in a Twitter rant. The majority backed Sheila Gashumba and this included government officials such as Minister Judith Nabakooba, who pledged to engage media owners concerning the poor pay of journalists.
This viral tweet jokingly turned Sheila into the new face of social media in Uganda and East Africa and made her a top social media influencer under 40 notably after Kenya's Tik Tok queen Azziad.
Sheila, who has been described as the intersection of fame, entertainment and fashion, has made a career in the industry as a woman of colour and has successfully transitioned from a teen TV star to an aspiring entrepreneur.
In addition, she has helped bring a new way of thinking in the changing digital world from her entertainment background.
LESSON: Use social media for a good cause and teach your community how to best use their skills or your product. This could be through Twitter, Instagram Story, YouTube tutorials or the newly launched IGTV.
Use ever-green content/video to help your followers learn more about your product or service in a way that is digestible and entertaining. Be the voice of the voiceless.
Suggest an edit? WhatsApp +256781873083