Bobi Wine is the first Ugandan to appear on TIME 100 Next List among the 2019 most influential personalities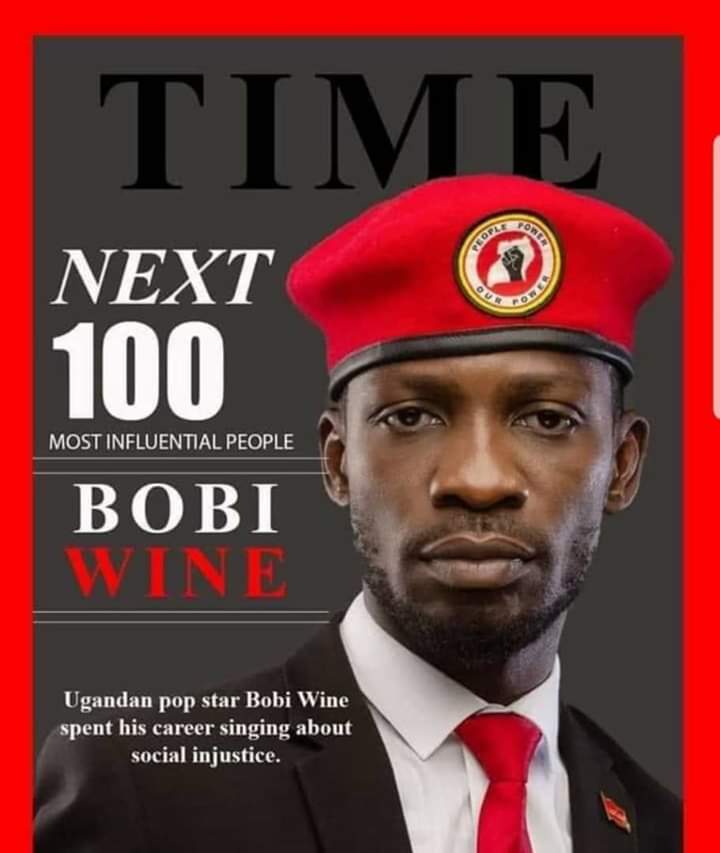 Bobi Wine real names Robert Kyagulanyi, the Kyadondo East Member of Parliament and the People Power leader has been named on 2019, Time 100 Next List of the most influential personalities in the world.
Bobi Wine was placed in the ' Phenoms ' category along with 16 other personalities. This category recognizes personalities who have achieved great things in the shortest time possible.
The website stated the reason why Bobi Wine was listed;
"Bobi Wine spent his career singing about social injustices. In 2017, he decided to take things a step further by running for and winning, a seat in parliament. Now the 37-year-old singer, whose real name is Robert Kyagulanyi Ssentamu, has set his sight higher, announcing in July that he will take on president Yoweri Museveni, who has ruled for the past 33 years through a combination of deft politics questionable election practices and Constitutional malpractices."

TIME 100 Next List speaks out on Bobi Wine
In their further explanation, they said in the shortest time, Bobi Wine was able to raise hope among the young generation of Uganda, who had long been eager for change.
TIME 100 NEXT is a new list, part of the ongoing expansion of the Flagship TIME 100 franchise, which identifies 100 rising stars who are nurturing the future of health, sport, science, politics, entertainment and business.
The TIME 100 NEXT List also features influential people who rose to fame through traditional power structures. And Bobi Wine is the first Ugandan to appear on the TIME NEXT List since its inception.
For the time he spent in politics, Bobi Wine has drawn a number of charges against President Museveni, ranging from electoral abuses and constitutional manipulation, which, according to him, do not deserve to continue serving the nation.
"Eight per cent of our population is under the age of 35. They deserve a leader who works for the future of Uganda, not himself," Bobi Wine said earlier.

Bobi Wine
Bobi Wine's popularity is rising tremendously, and according to him, President Museveni is already scared of him in the run-up to 2021 general elections.
Despite being jailed, beaten and charged with treason against him, Bobi Wine says the struggle must continue and insists that change must come to the country.
Reacting to his international recognition through his social media account, Bobi Wine, who is currently in the US, said he was very pleased and humbled to be one of the 100 influential personalities in the world.
After that, Bobi Wine dedicated his achievements to the Ugandan youth, particularly the Ugandan ghetto youth, to serve as a motivational tool in all their efforts.
"This is exceedingly humbling. Dedicating this recognition to the young people of Uganda, especially the ghetto youth. May this be a reminder and encouragement that you are not what your detractors say you are. You are what you choose to be."

Bobi Wine on TIME 100 Next List
Other East African stars included in the TIME 100 NEXT list, namely Wanuri Kahiu, a Kenyan filmmaker in the category of ' artists ' and Adut Akech, a South Sudanese model in the category of advocates.
' TIME 100 ' website said that the list published this year focused particularly on the young generation, regardless of age group.
Alysa Liu, the skating phenom, was the youngest on the TIME 100 Next List, aged 14-year-old. She was the first U.S. woman to land Lutz in quadruple competition.
While Ayman Odeh, 44 years old, was the oldest figure on the TIME 100 Next List, he emerged as a potential kingmaker in Israel, in the political arena of Israel.