At the Buzz Teenz awards 2021, Azawi tops the list of winners with four awards including Teenz Flyest Video, Teenz song of the year and Artiste of the year.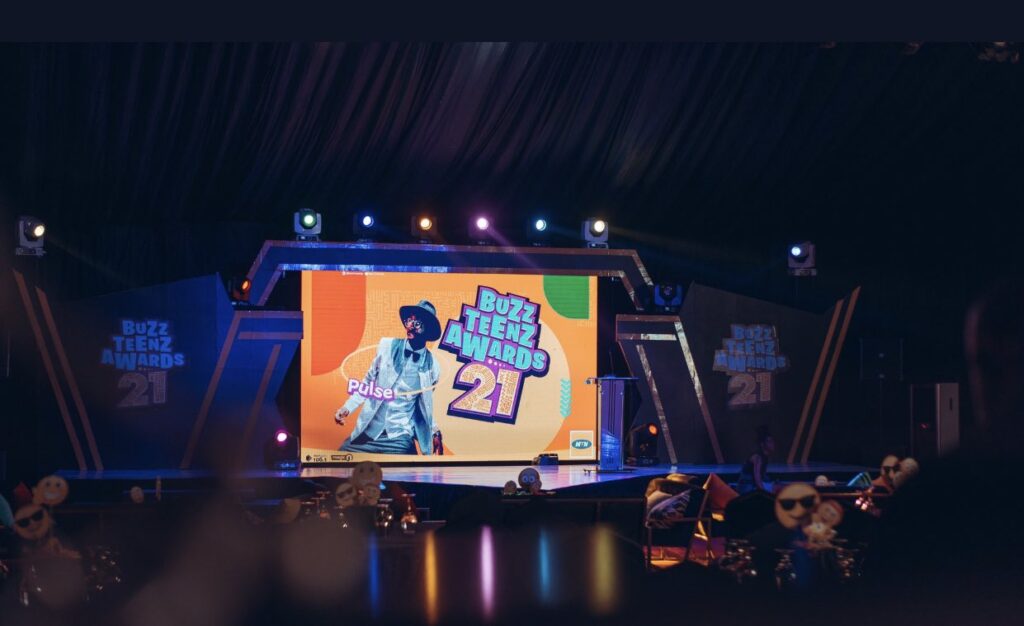 KAMPALA | LIFESTYLE UGANDA (https://lifestyleuganda.com/) — On December 19, 2021, the prestigious Buzz Teenz Awards 2021, one of Uganda's most youthful events, took place, supported by MTN Pulse, and this is the list of lucky winners.
The Buzz Teenz Awards 2021 winners are listed below.
Azawi tops the list with five awards, including Teenz song of the year and Artiste of the Year.
Abryanz received the 'Lifetime achievement award' at the Buzz Teenz Awards.
Naava Grey won the 'Teenz Cultural Icon by Reach A Hand' award.
In this year's Buzz Teenz Awards 2021, Ugandan singer-songwriter Priscilla Zawedde, professionally known as Azawi, won five awards: Teenz Female Artist, Teenz Hottest Song Writer, Teenz Flyest Video, Teenz Song of the Year and Artiste of the Year.
Meanwhile, MC Kats and Ugandan fashion designer Titus Brian Ahumuza, also known as Abryanz, won the award for 'Lifetime achievement', while Naava Grey received a Reach A Hand award as 'Teenz Cultural Icon'.
There were several performers on Sunday evening at the Buzz Teenz awards, including Vinka, DJ Denno, Zex Bilangilangi, Aroma, Fik Fameica, Liam Voice, Pia Pounds and An Known.
Here is the list of winners for the Buzz Teenz Awards 2021.
Teenz Artist of the Year
Liam Voice
Fik Fameica
Azawi – WINNER
Pallaso
Teenz Male Artist
Zex Bilangi Langi
Fik Fameica
Liam Voice
Pallaso – WINNER
Teenz Female Artist
Pia Pounds
Azawi – WINNER
Sheebah
Spice Diana
Teenz Hottest Song Writer
An Known
Azawi – WINNER
Daddy Andre
Mudra
Teenz Nxt Big Thing
ABC Gang
DJ El Nicho
Cyza Musiq
Brennan Baby – WINNER
Teenz Breakout Artist
Liam Voice – WINNER
Aroma
Zuli Tums
An Known
Teenz Hottest Song of the Year
Boy Fireby Selector Jef ft Sheebah
Slow Dancing by Azawi – WINNER
Lock by Fik Fameica
Thank God by Vinka
Teenz Flyest Video
Yola B2C & Aroma
My Year Azawi
Lock Fik Fameica
Thank God Vinka
Slow Dancing – WINNER
Teenz Hottest Collabo
Ready Spice Diana Ft Fik Fameica
Yola Aroma Ft B2C
Abeggume DJ Ali Breezy Eezzy – WINNER
Banange Ykee Benda Ft Lydia Jazmine
Boy Fire Selector Jef ft Sheebah
Teenz Gospel Song
Thank God Vinka
Mbeera Levixone ft Grace Morgan – WINNER
Katonda Pastor Wilson Bugembe
Tujja Ku Wunona Coopy Bly ft Pastor Wilson Bugembe
Teenz Hottest TikToker
Vivian Gold
Brennan Baby
Mikey Seems 2 funny – WINNER
October Fairy
Teenz Hottest Radio Station
XFM – WINNER
Galaxy FM
NXT Radio
Capital FM
Teenz Hottest Radio Program
Evening Rush Galaxy
Xplosion XFM – WINNER
NXT Brunch
Mid-Morning Galaxy FM
Teenz TV Station
STV
NTV
NBS TV – WINNER
Magic 1 TV
Teenz Hottest TV Personality
MC Ollo
Douglas Lwanga – WINNER
Lynda Ddane
Crysto Panda
Teenz TV Show
NTV Dance Party
NBS After 5 – WINNER
NBS Katch Up
NTV The Beat
Teenz Fashion Star
Solomon Kampala Kyagulanyi – WINNER
Spice Diana
Fik Fameica
Lydia Jazmine
Teenz Hottest DJ
DJ Ali Breezy – WINNER
DJ Roja and Slick Stuart
VJ Baby Love
D Jay Denno
DVJ Mercy
Teenz Hottest Audio Producer
Artin Pro
Nessim – WINNER
Bomba
Kuseim
Teenz TikTok Sound of the year
Omwoyo Liam Voice
Thank God Vinka
Omwana Wabandi Daddy Andre – WINNER
Slow Dancing Azawi
Teenz Cultural Icon by Reach A Hand Uganda
Nutty Neithan
Cleoptra
Ronnie Mcvex
Naava Grey – WINNER
Lifetime Achievement Award
Although we strive to provide accurate information about the Buzz Teenz Awards 2021, it is always possible to make an error. If you find any inaccurate or incomplete info, please comment below.