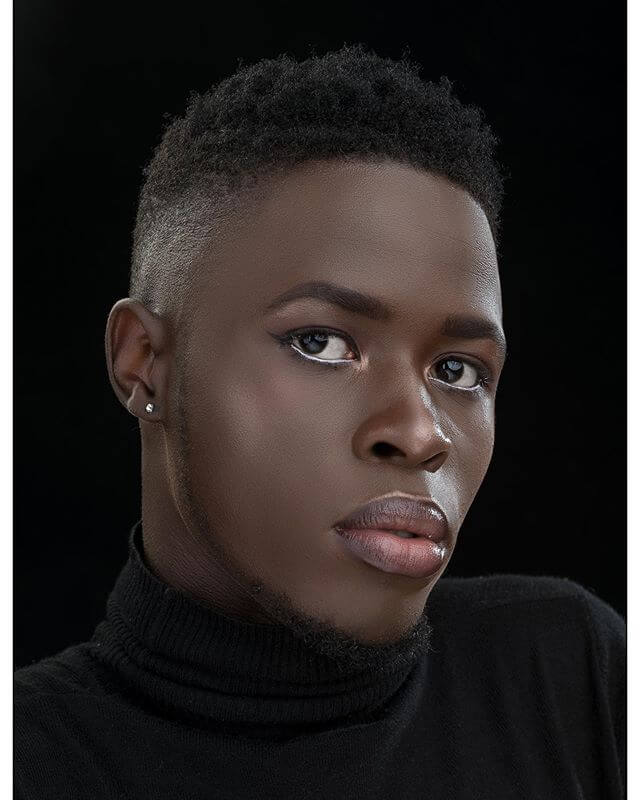 Kampala's celebrity makeup artist and bridal hairstylist Daniel Otim certainly knows how to sell his products.
On Monday, Daniel Otim decided to take a page out of the Kardashian and Kylie Jenner handbook, as he engaged in a photo-shoot to promote
CAREERS HAVE NO GENDER campaign using his own makeup.
Danyel on the brushes teamed up with Meg Lusembo of Smukke Lashes, Giulio Molfese of Photo4fashion to launch a campaign CAREERS HAVE NO GENDER with a focus on the beauty industry as it is in his line of work.
CAREERS HAVE NO GENDER, a social media campaign is aimed to basically let the world stop Gender Stereotypes, especially career wise.
Minutes after the photo-shoots were released, they went viral, and Daniel Otim received a warm reception from social media i.e Facebook, WhatsApp status and Instagram.
When asked about the new series of photo-shoots making rounds on social media, he said;
I was basically trying to let the world stop Gender Stereotypes, especially Career wise. My main focus was on the beauty industry as it is in my line of work.
He added;
Although the makeup industry has been largely dominated by women, everyone has the right to embrace makeup, including males who love it.
I actually wanted to do this shoot for a while, but I used to be over-powered by my fears because most Ugandans like Stereotyping.
So my friend Meg Lusembo, who is also in the beauty industry, told me to go for it, she owns Smukke Lashes that I was wearing during the shoot to complete my look.
When I released the pictures, they trended all over the social media and the love was real, I was so overwhelmed to find out that people are actually so exposed about gender and roles in society
Danyel on the brushes started his makeup career at the age of 19, due to the passion he had, and because the industry pays well.
Currently, Daniel Otim has taken the make-up business in Uganda by storm and it seems like there is no stopping Daniel as he expands his beauty empire into a well-established one.
The 2018 Abryanz Style and Fashion Awards Nominee for Makeup artist of the year (Uganda) has a big clientèle base and his artistry has led him to work with numerous celebrities, artists, and others including a number of people, ranging from brides to day to day clients.
Danyel on the brushes is known for his ultra-hygienic approach and understanding of beauty, and for that, we credit him.
Check out the photos making headlines this week courtesy of Photo4Fashion ->> Open Gallery