After 18 weeks of breathtaking performances, Esther Benyeogo was crowned season 3 winner of The Voice Nigeria in July 2021.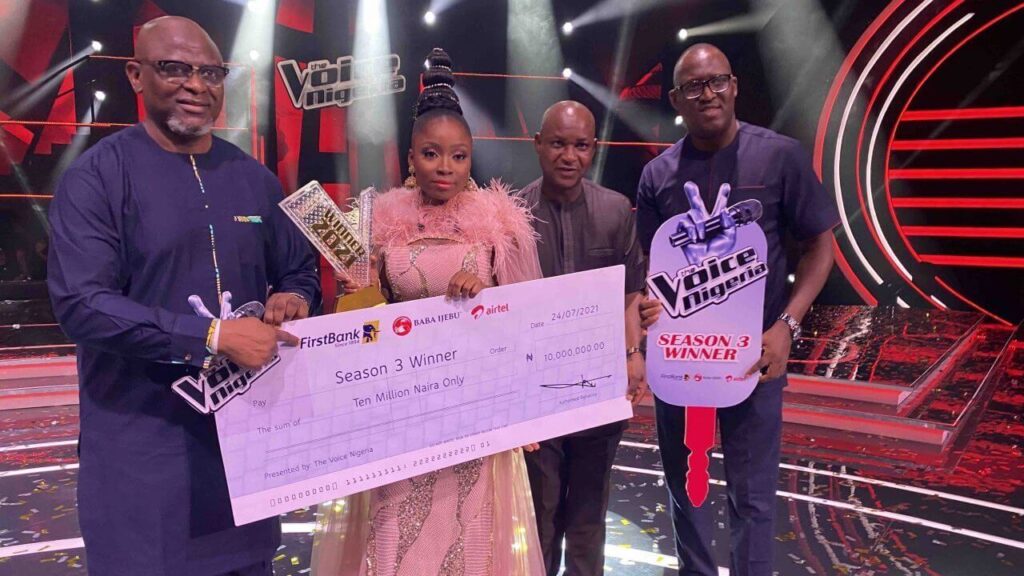 KAMPALA | LIFESTYLE UGANDA — After 18 weeks of breathtaking performances, Esther Benyeogo was crowned the winner of season 3 of The Voice Nigeria on Saturday, 24 July 2021.
A triumphant Benyeogo beat out fellow finalists KPee and Eazzie to receive the top prize package, which included a car, a recording contract with Universal Music Nigeria, and 10 Million Naira (about $24 000).
The finale marked the culmination of 18 weeks of competition, which covered four stages, including blind auditions, knock-outs, battle rounds, and live performances.
The contest featured Nigerian singers, Darey, Waje, Falz and Yemi Alade, who selected three contestants for their respective teams and then prepared them for the live performances.
Esther Benyeogo said she was grateful for this amazing experience she had thanks to The Voice Nigeria and her fans.
"I am thankful for this amazing experience," Esther Benyeogo said.
She continued, "It was my utmost pleasure to share my gift with you every week, and this win is even more amazing because it is one thing to know you have a gift, but it is another to be recognized for it.".
Coach Darey, who guided Esther throughout the competition, said Esther showed throughout the competition that she was indeed phenomenal.
"Her passion, dedication and commitment to improvement showed that she had her eye on the prize and I could not be happier with the outcome," he said.
"It's true that all the talents devoted themselves to their performances, but Esther looked exceptional this season. I am glad to have had the privilege of coaching her."
In addition to Benyeogo, past contestants A'rese and Idyl have also won The Voice of Nigeria seasons 1 and 2. The Voice Nigeria is a local version of The Voice, an international reality TV singing contest.
As part of the season 3 sponsorship package, First Bank, Baba Ijebu, Airtel Nigeria, and snack sponsor Minimie have each sponsored a segment.